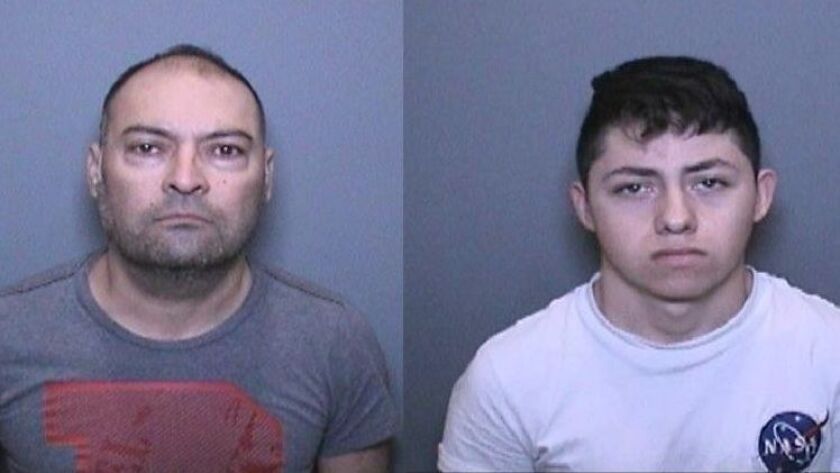 Two men pleaded not guilty Wednesday in connection with a string of car burglaries in oceanside parking lots in Huntington Beach, authorities said.
Carlos Alberto Inostroza, 47, and Nicolas Suarez, 18, both from Chile, entered the pleas to felony and misdemeanor counts related to car burglary, larceny and using stolen credit cards.
Inostroza was charged with 10 counts, Suarez with 11. Charges for both include felony burglary and identity theft, court records show.
The two were arrested Saturday, according to Huntington Beach Police Department arrest logs.
Police received a call just after noon about a burglary of a Honda Civic that had just occurred in a parking lot on Pacific Coast Highway, police spokeswoman Angela Bennett said. The burglars reportedly fled in a car, and an officer in the area soon stopped a car that matched its description, Bennett said.
No stolen property was found, but the suspects were in possession of burglary tools, Bennett said.
A detective who had been investigating a string of vehicle burglaries identified the two suspects as those seen in security footage obtained from several Target stores where stolen credit cards associated with the burglaries had been used to buy gift cards, Bennett said.
Burglars targeted cars — mostly Hondas and Hyundais — in Pacific Coast Highway parking lots near Goldenwest Street, Bennett said.
The thefts began in mid-November, and the area had been "hit almost daily" by burglaries, she said.
Thieves would enter beachside parking lots and use tools to enter locked cars or would look for vehicles with unlocked doors or hidden keys, Bennett said.
Police are investigating almost 20 incidents that might be connected to the suspects, Bennett said.
No similar crimes have been reported since the arrests, police said.
Inostroza and Suarez were booked into Orange County Jail with bail set at $100,000 each. They are scheduled to appear in court Jan. 10.
---