'Butterfly lady' of Huntington Beach keeps tending her charges
For years, about 200 monarch butterflies have made their way from Canada to Huntington Beach's Norma Gibbs Butterfly Park around winter time.
But it hasn't always been so. The monarchs stopped coming to Gibbs park for a period after the trees and vegetation that the milkweed butterflies rely on deteriorated.
Enter longtime resident Leslie Gilson, who along with members of the Huntington Beach Tree Society and others restored the park starting around 2007.
Known around town as the "butterfly lady," Gilson has devoted the last several years to developing Gibbs park and raising butterflies, particularly the monarch, in her home.
In her small butterfly house, caterpillars lazily wriggle along milkweed leaves, a poisonous plant that only butterflies eat. A few are entombed at the top of the house in their chrysalis, a hardened skin similar to a cocoon, beginning the final stage of their butterfly metamorphosis.
Once they become butterflies, Gilson will tag them with little stickers and release them into the park.
Her activism started when Gilson returned to Huntington Beach more than a decade ago after living abroad.
She had grown fond of seeing the butterflies at Gibbs park, which was dedicated on July 8, 1995, in honor of the first female mayor of Huntington Beach. But Gilson was met on her return by a dilapidated version of the place she once loved.
"The trees were all dead. It was a mess," she said.
The 6.8-acre butterfly park, at 16641 Graham St., between Warner Avenue and Heil Street, had become known as a refuge for a substantial homeless population. Worst of all, Gilson learned that the butterflies had not returned in about 15 years.
Gilson decided she was going to do something about it.
In 2007, Gilson took storyboards to the Huntington Beach City Council and made her case for the park's restoration.
At the meeting, she was approached by Jean Nagy, president of the Huntington Beach Tree Society, who proposed that they team up. The environmental nonprofit works on developing and maintaining local parks and greenery in the city.
Gilson was made the society's coordinator for the restoration project.
Nagy said Thursday that she had grown concerned about the park at the time because it looked like a "jungle," and Gilson "had enough energy for both of us."
Before the project could move forward, Gilson and Nagy, who both lacked traditional knowledge of butterflies, hired a "butterfly guru" from a Northern California research firm to conduct a study to determine the best way to plant trees to benefit the insects.
Gilson said she paid for the study out of pocket. A believer in fate, she mentioned that her mother had left her $3,000 when she died, and the cost of the project would cost exactly that.
With the necessary information in hand, the two of them partnered with the city and the long renovation process began.
By 2008, the city had removed 179 rotting eucalyptus trees from the park and planted new ones. Nagy said the team also purchased and planted the flowers and plants that butterflies need to feed off of.
Within three months of the new trees going in, the monarch butterflies returned to the park, Gilson said.
Gibbs park is now, once again, a regular stop for them on their annual migration.
Nagy said Gilson has done a "beautiful" job heading the the renovation efforts in Gibbs park.
"She's fabulous. This is her baby," echoed Norma Brandel Gibbs, the park's namesake. "I am so grateful for a person to have that energy and vision to do that. We all owe her a debt."
Gibbs, who is now 91 and still lives in the city, served on the council from 1970 to '78 and was Huntington Beach's first female mayor, from 1976 to '77. Known for breaking barriers and getting things done, she was also the first female psychology professor at Cal State Long Beach and, back home, was instrumental in developing the city's Central Park and Central Library, as well as its public park policy. She also has been a member of numerous organizations.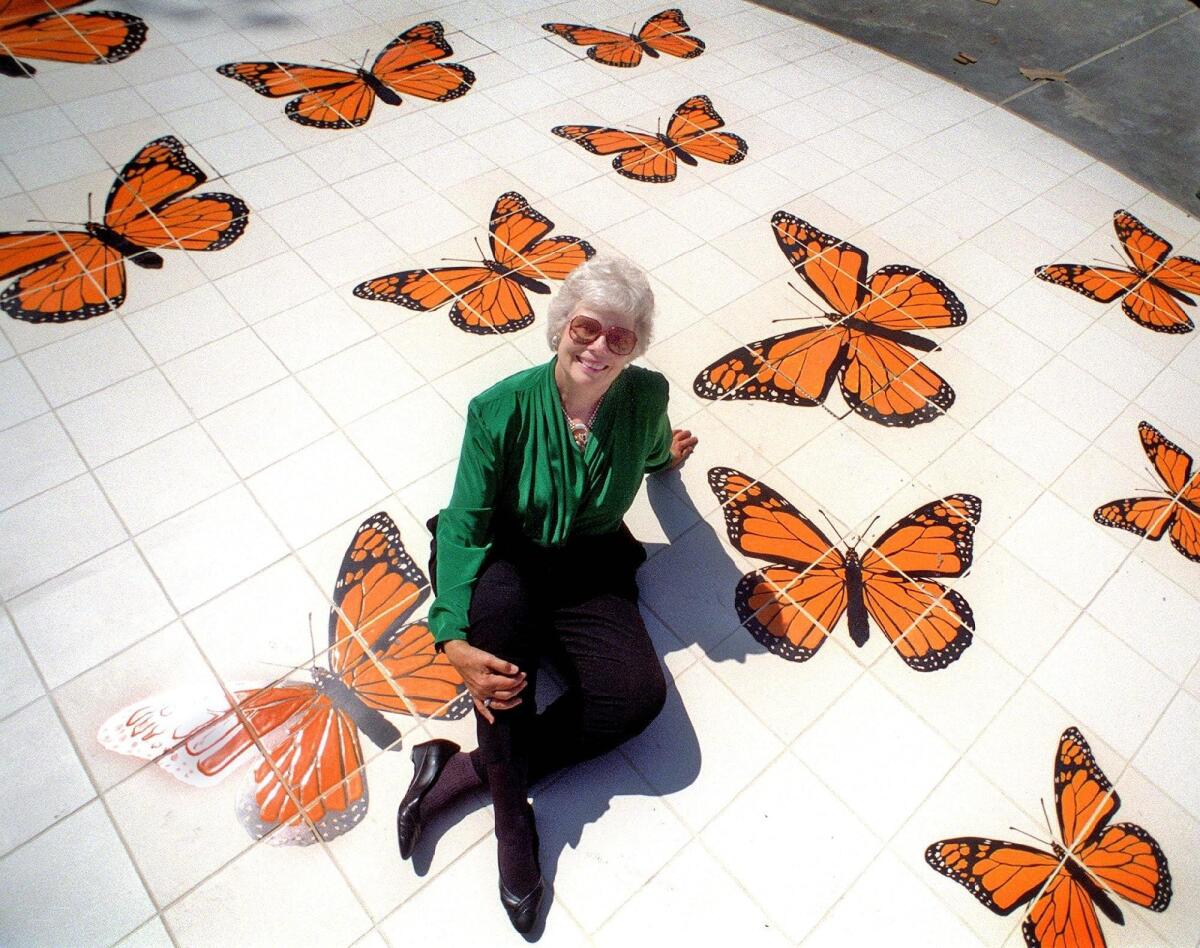 Gilson's love for monarch butterflies has only grown in the past decade. She said that about five years ago she began working with Cal Poly San Luis Obispo to raise and tag monarchs so they can be tracked. (The monarchs spend their winter hibernation in Mexico and some parts of Southern California where it is warm all year. Then they start their return trip around March. )
Every year, she and a team of local residents go to Gibbs park and collect caterpillars. They bring them back to their homes and raise them.
Gilson monitors the growth of the caterpillars as they go through their life cycles. She said her favorite part is when the butterflies emerge from their chrysalis.
She described as "quiet" and "amazing" the moment when the newly transformed insect slowly uses its legs to claw its way out of the shell, emerging as a butterfly.
Wednesday at her home, she held two caterpillars in her hand as they appeared to nip at one another.
"They fight with one another for position," she said. "They have a personality to them."
As she placed them back into their small house, keeping them separated, it appeared that raising butterflies shares amusing similarities with parenting.
An autodidact, Gilson has read books and articles and taken trips to Mexico and Florida in her quest to learn more about butterflies. Florida is a key East Coast refuge for migrating monarchs before they fly over the open water of the Gulf of Mexico.
To Gilson, these creatures are special and have a numinous quality to them.
She remembers when the family of a boy who had recently committed suicide dedicated a tree in Gibbs park to their son.
"On that day, a butterfly appeared out of nowhere on the tree," Gilson said.
She said butterflies are the souls of people who have died.
Today, Gilson gives talks and tours of the park to the public. She hopes to instill a sense of wonderment in kids so they will one day take on the responsibility of preserving the park and keep the butterflies coming back to Huntington Beach.
People can donate to the park at hbtrees.org.
Twitter: @benbrazilpilot
---