Man fatally shot by Huntington Beach officers had troubled past, according to friend and court records
A 29-year-old Huntington Beach man who reportedly chased children and others with a baseball bat and a broken bottle before he was shot and killed by police Thursday night had a history of abusing alcohol and threatening family members, according to friends and court records.
Steven Schiltz was shot and killed by two Huntington Beach police officers on a soccer field at the Huntington Central Park Sports Complex at 18120 Goldenwest St.
Officers had responded to the complex at about 7:20 p.m. after receiving emergency calls about a man with a bat and a broken bottle hitting trees and chasing people around the fields.
The shooting is the fourth involving Huntington Beach police officers this year.
The 45-acre sports complex has eight softball fields overlaid with seven soccer fields, along with batting cages, two concession stands and playgrounds, according to the city of Huntington Beach. Several sporting events were taking place at the complex Thursday night, police and witnesses said.
Jose Sanchez, a club soccer coach, was watching his team of 13-year-old girls practice when he saw Schiltz chasing an adult player from an adjacent field to the area where Sanchez's team was practicing. Sanchez said he began ushering his players over a fence.
As the teens scrambled, a parent showed up with a stick and chased Schiltz away, Sanchez said.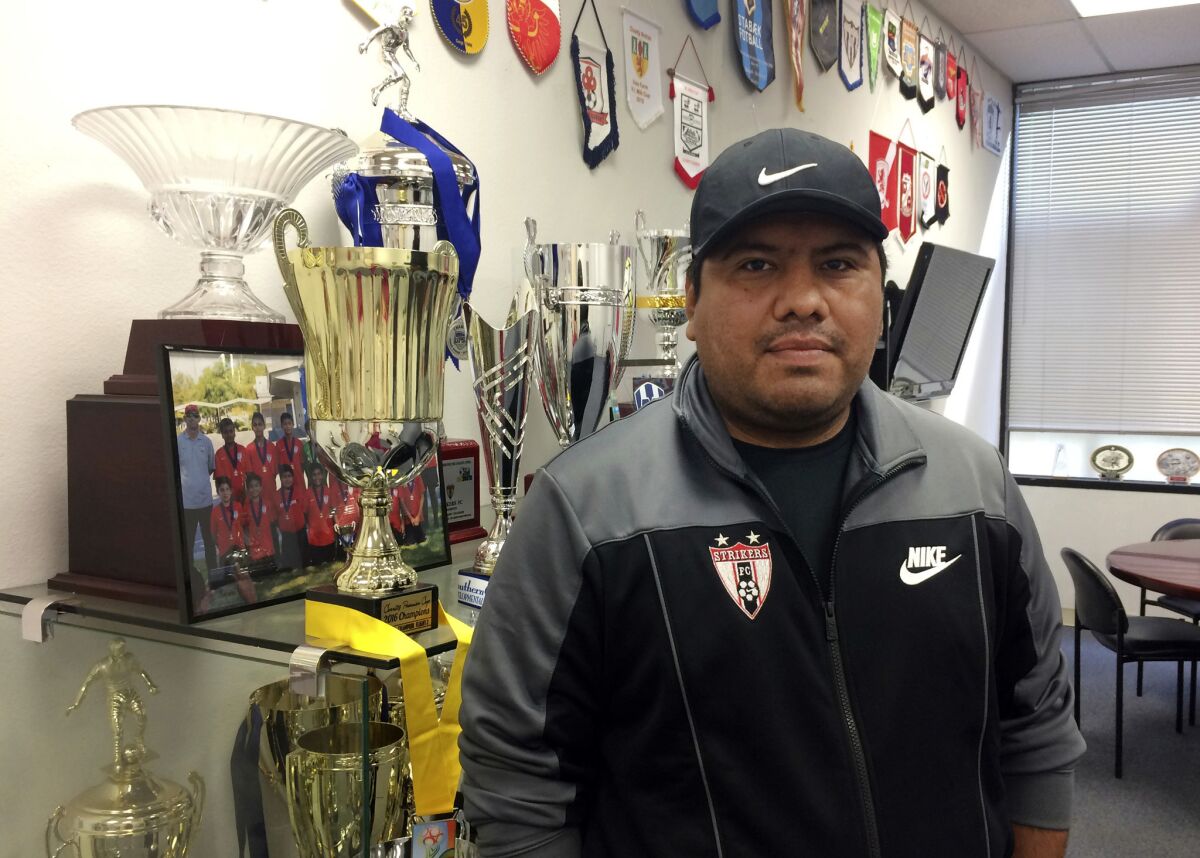 Two parents and their children ran as Schiltz approached a set of metal bleachers, Sanchez said. One woman remained sitting, apparently frozen in fear, he said.
"She was crouching down on the bleachers," Sanchez said. "She was freaking out."
Sanchez said two officers entered the field with their guns drawn and ordered Schiltz, who looked like he was about to swing at the woman, to drop what he was holding. Sanchez said the object appeared to be a broken bottle.
According to Sanchez, officers fired three shots at Schiltz, but he remained upright, moving toward the woman. The officers fired three or four more rounds, Sanchez said.
Schiltz was pronounced dead at the scene, authorities said.
The Police Department declined to comment about the number of shots the officers fired or how many times Schiltz was hit.
No one else was injured, the department said.
The Orange County coroner's office declined to discuss the case Friday.
The Orange County Sheriff's Department will investigate the matter, as is typical for officer-involved shootings.
Tom Hester, one of about 20 homeless people who frequently sleep in the park at night, said he met Schiltz, known by the group as "Steve-O," three years ago through a mutual friend. Hester and Schiltz often would ride bikes together, Hester said.
Schiltz would bounce between the streets and his mother's home in Huntington Beach, according to Hester.
In the days before the shooting, Schiltz told Hester about challenges with his family and spoke about taking his own life, Hester said.
"He wanted it to end," Hester said. "He used to say he 'just couldn't take it anymore.' At least he's in a better place."
Hester said Schiltz abused alcohol and drugs and would become angry and violent when he was intoxicated.
"When he was sober, he was such a good guy," Hester said. "But he turned into a totally different person when he was drunk."
Orange County Superior Court documents provide a glimpse into Schiltz's troubled past with his family.
Schiltz's mother, Angela Hernandez, filed for a restraining order against her son in February 2013, alleging that he threatened her, his father and his older brother with knives, baseball bats, pool sticks, pool balls, chairs and other items, according to court documents.
"In the past we received bruises and strains from trying to protect ourselves and/or trying to restrain him from hurting himself," Hernandez wrote in a statement attached to the filing. "He has mentioned that he would commit suicide on several occasions. He has also [threatened] to kill us all on several occasions and/or destroy property."
Hernandez wrote in court documents that her son drank heavily and used medical marijuana daily.
"As a family we have tried numerous options to help him with his addictions and abuses, but he declines our advice and/or suggestions," she wrote. "We are now at the point of seeking police protection because his abuses are escalating to levels that we can no longer accept or handle."
Hernandez told The Associated Press on Friday that her son sounded fine when she spoke to him hours before the shooting.
"To me, it was excessive force," she said. "He was good-hearted. He would never go after kids."
Hernandez did not return a phone call from the Daily Pilot seeking additional comment.
In 2015, Schiltz pleaded guilty to making criminal threats against his mother and severing a telephone line, according to Superior Court records. He was sentenced to 30 days in jail and three years' probation and to attend 30 Alcoholics Anonymous or Narcotics Anonymous classes. Court records indicate he never completed the classes, and a warrant was issued for his arrest.
He was charged in June last year with a misdemeanor of drinking in public in violation of the Huntington Beach municipal code. A Huntington Beach police officer wrote in court documents that Schiltz was drinking King Cobra, a type of malt liquor, and yelling and challenging people at a park, according to court records.
Staff writer Ben Brazil contributed to this report.
Twitter: @HannahFryTCN
---