Ex-owner of dog that had 42-pound tumor is charged with animal cruelty
The former owner of a golden retriever named Henry, who in May was left at a Newport Beach animal hospital while stricken with a 42-pound malignant tumor, is facing criminal charges.
Orange County prosecutors announced during a news conference Wednesday that they had filed two counts of animal cruelty, one count of animal abandonment and one count of interfering with an investigation — all misdemeanors — against Henry's former owner, Sherri Haughton, 52, of Newport Coast.
If convicted, Haughton would face a maximum sentence of two years in jail, according to the Orange County district attorney's office.
Haughton was not arrested but is expected to be arraigned in Orange County Superior Court on Jan. 13.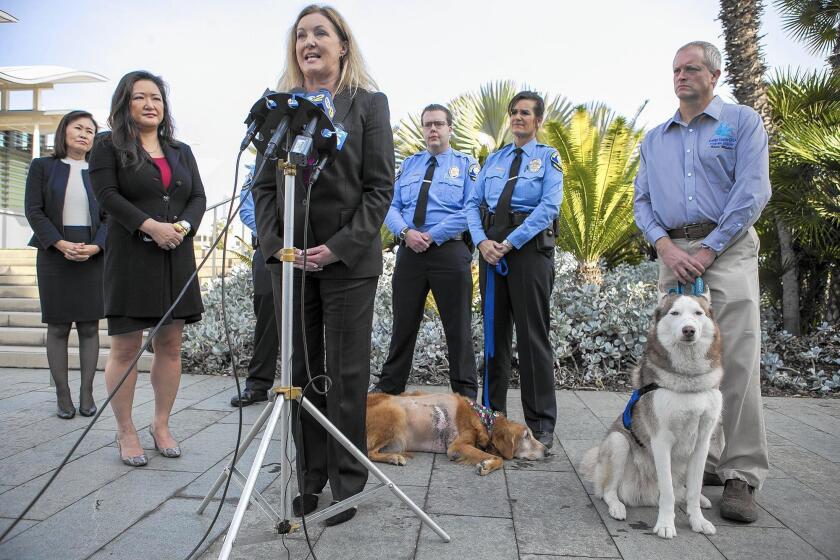 "When we adopt a pet into our home, it becomes more than a pet, it becomes the center of our family," said Deputy Dist. Atty. Jennifer Malone. "We need to keep in mind we have certain responsibilities to care for our pet. At no point should a dog be suffering like that."
Newport Beach animal-control officers launched an investigation into Henry's situation after he was left at an animal hospital with the massive tumor on his right side. The growth nearly doubled his body weight and impeded his ability to walk.
When Haughton got to the animal hospital with Henry on May 12, she told employees that she had found the dog on the beach, according to investigators.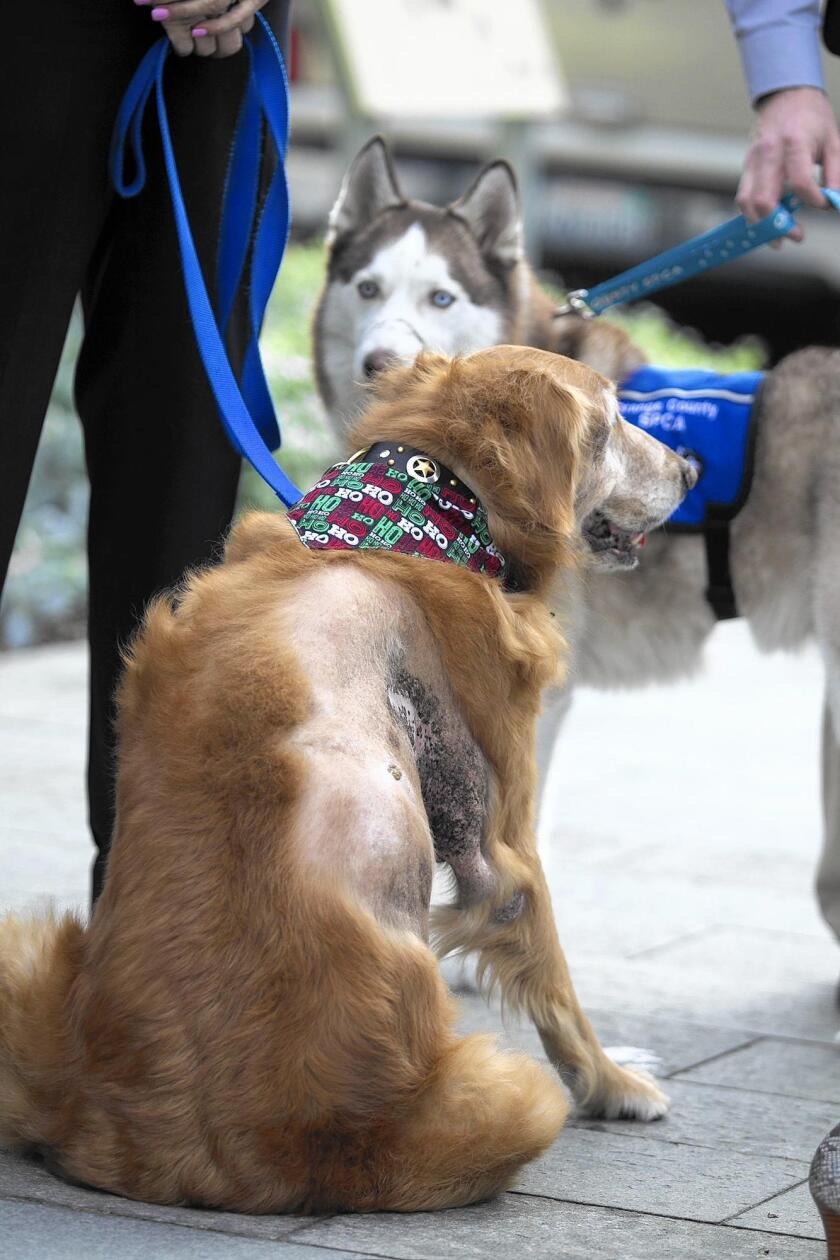 Animal-control staff took custody of Henry and he received thousands of dollars worth of veterinary care, which was paid for by donations.
Officials said the tumor started small but when left untreated grew to a size that made immediate treatment necessary to save the dog's life.
Officials said Wednesday that there are always options for pet owners to get care for their animals if they cannot afford treatment, including turning over the pet to animal services or seeking assistance through the Orange County Society for the Prevention of Cruelty to Animals, which provides low-income or homeless pet owners with food and other aid for their animals.
Malone said that by giving false information to the animal hospital, Haughton held up the investigation into the dog's situation and ultimately delayed Henry's treatment. She said there is evidence that Haughton had taken the dog to a vet and was aware of his condition but did not pursue treatment.
Henry's tumor was removed in June. The now-8-year-old is living with a foster family and undergoing radiation treatment for cancer.
Henry, wearing a black holiday-themed bandana Wednesday with the words "Ho ho ho" printed in red and green, basked in attention from reporters and police and animal-control officers during the news conference.
Animal-control officers said he is typically full of energy and enjoys running and playing.
"He's a happy dog now that he's received the treatment he needs," officer Nick Ott said.
To read the article in Spanish, click here
Twitter: @HannahFryTCN
---