Should Costa Mesa add restrooms to help the homeless? Sanitary district wants to find out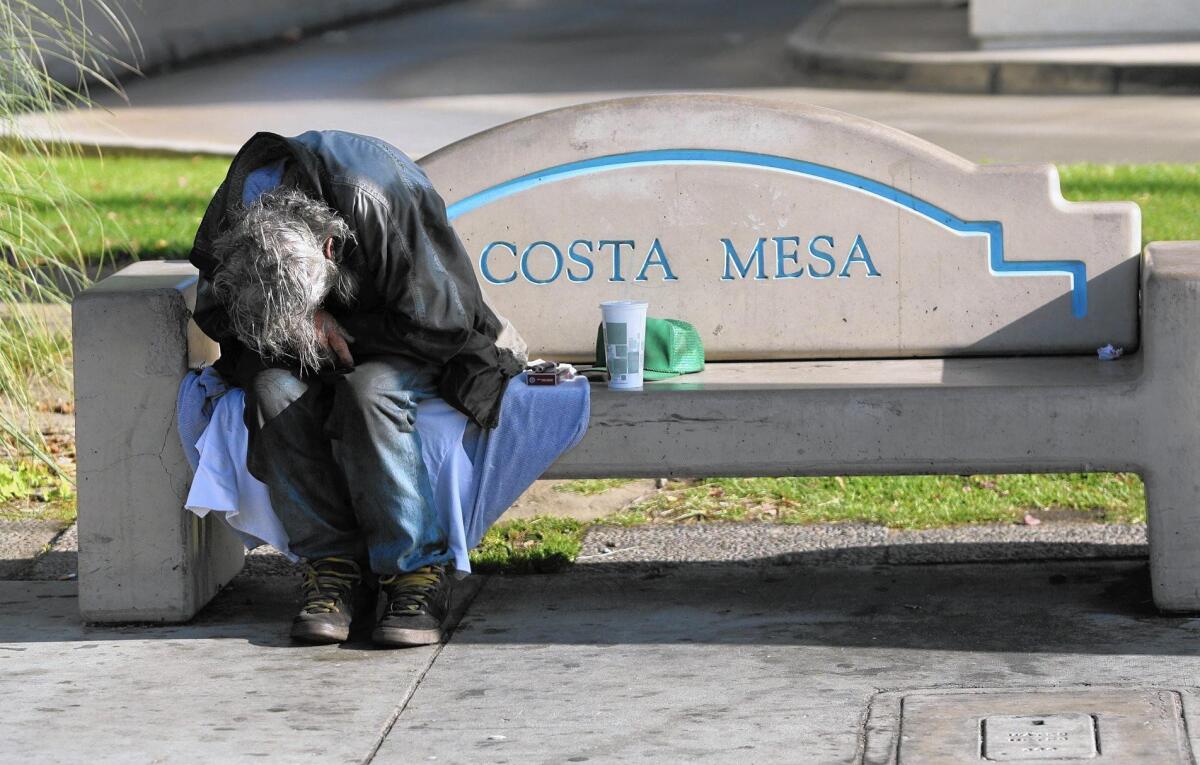 Would installing additional public restrooms help Costa Mesa's homeless population?
Board members of the Costa Mesa Sanitary District are interested in finding out.
After mulling the concept during a study session Tuesday morning, the board directed staff to bring back the idea for further discussion at a Jan. 27 liaison meeting among the sanitary district, the city of Costa Mesa and the Mesa Water District.
"There's no panacea. There's no answer across the board for every situation you're going to run into, but I think we need to examine this as maybe a first step," board Vice President Jim Ferryman said Tuesday.
Ferryman had asked his colleagues to consider teaming up with the city and/or Mesa Water to install 24-hour public restrooms that would be available for homeless people.
"I think something like this should be considered," board President Mike Scheafer said Tuesday.
The issue, sanitary district officials said, is that homeless people who don't have access to public restrooms have no choice but to relieve themselves in public areas.
In some cases, however, public restrooms have morphed into hotspots for drug use or other illegal activity.
In 2015, the city of Costa Mesa closed restrooms at Lions Park and Wilson Park in response to "heightened criminal and security issues," according to city spokesman Tony Dodero.
Public restrooms are still available at parks and other facilities throughout the city, Dodero said.
"Although we are not aware of the specifics of the Costa Mesa Sanitary District's idea, the city sees the issue of homelessness as a responsibility of the entire community and would welcome any future discussions with all individuals and organizations," he said.  
Sanitary district officials said Tuesday that some restroom models available are self-cleaning or designed in a way that could deter nefarious activities.
Putting in new restrooms can be costly, though — possibly over $100,000 for one — even before accounting for the maintenance work needed to keep them clean and in good working order.
Ferryman said he thinks installing a few — "two or three at the most" — additional public restrooms could have a positive impact.
"I think we need to be responsive to homeless people, because tomorrow that could be us," he said.
"We look forward to receiving more information," Mesa Water External Affairs Manager Stacy Taylor said Tuesday. "It sounds like an interesting idea."
If the concept moves forward in some form, the public should get a chance to comment on it, said sanitary district General Manager Scott Carroll.
"That's going to be extremely important — what the community thinks about this," he said.
Twitter: @LukeMMoney
---