Local businessman to revive Hotel Laguna with vision to restore its 'grandeur'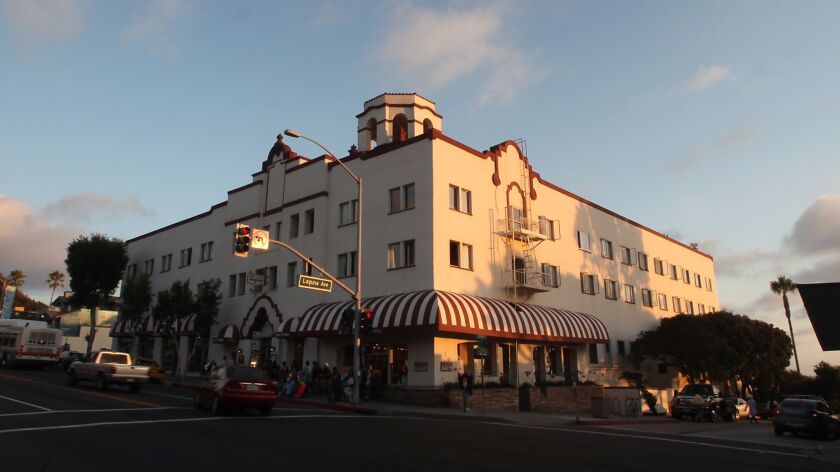 Hotel Laguna, which has been shuttered for a year after the previous operator's lease ended during a legal tug-of-war, will see new life under the hand of local businessman Mo Honarkar.
Honarkar's real estate investment firm, Laguna Beach Co., signed a 99-year lease agreement for the property, which has long been owned by Porterville company E.W. Merritt Farms. The lease went into effect Jan. 1.
Mark Orgill, a spokesman for the project, said Honarkar had been eyeing the property for a couple of years and is eager to get the hotel up and running again.
"Our ambitions are to restore it to its grandeur and make it … a proud asset of the community," Orgill said. "We're in a hurry. We know that it means a lot to the community, and it's our No. 1 priority at this time."
Orgill said he's unsure when the hotel will reopen and that the property is being evaluated for interior renovation and exterior restoration. Workers are scrubbing the sidewalks and cleaning the facility at its prominent location at 425 S. Coast Hwy.
"We intended just to clean some things up to make it so that it's not an eyesore on the corner," Orgill said. "We definitely want people to think there's something exciting on the horizon."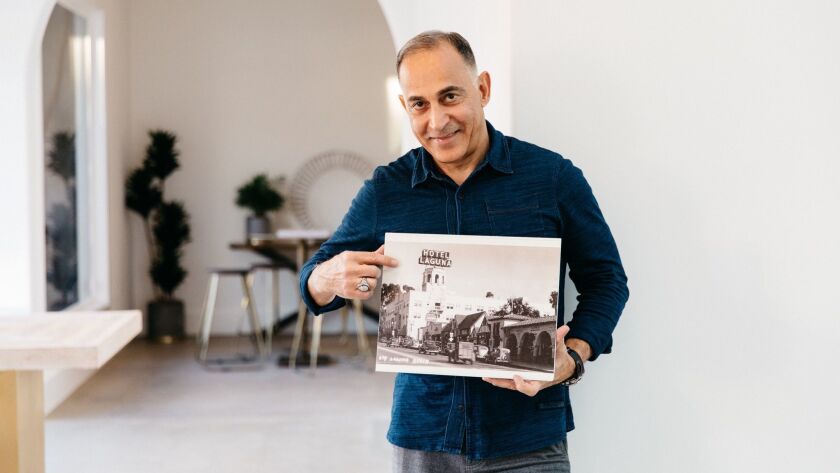 Hotel Laguna, notable for its red and white striped awning, has been closed since the end of 2017, when the lease of its last operator, Andersen Hotels Inc., ran out.
Laguna residents James Ray, real estate investor Joe Hanauer and filmmaker Greg MacGillivray — who publicly vied for the property for two years under the real estate entity Kimbark Group LLC — wished the new operator the best.
"Our quest has been to not just reopen the hotel but to do everything needed to enable the hotel to regain its position as a critical and vibrant part of our downtown … the crown jewel of Laguna," the three said in a statement.
Hanauer, MacGillivary and Ray, along with Merritt Farms and Kimbark Group, were the targets of litigation by Andersen Hotels, which operated the 68-room facility for 32 years. Andersen alleged in a lawsuit filed in 2017 that Merritt Farms violated the lease terms with Andersen by failing to give it the right of first refusal to the property while trying to strike a lease agreement with Kimbark, MacGillivray, Ray and/or Hanauer. Andersen also alleged the defendants ruined its prospects to renovate the hotel.
Andersen's complaint against Hanauer, MacGillivary, Ray and Kimbark Group was dropped, Hanauer said. A jury trial for the breach of contract lawsuit against Merritt Farms is set for April, according to the Orange County Superior Court website.
Andersen's lawyer was not immediately available for comment Thursday.
Hotel Laguna, with its Spanish arches and bell tower, is one of the most recognizable buildings in Laguna Beach, attracting Hollywood celebrities and other dignitaries through the years.
The hotel, first built in the 1880s, was demolished in 1928 because of fire concerns. A more modern establishment was dedicated in 1930 and is the building people know today.
Twitter: @faithepinho
---