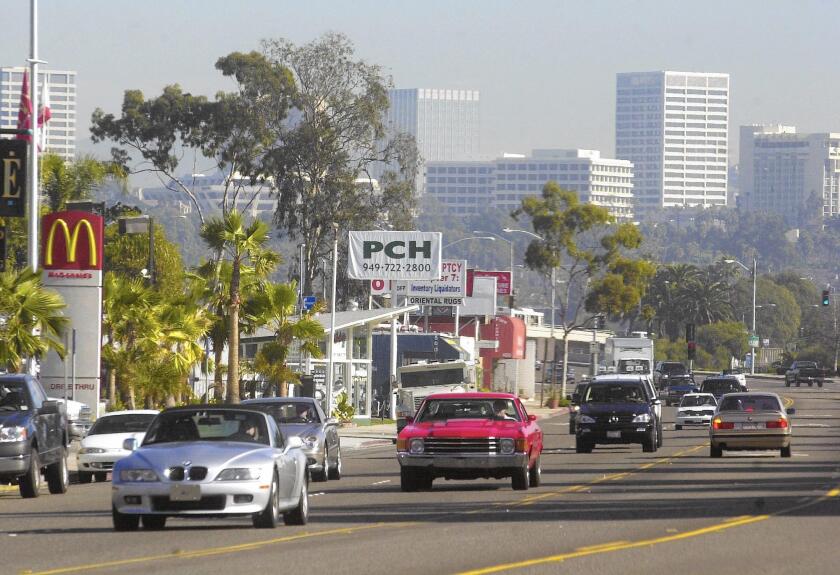 The Newport Beach Planning Commission heard a presentation Thursday night calling for the entire stretch of West Coast Highway known as Mariners' Mile to be three lanes in each direction.
The commission did not vote on the matter.
Commissioner Kory Kramer abstained from discussing the presentation by Public Works Director Dave Webb because of a perceived conflict of interest involving the Balboa Bay Club, a property in the area acquired by Pacific Hospitality Group, where Kramer is the chief investment officer.
Portions of Mariners' Mile, a 1.3-mile segment of West Coast Highway between Newport Boulevard and Dover Drive, currently have two or three lanes, depending on the direction, with parts of the highway used for turn lanes and street parking on the side.
In both the city general plan and the county transportation master plan, Coast Highway is designated as a six-lane major arterial highway.
According to Webb, public works and planning staff will pursue a few main goals to continue widening efforts for Mariners' Mile, with no specific time frame.
That includes removing the remaining street parking, installing bike lanes and initiating a study to recommend possible land-use and zoning modifications for Mariners' Mile business areas.
The presentation also noted that traffic on West Coast Highway through Mariners' Mile is expected to grow.
The average daily traffic count between Newport Boulevard and Tustin Avenue is expected to be 57,000 by 2030, almost a 19% increase from the 48,000 in 2011.
The average daily traffic count is expected to hit 53,000 between Tustin Avenue and Dover Drive by 2030. That would be a 20% jump from the 44,000 recorded in 2013.
Funding for highway capacity expansion is expected to come from grants and gas taxes.
"I think this is an improvement that will be great for residents and those that come into the area," said Commissioner Erik Weigand, who added that he tries to avoid driving that stretch of the highway.
Some residents at the meeting raised concerns about the possibility of creating speedier traffic and safety problems by adding more lanes to Mariners' Mile. They drew comparisons to the speed of vehicles on roadways such as Jamboree Road and MacArthur Boulevard.
"People think that this road will get faster if we add more lanes, and that's not necessarily the case," Webb said. "We're looking at capacity, not speed, and speed is a function of many things."
Webb noted that the lanes on Mariners' Mile are narrower than those on Jamboree and MacArthur, which prompts vehicles to move slower.
Staff writer Bradley Zint contributed to this report.
Twitter: @AlexandraChan10
---