Medical marijuana measures in Costa Mesa and Laguna Beach headed to defeat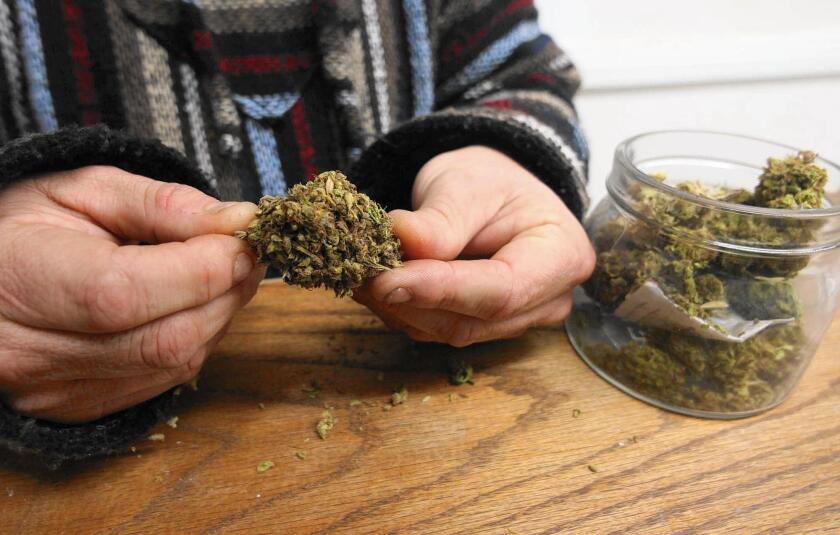 Voters in Costa Mesa and Laguna Beach were poised to reject ballot measures Wednesday that would have allowed medical marijuana businesses to set up shop in the two cities.
Meanwhile, a separate measure that would allow manufacturing of medical marijuana products in Costa Mesa had a narrow lead, according to county registrar data from Tuesday's election that was posted Wednesday evening.
The City Council sponsored that item, Measure X, to allow businesses that research, test, process and manufacture medical marijuana products to open in an area north of South Coast Drive and west of Harbor Boulevard — provided they obtain permits from the city.
Proponents of the city's measure, which had pulled in 53.6% of the vote as of Wednesday, said it would create a new revenue stream and bring good-paying jobs and high-tech entrepreneurial opportunities to the city.
The measure would keep in place the city's existing ban on over-the-counter dispensaries.
Two resident-led pushes to allow medical marijuana businesses to open in Costa Mesa — Measure V and Measure W — appeared headed for defeat, according to unofficial election results Wednesday.
Measure W would have allowed up to four medical marijuana businesses to open in Costa Mesa, while Measure V would have allowed as many as eight.
Such businesses would have been restricted to commercial and industrial areas and subject to a 6% tax under both measures.
As of Wednesday evening, 63.2% of voters opposed Measure V and 58.9% had cast their ballots against Measure W.
In Laguna Beach, a citizens' initiative that sought to rescind the city's ban on medical marijuana dispensaries lagged in support, as 71% of the city's residents voted against the proposal, according to unofficial registrar results.
Measure KK would have allowed a maximum of two dispensaries within commercial zones of the city. Proponents hailed the initiative as a way for people to stay closer to home and not drive to another city to purchase the drug.
Opponents claimed having the dispensaries in Laguna would lure unnecessary traffic and be a threat to public safety.
Earlier this year the City Council debated whether to place a competing measure on the ballot, but declined. Instead, the council unanimously adopted a resolution opposing Measure KK.
Councilman Robert Zur Schmiede said he and Councilman Bob Whalen, who had earned the most votes according to unofficial election results Wednesday, formed a steering committee that campaigned against the measure.
"Contrary to the representation of the backers, residents were not interested in seeing storefront dispensaries," Zur Schmiede said. "What everyone is interested in doing is making sure patients who can benefit [from medical marijuana] have access to it. That can be accomplished without a storefront dispensary."
---