Judge halts Costa Mesa Motor Inn redevelopment, calling for resident relocation plan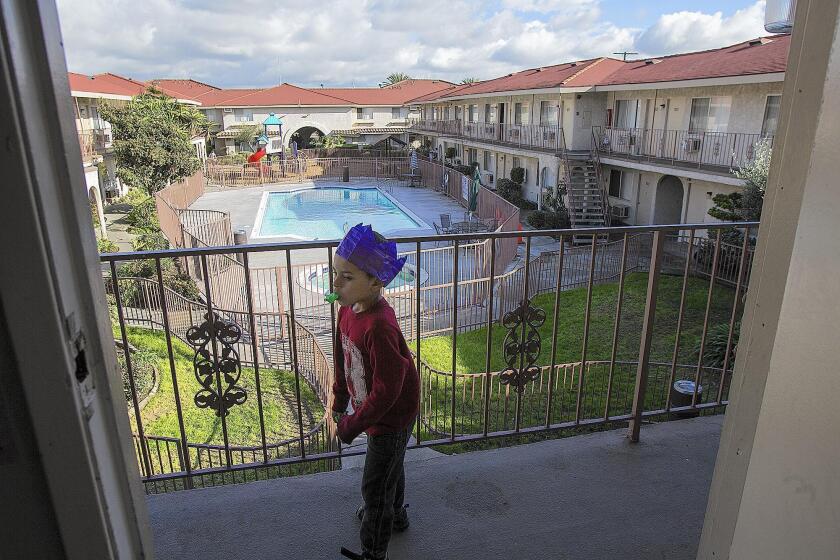 A judge has suspended work on a proposal to redevelop the Costa Mesa Motor Inn into luxury apartments, saying more needs to be done to help relocate long-term residents of the motel.
Los Angeles County Superior Court Judge Robert O'Brien issued a preliminary injunction last week against the plan to replace the 236-room Motor Inn at 2277 Harbor Blvd. with 224 high-end apartments.
The injunction will remain in place, O'Brien wrote, until Costa Mesa "adopts and implements a valid replacement housing and relocation assistance program" in accord with state law.
Among the rules he cited are Title 25 of the California Code of Regulations, part of which states, "A public entity shall not participate in or undertake a project that will displace individuals from their homes unless comparable replacement dwellings will be available within a reasonable period of time prior to displacement."
The Costa Mesa City Council approved the redevelopment proposal in November, with supporters saying it would rid the city of a blighted motel that has been a hotbed for illegal activity.
Timothy Dadey, a long-term Motor Inn resident and one of the plaintiffs in a lawsuit filed against the project in January, said the judge's ruling "provides much-needed hope."
"Many residents have not been able to find housing that is affordable in Costa Mesa," Dadey said in a statement provided by the Legal Aid Society of Orange County. "People have been under a great deal of stress trying to figure out where to go, or wondering if their children would become homeless."
But Ellia Thompson, a lawyer who represents motel owner Miracle Mile Properties, said Tuesday that she plans to seek clarity on the judge's ruling, saying "this would be entirely new law."
"This is not a public project; it is not a public program; there's no partnership between the city and the private developer," she said. "There is nothing that would trigger a relocation assistance program."
Miracle Mile previously agreed to provide relocation assistance packages worth about $5,500 to long-term residents of the motel. The company also has set aside an additional $200,000 that nonprofits can use to assist motel tenants, Thompson said.
"We're continuing to work with nonprofits to help the remaining guests repair their credit, get their security deposits in order and find permanent housing," said Thompson, who works with the firm Ervin Cohen & Jessup LLP. "We continue to do that, and there's nothing in the order that keeps us from doing that."
The Kennedy Commission, an affordable-housing advocacy group based in Irvine, and some residents of the Motor Inn challenged the redevelopment project in court, alleging the city had OKd it without providing a relocation plan or appropriate assistance for low-income motel residents who would be displaced.
The lawsuit also claims the apartment plan violates state law because it doesn't include low-income units.
"One of our concerns is that residents don't have the opportunity to find appropriate housing," Cesar Covarrubias, executive director of the Kennedy Commission, said Monday. "There needs to be a relocation plan developed, and that's what we hope the city and developer will do."
That plan, Covarrubias said, should include "an analysis of what's available out there and what the housing costs are and what each resident can spend."
The Motor Inn is not the only motel in Costa Mesa that has drawn the attention of affordable-housing advocates in recent months.
Some, including the Kennedy Commission, also have taken issue with a city program aimed at enticing owners of some oft-criticized motels along Harbor and Newport boulevards to redevelop their properties into housing projects by providing them with a development incentive that would allow up to 40 units per acre.
Proponents say such incentives could help address problems at motels that are considered havens of drug use and other criminal activity.
Critics, though, say the program would displace many tenants and could run afoul of state law since residential projects that use the incentive won't be required to make any of their units affordable for lower-income households.
The program was approved this month as part of an update to the city's general plan.
---