Hypodermic needles and syringes wash up in Newport Beach following storms
Hypodermic needles and syringes have been washing ashore in Newport Beach at the mouth of the Santa Ana River, an area that see a high degree of flotsam and jetsam following storms.
City crews Tuesday began cleaning a stretch of sand in Newport Beach adjacent to the mouth of the Santa Ana River where beachgoers reported finding hypodermic needles and syringes after the recent storms.
It's not uncommon after heavy rains for beachgoers to find odds and ends — vegetation, golf balls, shoes, even an occasional dead rat —scattered on the sand near the mouth of the river, which flows from north Orange County into the ocean in Newport Beach, said city Municipal Operations Director Mike Pisani. Tides can send the debris back onshore.
Sometimes the trash includes a syringe or two, but beachgoers and lifeguards have reported seeing more than a dozen of them since Monday, which is unusual, Pisani said. A few needles have been reported as well.
Join the conversation on Facebook >>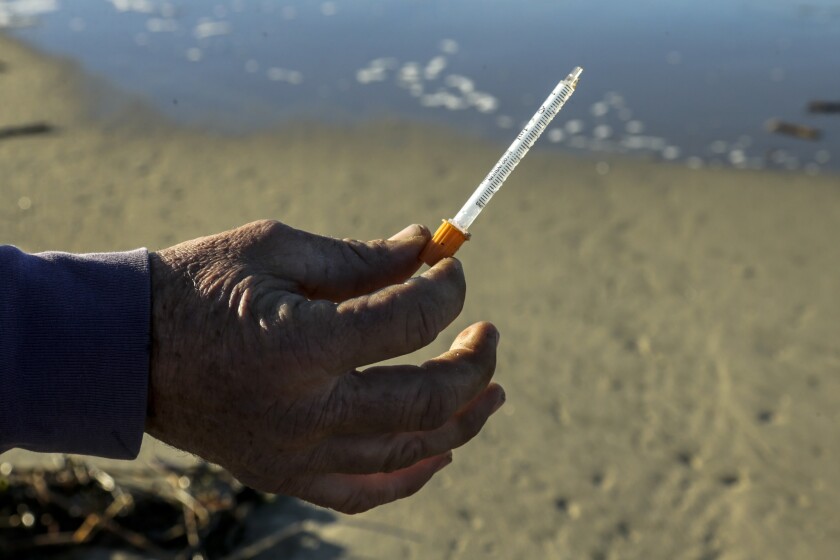 "It's something that we have to clean up," Pisani told the Los Angeles Times. "It happens every time we get good rain like we've had a couple of times in the last two weeks."
Chris Heurkins, a Newport Beach resident, told The Times that he's seen several people walking around the area barefoot in the past few days and that he's been warning them to wear shoes.
"It doesn't look as dangerous as it is, but there might still be a needle in there and it could still scratch you," he said as he held up a syringe.
Newport Beach lifeguard captain Skeeter Leeper said guards typically find one or two syringes per winter along the beach and dispose of them in a "sharps box."
"At least most people I see are wearing shoes, but dogs are running around in that area," Leeper said. "It's kind of scary."
The area where the debris has washed up is near a stretch of sand between Newport Beach and Huntington Beach where people take their canine companions to run off leash. Orange County has not defined the area as a dog beach, though there is a push to give it that designation.
A county spokesman did not immediately respond Tuesday to a call seeking comment about the debris on the county portion of the sand.
--
Hannah Fry, hannah.fry@latimes.com
Twitter: @HannahFryTCN
ALSO
'Butterfly lady' of Huntington Beach keeps tending her charges
Newport Harbor homes light up for the holidays
---