Newport-Mesa Unified School District marks 50th anniversary
In the 1960s, two neighboring communities by the coast came together with the desire to merge three school systems into one.
The result? The birth of the Newport-Mesa Unified School District.
Following a vote of the people, on July 1, 1966, the new K-12 district formed as a product of the Costa Mesa Union School District, the Newport Beach City School District and the Newport Harbor Union High School District.
Now, for its 50th anniversary, throughout the coming school year the 32-campus district plans to hold activities to commemorate the milestone. Events include inviting former trustees to board meetings and burying a time capsule at the district's Costa Mesa administrative offices.
District staff will also roll out student research presentations for middle and high schoolers, having them describe what it was like to be in school during each of the last five decades, said district spokeswoman Annette Franco.
"Thank you to everyone who has contributed to the success of our students," district Supt. Fred Navarro said in a statement. "We appreciate your unwavering commitment, support and partnership as we look forward to continued success."
Newport-Mesa Unified came to be partly due to a group of community members from Newport Beach and Costa Mesa who promoted their support for unification by establishing the Orange Coast Civic Assn.
Hank Panian, a 60-year Costa Mesa resident and former professor at Orange Coast College, was the group's president.
"We were very much in favor of a unification," Panian said. "Our main concern was to have a school system that had a continuity and a unified curriculum policy from elementary through high school, rather than having three separate school systems that had their own tracks and own agenda. We thought that having a unified curriculum would enhance the education of our children, particularly when they went on to college."
As Panian remembers it, the former Costa Mesa district's superintendent and four of its five school board members came out in favor of unification. Their support "carried a lot of weight" in the community, Panian said, and their approval meant they would lose their district positions.
At the time, Panian asked the trustees why they supported such a cause. Their response, even 50 years later, he still remembers.
"All four replied that it would be the better thing for our students and it will give them a balance of education," Panian said. "Very few politicians are ever willing to give up their seat, but they were willing to do that and openly so."
In 1967, one year following the formation of Newport-Mesa Unified, Joe Robinson started his first school year teaching at Ensign Intermediate School in Newport Beach.
Two years later, he began teaching half a mile away at Newport Harbor High School, where he still molds young minds.
Robinson started at Harbor as a Spanish teacher, but soon moved into instructing a different subject.
"I starting teaching history because, well, I lived through most of it," Robinson said with a laugh. Now he teaches Latin and art history.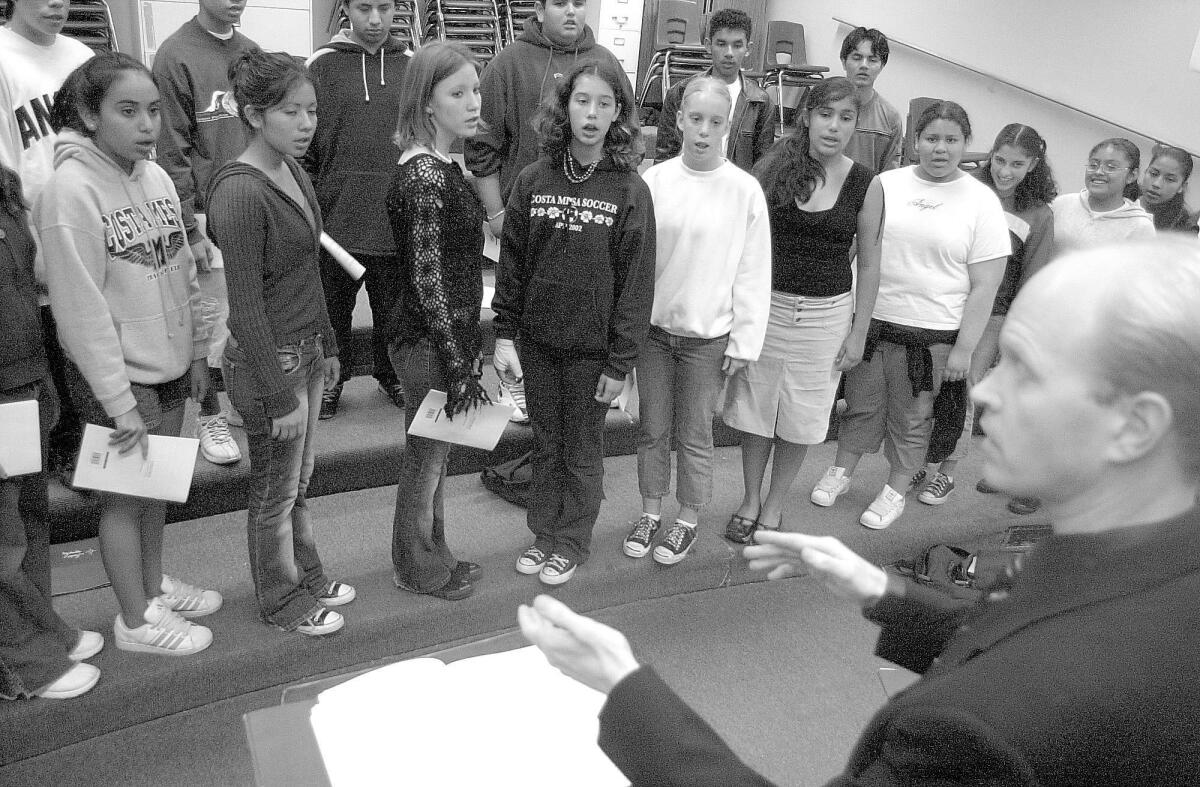 In his early years working at the campus, Robinson used to have lunch with his father in the campus bus garages because he worked as a bus mechanic for the district.
He also remembers his European history class, which his son Gary took. Now, Gary is teaching the class at Harbor.
"This school has had three generations of Robinsons," he said.
Having taught at the district for more than four decades, Robinson has experienced changes in the classroom, including the now-ubiquitous presence of technology.
"At its best, technology is wonderful," Robinson said. "When kids are sitting at lunch with their phones watching videos of cats riding zebras, I worry about that. But at the same time, I could be teaching and I'll ask when Beethoven was born because I can't remember, and a student says, 'I'll look it up.' Then I say, 'Look it up!'"
Like Harbor, which opened its doors for the first time in September 1930, the district's three other comprehensive high schools were founded before the formation of the Newport-Mesa Unified: Costa Mesa High in 1958, Estancia High in 1965 and Corona del Mar High in 1962.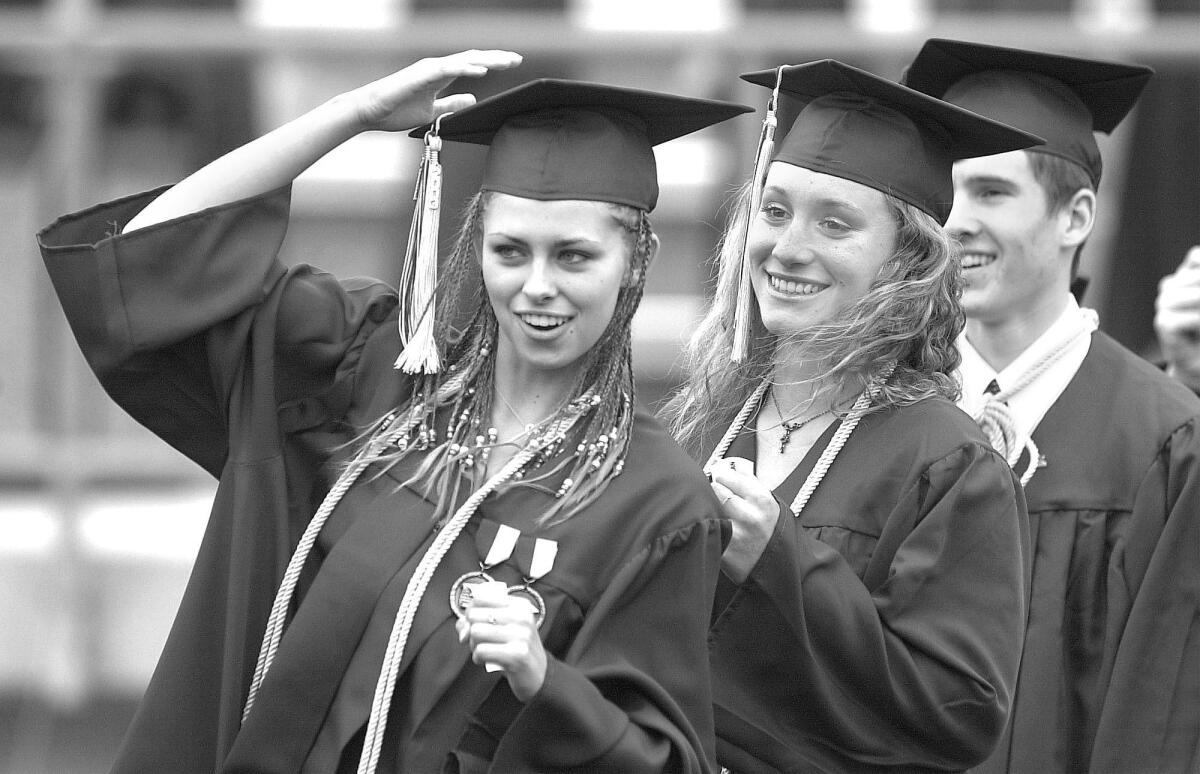 Pam Mattson-East, who was part of Corona del Mar's first graduating class to have attended all four years at the campus, recalls the quad area at the center of the school, where lunches, pep rallies and graduation ceremonies took place. Her graduating class of 1966 had 480 students.
Since then, the school has experienced a few facelifts, including the construction of the Corona del Mar Middle School enclave.
"There's so much growth happening for teenagers who are learning about relationships and who they are… those memories are really vivid and they're lasting" said Mattson-East. "When you go away to college, especially if it's a big one, you can feel kind of lost. High school can feel much safer, where you're just able to connect with your teachers and friends. It's your home."
Panian said in the long term, Newport-Mesa's unification was the right one.
"In my viewpoint, all the hopes of the people I mentioned in 1966 have been more than fulfilled," Panian said. "All three of my children went through elementary to high school in the district and have done exceptionally well in college. My hopes for them have been fulfilled."
Twitter: @AlexandraChan10