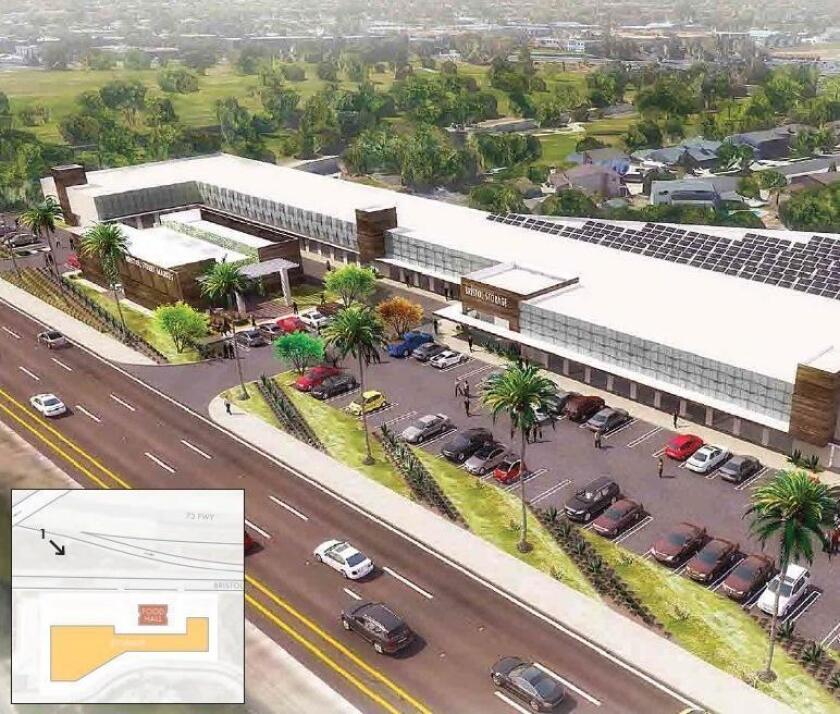 Some Costa Mesa business owners are speaking out against a proposal to tear down their shops on Bristol Street and replace them with almost 100,000 square feet of self-storage space and a food hall.
A collection of merchants in the Autoplex strip mall at 375 Bristol met this past week to map out how they can persuade Costa Mesa leaders to reject the project.
If they can't, some of them told the Daily Pilot, they may have to move outside the city or go out of business.
Join the conversation on Facebook >>
"It's pretty frustrating to think that we might shut down forever, but we're going to keep on fighting," said Olivia Bean, general manager at Sandwich World, a restaurant in the center. "I know a lot of my customers have been sending emails to the Planning Commission for them to reject the project, and hopefully they'll succeed."
It's pretty frustrating to think that we might shut down forever, but we're going to keep on fighting.
Olivia Bean, general manager at Sandwich World
On Monday, planning commissioners are scheduled to review the proposal to topple the 37,883-square-foot strip mall and replace it with a two-story, 744-unit self-storage facility and a freestanding 5,000-square-foot food hall.
"It just kind of blows me away that they want to do that," business owner Dan Krogh said of the project, a joint venture of Sanderson J. Ray Development of Newport Beach and Costa Mesa-based Cardinal Development.
Krogh has run his business, Dan's Autocare Express, in the Autoplex for about 20 years.
He said he has looked at relocating since hearing about the storage project last year but has been stymied so far in Costa Mesa. He said he found a possible spot in Santa Ana but is worried about moving so far from his current customers.
"It's been a good six or seven months of sleepless nights for me trying to figure out what to do," he said.
Marc Prowse, who runs Euro West Rovers in the center, thinks "storage is a horrible mistake" and said he's looking at relocating to Irvine, since he also has run into difficulty finding suitable space in Costa Mesa.
Autoplex tenants were officially notified in August that the development plan was moving forward, Paul Freeman, a spokesman for the project, said Friday.
The earliest the project would break ground is October 2017, Freeman said, meaning center tenants will have had more than two years to make plans.
"I feel for anybody that is uprooted in their business or where they live," Freeman said. "There are few things in life that are more disruptive."
Freeman said he hopes "it will provide a ticket to an even better situation with a good location and a reasonable rent."
Market trends are behind the proposed repurposing of the 3.2-acre site near John Wayne Airport, Freeman said.
Auto service shops are becoming less economically tenable as more dealerships start offering their own repair and parts services, he said.
The self-storage facility would be a financially sustainable alternative, according to Freeman, and the food hall would increase dining options in the area.
The project also would be an aesthetic upgrade, he added.
Some merchants, though, question the economic benefit. A report they submitted to the Planning Commission ahead of Monday's hearing says they "work exhaustively to create a thriving marketplace, which generates jobs for over 60 employees, generates significant tax revenue — about $350,000 annually — and supports the livelihoods of numerous small-business merchants."
"This attempt to rezone and change the use at 375 Bristol is a short-sighted blunder," the document states.
Freeman, however, said: "We're not developing storage or the food hall to lose money. We think it will be highly successful."
The Planning Commission meeting will begin at 6 p.m. at City Hall, 77 Fair Drive.
--
Luke Money, lucas.money@latimes.com
Twitter: @LukeMMoney
ALSO
Man sought after breaking into UCI dorm and exposing himself to student
Team's robotic prosthetic arm lifts Costa Mesa High into national contest
3 resident-driven initiatives placed on Costa Mesa ballot as city weighs competing measures
---