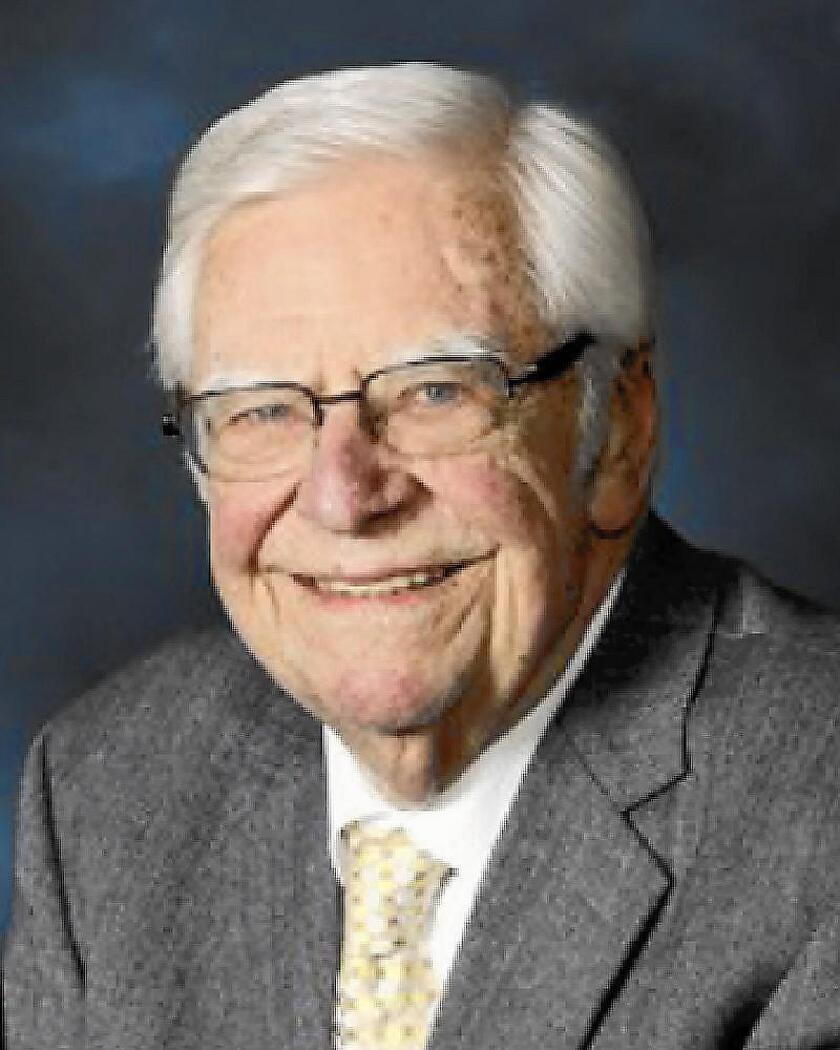 Theodore "Bob" Robins Jr., a fixture of Newport-Mesa and the philanthropic patriarch of the family who runs one of the area's oldest car dealerships, has died. He was 87.
Robins died peacefully Monday, surrounded by family at his Newport Beach home, according to his son, Jim Robins.
Robins maintained an active presence in the Newport-Mesa community for decades — both as dealer principal and chairman of the board for Theodore Robins Ford on Harbor Boulevard in Costa Mesa, and as a dedicated community volunteer and philanthropist.
"He was full of love, not only for his family, but for his employees," Jim Robins said Thursday. "He loved his community. That's why he was always part of so many different service groups and so focused on giving back."
Born in 1929 in Newport Beach, Bob Robins attended Newport Elementary School and graduated from Newport Harbor High School in 1947.
He married his wife, Virginia — whom he had met at the Balboa Bay Club — in 1957. They were married for 59 years and had three children: Sarah, Jim and David.
David Robins is general manager of the family dealership. Jim Robins is its president.
Jim Robins said his father was a daily presence there until about two months ago, when his health began to decline.
"All he would talk about with the doctors and nurses was that he wanted to get back to work," Jim Robins said.
Strong work ethic was something Robins was born into.
His father, Theodore Robins Sr., began the family's foray into the automobile business in 1921, when he opened a service garage on the Balboa Peninsula. Young Robins helped ferry parts throughout town, even getting his license at 14 so he could accomplish the job in a delivery truck.
Two years later, as family lore goes, Robins Sr. jumped behind the wheel of his Model T and drove to Los Angeles to sign a deal with Ford to open a dealership.
After expansions in Newport Beach, the business moved to its current Costa Mesa location, 2060 Harbor Blvd., in 1966.
Robins joined the dealership full time in 1950.
"You could say I was born in the business," he told the Daily Pilot in 2011. "Of course, I was just watching and hanging around the shop for the first few years. But I grew up in the shop … helping Dad on the weekends and [during] summer when school was out."
Costa Mesa resident Mike McIlroy worked at the dealership for more than 40 years before he retired about two years ago. He remembered Robins as generous and "a great guy" who was deeply involved in the family business.
"Any problems you had, he'd come out and talk them out with you," McIlroy said. "He just really helped you out whatever you needed."
During his lifetime, Robins donated his efforts and money to a host of organizations such as the Costa Mesa and Newport Beach chambers of commerce, Hoag Hospital, Segerstrom Center of the Arts and the Balboa Bay Club, among many others.
Sen. John Moorlach (R-Costa Mesa) called Robins a "five-star guy" and a "pillar of the community."
"Bob was personable," Moorlach said. "He was a down-to-earth, friendly guy who was always available and reachable. He'll be missed."
Steve Rosansky, president and CEO of the Newport Beach Chamber of Commerce, said Robins was always quick with a joke.
"He was well-loved and respected in the chamber and was a big supporter of ours," Rosansky said. "He always wanted to help out and volunteer."
Newport Beach resident Dr. Donald W. Wise, who's known Robins for several years, called him a "remarkable human being."
"He was so incredibly grounded," Wise said. "He always had a twinkle in his eye."
"He was just a salt-of-the-earth, good person," Wise added. "He and his wife were involved in so many different philanthropic endeavors in and around Newport Beach. He was just a really, really special man."
For his philanthropic work, Robins was named Newport Beach Citizen of the Year in 1994. The Costa Mesa Chamber of Commerce gave him a lifetime achievement award in 2005.
"It certainly gives you a lot of respect for the person and makes you proud of all of his accomplishments," Jim Robins said of his father's years of community involvement. "It makes you want to follow in his footsteps."
Services are scheduled 11a.m. Tuesday at St. Joachim Catholic Church, 1964 Orange Ave., Costa Mesa. A reception will follow at Santa Ana Country Club, 20382 Newport Blvd., Santa Ana.
In lieu of flowers, the family requests that donations be made to the Hoag Hospital Foundation or Exchange Club of Newport Harbor.
Twitter: @LukeMMoney
---