Mariners Elementary School principal leaving amid award controversy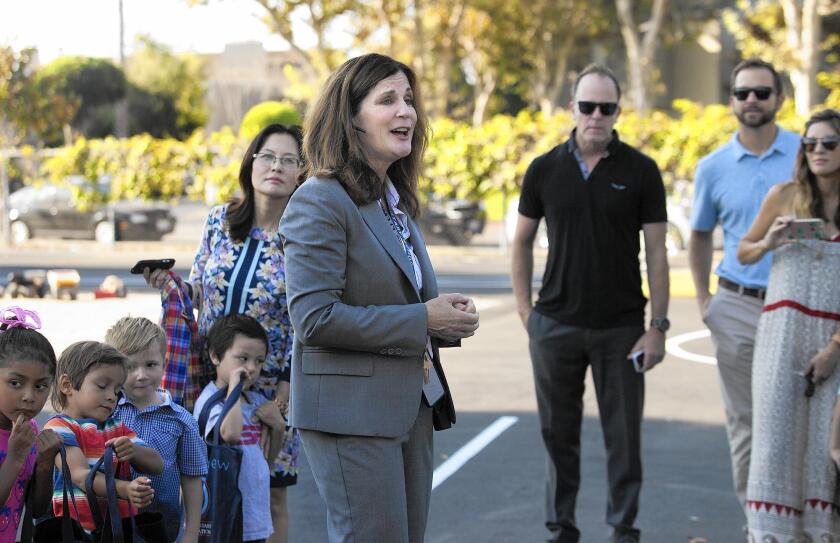 Mariners Elementary School Principal Laura Sacks is leaving the Newport Beach campus after one school year amid complaints from teachers and parents about her leadership and the accuracy of an application she filed for a school award.
Sacks requested a different assignment, according to Newport-Mesa Unified School District spokeswoman Annette Franco.
"The district is working with her to figure out her assignment for the next school year," Franco said Tuesday. "She is still expected to stay within the district."
Sacks could not be reached for comment.
The district announced Tuesday that Matt Broesamle, principal of California Elementary School in Costa Mesa, will replace Sacks at Mariners.
The switch comes after the district hired Dana Point-based Nicole Miller & Associates to investigate allegations of mischaracterizations and dishonest statements on an application Sacks submitted last fall for the Gold Ribbon Award, which the school received in April from the California Department of Education.
Mariners teachers raised concerns about the application in a complaint from their union in March and at a school board meeting in May. They alleged the application included educational programs that were not fully in place at Mariners and goals and practices that were never discussed with teachers.
According to Franco, the investigative firm interviewed school staff members and administrators about the complaints the past few weeks.
"I believe that they've finished their interviews and will be compiling reports" for the district and the teachers union, Franco said.
At the June 14 school board meeting, some Mariners parents expressed unhappiness with Sacks' leadership and the school climate under her charge.
"It's felt awkward and institutional," said Jennifer Brooks, a mother of two Mariners students. "It used to feel friendly and home-like. The recent concerns of the Gold Ribbon Award brought others to light."
'New chapter' for Broesamle
Broesamle has served as principal of California Elementary School the past five years.
In 2002, he began a teaching career at Adams Elementary School in Costa Mesa and stayed there for eight years.
"I have absolutely loved my time at California Elementary School, and while there are many things that I will miss, I am ready to start a new chapter in my life," Broesamle said in the district's announcement Tuesday. "I am excited and look forward to joining the Mariners School community."
The principal's position at California Elementary is expected to be filled before the next school year begins, according to the district. Sacks is not expected to fill it.
---