More than 500 students at Woodland Elementary School became a living piece of art Thursday.
The Costa Mesa school hosted an "Art for the Sky" project, a team-building exercise in which the children, under the direction of artist Daniel Dancer, were grouped by the colors of their clothing to create the image of a dragon on the school field — discernible only from above.
"Once you see what he does, it's like 'Wow, that's totally different,'" said Tiffany Lewis, Woodland's principal.
Lewis received an email about "Art for the Sky" and invited Dancer to direct the three-day program after receiving support from the school's Parent Faculty Organization.
The creation of the art piece on Thursday was Day 2. Dancer, a former photojournalist, took pictures and videos of the process.
For the last day of the program Friday, he planned to present a musical video of the final product during an assembly.
On Wednesday, Dancer conducted assemblies with each grade level — transitional kindergarten through second grade — to share a multimedia presentation about the art form's history and logistics.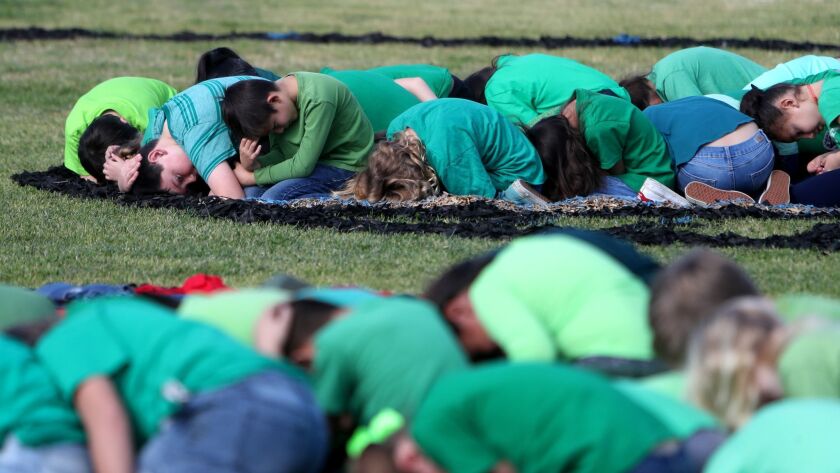 Dancer said "sky art" has been around more than 3,000 years, offering the example of Nazca lines — giant motifs that can still be seen etched into the plains of Peru.
He includes six philosophical "teachings" in his presentation: intention, collaboration, interconnection, "skysight," gratitude and impermanence.
According to Charlee and London, second-graders at Woodland, skysight is what helps us visualize new ideas.
"We close our eyes and think that we're flying over everything," London said.
Charlee demonstrated by placing two fingers to her forehead. The "third eye" is the area of the brain that houses skysight, according to Dancer's teachings.
"So you could imagine that you're flying over and you're trying to help get the pollution away — like imagine that there's no pollution," Charlee said.
Lewis said the program also teaches students about people's relationship with Earth and how to take care of it.
"[Dancer] didn't scare away from talking about climate change and global warming," she said. "It's going to be the students' reality for their whole lives."
London said his favorite part was seeing what the project looked like as students got together.
"I didn't even think the whole school could fit in there," he said, eyes wide.
Students were asked to wear green shirts to school to create the body of the dragon. Community donations made up other details, including blue jeans to create the dragon's wings and bags of mulch to form dark lines around the image.
Twitter @CharityNLindsey
---