Unsung heroes: Formerly homeless, Robert Morse now helps those who are
Most days in 2012, Robert Morse would be at the check-in center at The Crossing Church even before the sun had begun to warm the streets of Costa Mesa.
He was there to claim his bin for the day. He would use the 22-gallon blue tub and accompanying sack to store his clothes, sleeping bag and any other items that could make getting around more difficult.
A place to drop off personal items during the day and pick them up at night is a simple but hard-to-find convenience for many of Orange County's homeless people. Morse would know — he spent a decade living on the streets after the cab company he worked for went out of business.
The check-in center on the first floor of the parking structure at The Crossing Church on Newport Boulevard provides space for up to 63 homeless people to store their belongings Mondays through Saturdays. The center was first opened in January 2012 by Trellis — formerly called the Churches Consortium — a group of area Christian churches that advocates for the homeless, immigrants and education.
"I'd drop off my stuff and go about my business without carrying my whole life with me," Morse said. "The check-in center was the first storage of any size to open up in Orange County."
Now, the 67-year-old — known by most around the center as "Santa Bob" due largely to his bright blue eyes and bushy white beard or "Angel Bob" for his affinity for the major-league baseball team — is no longer homeless and has stepped up to run the check-in center.
-------------------------------------------
Editor's note: This is an installment of Unsung Heroes, a new annual feature that highlights otherwise overlooked members of the community.
-------------------------------------------
Morse is responsible for scheduling more than 50 volunteers and spends his Saturday mornings talking to people with whom he used to live side by side on the street. He connects them with resources and tries to provide hope where there is none.
Morse said he first heard about the showers, laundry and breakfast available at The Crossing in early 2012 from a friend who also was homeless. Morse wasn't interested in checking it out until he heard about the storage.
Most people who have spent significant time living on the streets have figured out where to do their laundry, shower and eat, Morse said. But a place to store personal belongings doesn't come easily.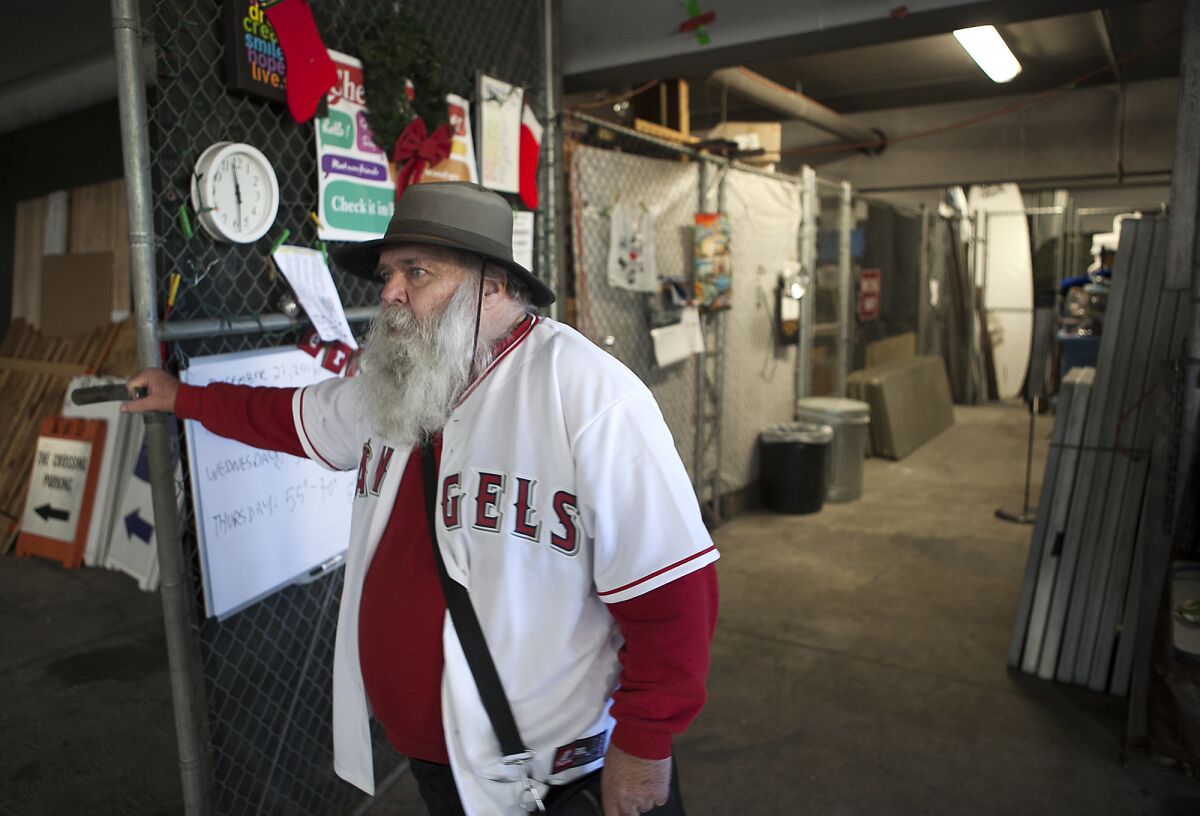 Becks Heyhoe, former director of the Trellis Homelessness Initiative, said she and Morse built a rapport as he used the center.
-----------------
FOR THE RECORD
An earlier version of this article incorrectly referred to Becks Heyhoe by her previous name of Becks McKeown.
-----------------
She invited him to go through the volunteer training program to begin helping at the center. He originally said he wasn't interested, but he changed his mind, completed the 16-hour training and began helping to manage the center during operating hours.
"As he learned how things worked, he kept coming to me with really insightful questions about how things were organized or why things were done in certain ways," Heyhoe said. "During those conversations it became really obvious to me that he had a very strategic brain. He thought of things I hadn't, saw things I didn't, and very quickly, he became my right-hand man."
Heyhoe said Morse is seen by many homeless people as someone who is safe to open up to and ask for help.
In February 2014, Morse began running the check-in center and participating in city and community meetings about homelessness in Costa Mesa. About five months ago, he started renting a room five minutes from The Crossing.
"Quite frankly, I'm the best person I have ever been, in all ways," he said. "I am now accomplishing something other than dispatching for a cab company. It was a job, but that's it. This means more."
Twitter: @HannahFryTCN
---