Girls' Soccer: Sailors still unbeaten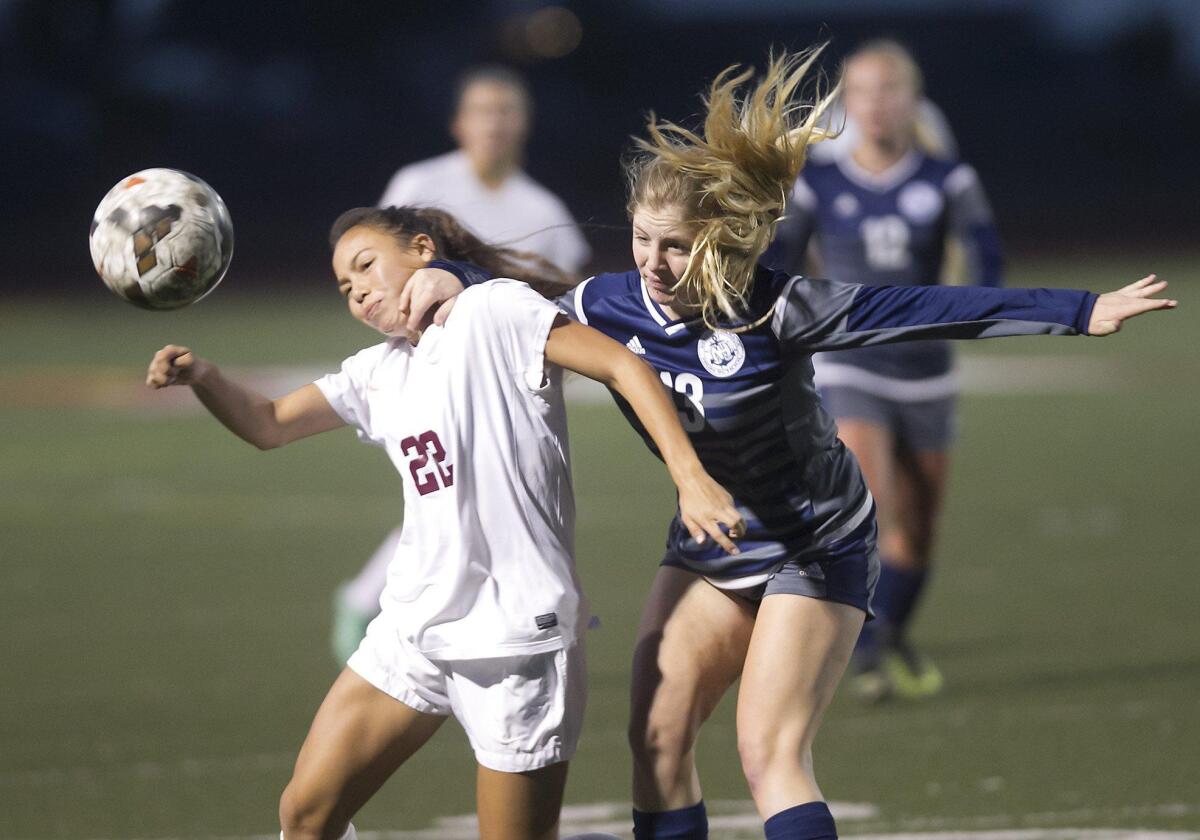 Freshmen seemed to be making plays everywhere Tuesday night for the Newport Harbor and Estancia high school girls' soccer teams.
In the end, though, it was a wily senior who helped make sure the Sailors would come out ahead of their Newport-Mesa district rivals.
Senior striker Sianna Siemonsma scored both of her goals in the second half as Newport Harbor earned a 4-2 nonleague win at Jim Scott Stadium in the energetic, back-and-forth game.
The Sailors (4-0-1) continued their upward progression while handing Estancia (3-1-1) its first loss of the season. Newport Harbor has now matched its total win total from all of last year, when the Sailors finished 4-13-6.
Freshman Sadie Pitchess added a goal and two assists for Newport Harbor, while sophomore Emily Johnson scored the first goal of the contest, on a free kick from 30 yards out just five minutes in.
Newport Harbor, ranked No. 9 in CIF Southern Section Division 2, never trailed after that.
"It's really exciting," Siemonsma said. "The three years before, it's never been like this. It was more frustrating. I think being more disciplined helps a lot. The years before, our team never had discipline. With the new freshmen we have, the team being closer and [first-year coach Justin Schroeder] being more on us, it helped and got us ready."
The atmosphere was spirited Tuesday night, partially because large contingents of the boys' soccer team from both schools watched in the stands. They saw Siemonsma give her team a 2-1 advantage in the 54th minute, when she volleyed the ball past Estancia goalie Monique Mendoza in the box.
The Eagles, who are ranked No. 3 in Division 4, answered with a spectacular effort from freshman striker Desiree Mendoza in the 63rd minute. Her second goal of the game was highlight-worthy, as she ran down the left side of the box and, from a tough angle, shot cross-cage into the upper-right corner.
"She's a special player, and special players can score goals like that," Estancia Coach Josh Juarez said. "She puts the work in at practice. She's one of, if not our hardest worker in practice. You put that type of work ethic in a kid who obviously loves to play as much as she can, and you get special players out of that.
But the score was tied 2-2 only momentarily. Siemonsma, who leads the Sailors with eight goals this season, added her second score of the game in the very next minute.
The Sailors then used a nice buildup for an insurance goal in the 69th minute. Siemonsma fed the ball to freshman Skylynn Rodriguez, whose shot went off the crossbar. But the rebound went to Pitchess in the box, who finished it off with a header.
Monique Mendoza played well and made 10 saves in the game but had no chance on that particular play.
"Monique had a great game and she kept us in there, made some big-time saves," Juarez said. "She did enough where we should have been able to win this game. With the saves she came up with, our team has to be able to pull something out for our keeper.
"Defensively, as a unit, we struggled today. Against some teams, you can be a little slow defensively and not get punished for it. When you play against a team as quick as this team, a team that moves the ball really well, then they exploit you. I think that's good for our team, understanding that if we want to get to the level we want to be at this year, our speed of play needs to be picking up. It really starts at practice."
Ryah Montano made four saves for Newport Harbor, which was also led defensively by senior Kathryn Peters, juniors Scout Farmer and Ashlee Young and freshman MaKenzie Trigo.
With three freshmen starters, the Sailors have still meshed well.
"The seniors have been so nice to us," Pitchess said. "They make us fit in so well. It's super nerve-wracking, but they make it a lot better."
Estancia plays host to Fountain Valley on Thursday, while Newport Harbor plays Rosary at Fullerton College. Both teams resume play in the Best in the West tournament on Saturday.
Schroeder said the intensity in Tuesday night's game should also benefit his team as it plays at rival Corona del Mar in the Battle of the Bay game, on Dec. 22. CdM is the top-ranked team in Division 2, and Coach Bryan Middleton was there Tuesday scouting the Sailors.
"It's a great dress rehearsal for that, to be honest," Schroeder said. "Estancia's good. They're going to do really well in their league."
---