Volleyball: Misty bound for International Hall of Fame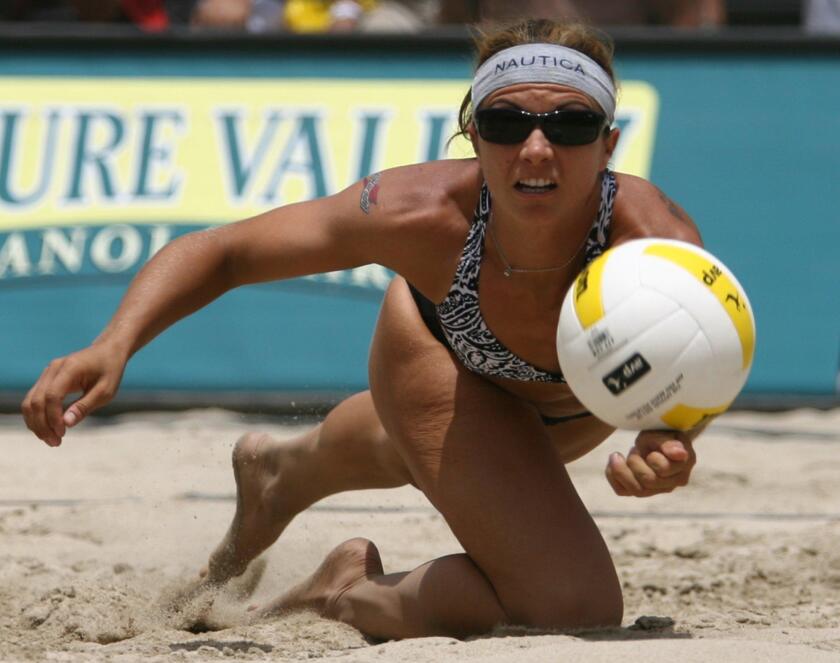 Misty May Treanor, a four-time Olympian and three-time gold medalist in women's beach volleyball, will be inducted into the International Volleyball Hall of Fame on Oct. 22 in Holyoke, Mass., the sport's birthplace.
May-Treanor, a longtime Costa Mesa resident who starred at Newport Harbor High, paired with Kerri Walsh Jennings to win Olympic gold medals in beach volleyball in 2004, 2008 and 2012. The duo also won three straight Federation Internationale de Volleyball world championships in 2005, 2007 and 2008.
May-Treanor won 112 domestic and international tournament titles on the beach and netted more than $2.1 million in prize money.
She is a four-time Assn. of Volleyball Professionals MVP and was AVP Best Offensive Player five times. She was AVP Best Defensive Player three times and along with Walsh Jennings was the AVP Team of the Year six consecutive times from 2003 through 2008.
She was USA Volleyball's Women's Beach Player of the Year in 2007, 2008 and 2012 and she and Walsh Jennings were the USA Volleyball Team of the Year in 2007.
FIVB named her Most Outstanding Player in 2005 and 2008, Best Defensive Player in 2007, 2008 and 2011, and Best Offensive Player in 2005, 2007 and 2008. She was named Best Setter by FIVB in 2005, was the FIVB Sportsperson of the Year in 2007, 2008 and 2010, and she and Walsh Jennings were FIVB Tour champions in 2002.
Her indoor career included helping Long Beach State win the 1998 NCAA crown, capping the 49ers' undefeated season by being named Co-MVP of the NCAA Championship.
She received the Honda Broderick NCAA Athlete of the Year award in 1998 and was three times a first-team NCAA All-American.
At Newport Harbor, she helped the Sailors win two CIF State championships.
Now 38 and a Long Beach resident, May-Treanor was recently named director of volleyball operations at Long Beach City College. She will coach the school's women's indoor and beach teams, and oversee the men's program.
The 31st induction class also includes Danielle Scott Arruda, who played at Long Beach State, for the U.S. national team indoors, and also toiled on the beach.
"One of the most remarkable facets of Misty and Danielle is their longevity that speaks volumes to their talent, commitment and impact on the history of our sport," said Doug Beal, CEO of USA Volleyball and co-chair of the International Volleyball Hall of Fame selection committee. "Winning one gold medal is a remarkable achievement; to win three consecutive is unprecedented for Misty. USA Volleyball is humbled and honored to recognize [May-Treanor and Scott] for their selection into the International Volleyball Hall of Fame.
The induction festivities include a reception on Oct. 21 at Wistariahurst Museum in Holyoke, followed by the Ring and Plaque Ceremony inside the Volleyball Hall of Fame on Oct. 22, beginning at noon.
— From staff reports
— From staff reports
---