It's that time of year: the annual bird count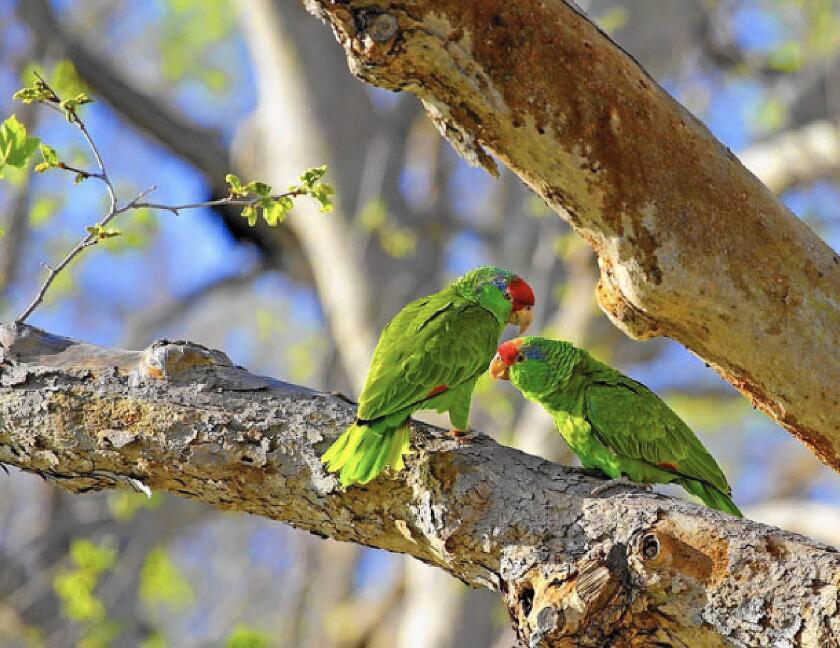 You have to get out really early to count the birds. Dawn, to be exact.
And in the chilly early morning air of Orange County recently, dozens of intrepid birders, veteran and amateur alike, traversed parks, wilderness areas and the coastline with their binoculars, notepads, clip boards and cameras, dutifully taking stock of local bird populations as part of the annual Audubon Christmas Bird Count.
A few even took to boats.
"Christmas counts really are a bunch of people counting birds," said Steve Alter of the Sea & Sage Audubon Society, an Orange County chapter of the national group, emphasizing this very basic concept.
Birders count from the Seal Beach Naval Weapons Reserve to Irvine Regional Park, Caspers Wilderness Park, in San Juan Capistrano, and the Saddleback College campus in Mission Viejo. From Silverado and Modjeska canyons, Upper Newport Bay and the foothills to some of the oldest neighborhoods in Santa Ana. Even just off shore.
"We'll have some walking the sand in Huntington Beach and counting the birds on the beach, but some will walk only a few hundred yards. Some will be driving madly from park to park," said Vic Leipzig, president of Sea & Sage Audubon. "In Limestone Canyon, my friend walks about nine miles every year."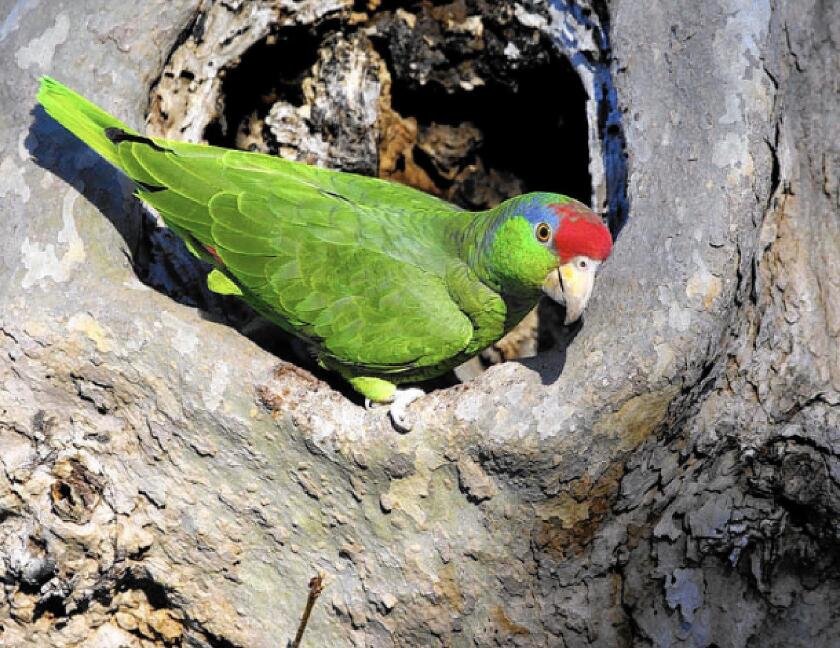 According to Leipzig, a typical counting day will begin at a 24-hour diner at 5 a.m. There, people will be assigned teams, mixing various experts with the less experienced, and they'll go out to their counting circles. They'll reassemble to go over results at lunch. If they haven't reached all their assigned areas by lunch, they'll head back out in the afternoon.
Counts are not days spent simply looking up. Many local birds feed on the ground. Also, some birds can be counted by their vocalizations. Expert birders can get a pretty good idea of how many birds might be in the immediate area based on vocalizations.
However, two experienced birders can stand side by side and still disagree. And the difference between one or two bald eagles is significant because they are much rarer in Orange County. Being off by a few ring-billed gulls, a very common species along beach areas, is less of a problem.
Counting is more an art than a science; decisions based on personal impressions must regularly be made. Much like polling, there is a margin of error that is always taken into account.
Having sufficient counters will always help with the accuracy of the count.
"As we've gotten more and more participation, we've gotten better coverage," Alter said. "We don't send people around willy-nilly," but he admits, "you'll never have enough counters to say you have enough to count."
History that dates back more than a century
As the man in charge of South Orange County's count for the last decade, Alter understands the event's growing importance.
"I believe its value is as much getting people involved and invested in birds and habitats as it is a scientific thing," he said.
And the science is notable, in that the count gives a big picture — even if mathematically inexact — of what birds populations have been rising or falling for decades, and where they are doing so.
The bird count dates back 116 years. Begun by American ornithologist Frank Chapman as the response to 19th century Christmas day side hunts, in which the objective was simply to kill every bird you could find. Now it's about counting, not killing.
Chapman's grand idea got off to a start with about 27 birders counting from Philadelphia to southeastern Canada. Now the count takes place in more than 2,000 locations across North and South America.
The counts no longer take place just on Christmas, but from Dec. 14 to Jan. 5, with the days in each region of the country determined by the Audubon Society.
Each count takes place within a 15-mile-diameter count circle. The counters break into small groups working carefully plotted routes and areas and compile the best numbers they can. A compiler then pulls all the local numbers together and puts them in the Audubon database.
Leipzig, who runs a Christmas Bird Count counting group and teaches birding classes through the year, touts the experience as "a great way to start the day and see the sunrise" and says "thousands do it faithfully every year because they love it. But they know they also contribute to science."
Holding the bird count in December is significant because it's outside of the breeding season. Some birders look at the count on New Year's Day as an opportunity to get their birding off to the best possible start.
"It's as much a tradition here as in Duluth," Alter said. "It's a challenge and point of honor to go out in the weather. They don't find as many as we do, but for the birds they can find, it tells you who's staying in the area."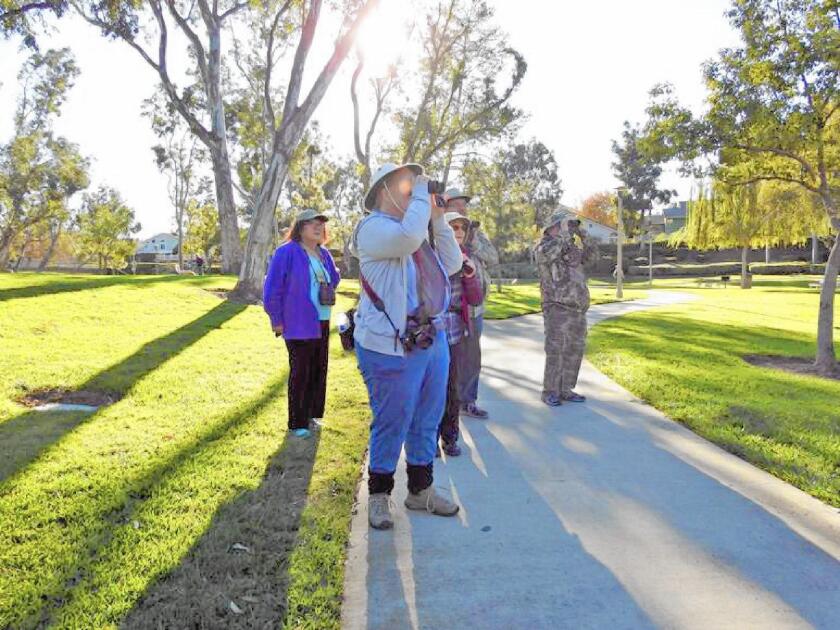 Locally, a surprising species thrives
Orange County typically ranks within the top 10 nationally for the number of different species counted and also in the top 10 for particular species like the yellow-rumped warbler.
Each year, birders can expect to find large numbers of crows, ducks, pigeons and Canadian geese, but also various species of heron and egrets, sparrow, goldfinch, towhee, starling, waxwing, phoebe and woodpecker. Lots of other species — some rare — will come and go as well.
Since the 1940s, counters have noted the steadily rising local population of parrots. Yes, parrots.
Los Angeles, Orange County and San Diego counties each have their own flocks. All are believed to be descended from wild parrots that were captured in Mexico and escaped from the planes and trucks that brought them here.
The red-crowned parrot has the strongest numbers, now more than 200, according to the bird counts.
Despite being considered tropical birds, the parrots still find the weather mild enough along the California coast all the way to San Francisco to survive, experts say. And in Southern California, they are thriving.
"We have a lot of exotic plants here, and they get enough fluid from them they don't need to come to the ground," said naturalist Loretta Erickson, who has been studying the birds since 1999. "One of the reasons they have adapted is because they came from the wild. If a hand-raised parrot escapes, it has no chance of survival."
Erickson has seen the success of the wild birds. She tracked an escaped wild parrot for three years and watched it start a family within the local population.
The parrots have melded into the local environment extremely well. They eat different food from that of the locals, searching high and often knocking down edible delights from the trees that locals then eat on the ground. Crows often follow flocks to benefit from the cleanup.
Parrots nest in holes in trees, and though there is some competition with local owls for those spots, the parrots generally move in after the owls and their young have vacated.
"Their main predator is humans," Erickson said. "We've seen people throw firecrackers at them, squirt hoses, shoot BBs. We've seen some horrible things. I have reports every year of people stealing baby birds out of nests and trying to sell them to pet stores."
But Erickson points out that parrots are devoted, protective parents.
"They will come back for weeks and call and call, waiting for the baby to came back. It's really sad," she said.
Despite their steady growth here, many parrots, like the red-crowned parrot, have actually become endangered in their native environment.
But the locals continue to raise their families here. And they continue to be counted.
Alter says every birder's biggest motivation is the possibility of finding a rare bird. "But at the same time, we want to count everything," he added.
This was Alter's last year of running the Christmas Bird Count, and while he won't miss the weeks of organization and compiling all the numbers, he will remain a birder and continue to enjoy the simple pleasure that all birders get from "being out there well before dawn … and pretty much birding all day."
---