Flying through the air with the greatest of ease? At trapeze classes, it's a challenge, exercise, fun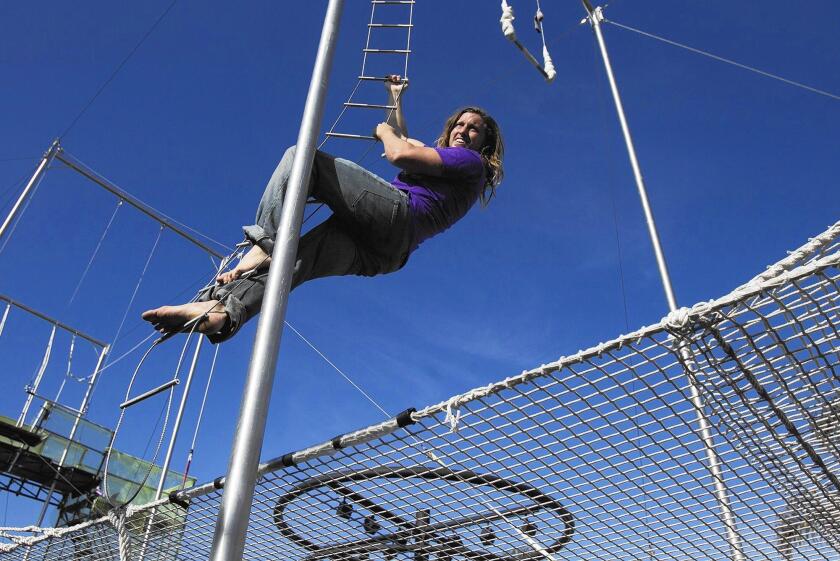 Nick Selvy, owner of SwingIt Trapeze, teaches trapeze classes at the OC Fair & Event Center in Costa Mesa.
(Scott Smeltzer / Weekend)
Nate Lavers catches Megan Kleber at SwingIt Trapeze in Anaheim in December.
(Scott Smeltzer / Weekend)
Hananiah Mays practices doing a flip at SwingIt Trapeze in Anaheim in December.
(Scott Smeltzer / Weekend)
Joo Lee lets go of the bar during a December session at SwingIt Trapeze in Anaheim.
(Scott Smeltzer / Weekend)
Megan Kleber takes a practice swing at SwingIt Trapeze in Anaheim in December.
(Scott Smeltzer / Weekend)
Nick Selvy, left, takes a tandem swing with Catherine Dietrichat at SwingIt Trapeze in Anaheim in December.
(Scott Smeltzer / Weekend)
Joo Lee lands in the net at SwingIt Trapeze in Anaheim.
(Scott Smeltzer / Weekend)
This is an example of working with silk while suspended in the air.
(Courtesy of Brian Morri of 211)
Nate Lavers took his first swing at trapeze while on a date 10 months ago. While the relationship didn't last, he continued to learn the art of swinging from the apparatus — a short horizontal bar suspended from two wires — and became an instructor in February.
"I just kind of keep doing it," said Lavers, of Lakewood, who works part-time at SwingIt Trapeze in Anaheim. "I'm trying to learn as much as I can while I'm doing it."
People are taking to the trapeze and other circus-type acrobatics for many reasons. There's the exercise component for some, the training aspect for others — gymnasts will use the maneuvers as a form of cross-training. Others have literally gone on to join the circus — one SwingIt Trapeze instructor is now a Cirque du Soleil performer.
AJ Gamez of Santa Ana, who took her first class at SwingIt Trapeze 3 1/2 years ago and is now lead instructor, said one of her students has been taking flying trapeze classes for the past year to try to overcome her fear of heights.
"She does get up there and she's going every time," said Gamez.
While Gamez thinks it would be fun to be a professional circus performer, she really enjoys teaching. And she's working on bringing circus arts into the public school system.
Many simply find the maneuvers aloft challenging and fun.
Pei Lin Chang, a pediatrician at a clinic at UC Irvine, took her first trapeze class in January and was hooked.
"I used to be a gymnast, so the idea of flying through the air probably appealed to me more than your average person," said the Anaheim resident. "Initially I was taking a class every few weeks. Now, I try to fly at least once a week."
As for Lavers?
"It was something I wouldn't normally do.... I'm invested now," he explained.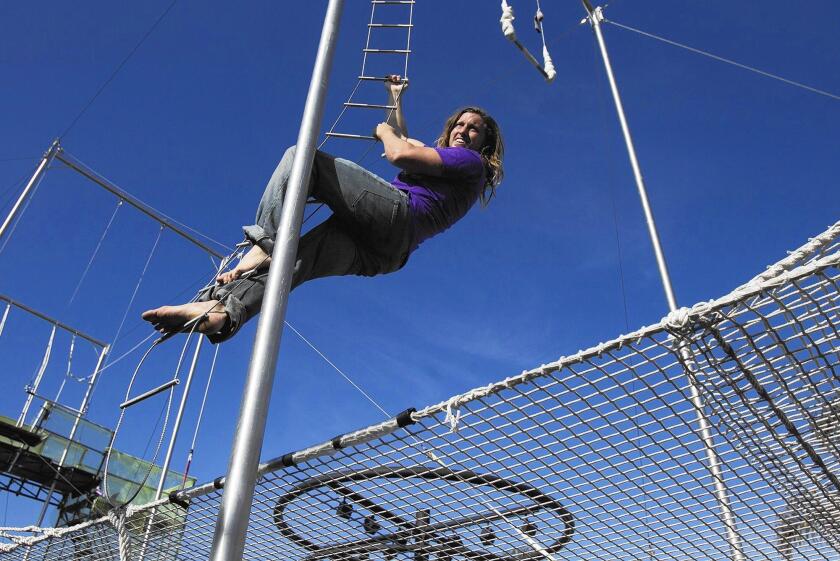 Circus-style aerials
Flying trapeze — the act of swinging on a trapeze bar and performing tricks while being caught by another person also on a trapeze bar — is one of the many circus-type classes offered at SwingIt Trapeze.
Though owner Nick Selvy says flying trapeze is one of the more popular classes, the school also offers things like trampoline, tightrope, juggling and aerial hoop — the use of a dangling metal hoop rather than a bar.
And the school isn't alone in offering circus classes in Orange County. Firestorm Freerunning and Acrobatics, an action sports gym in Santa Ana, offers an aerial silks and lyra (aerial hoop) class. Aerial Fitness Orange County in Costa Mesa offers aerial silks and hammock, aerial hoop and static trapeze.
Aerial silks allow for acrobatics while the person is hanging from the fabric, and hammock can be thought of as inverted silk. The two ends are tied at the top, with the bottom offering support so the user can sit, stand and stretch without needing to be tied into the silks.
While static trapeze omits the "flying" component, amazing tricks can nonetheless be performed — with the acrobat on the bar or under it and then perhaps climbing on the rope above too.
"If you always wondered what it was like to be 30 feet in the air and know what it felt like, now you can," said Doug Schulein, owner of Aerial Fitness Orange County.
The appeal of circus-type classes seems to date back to Club Med in the '80s, when the company known for its vacation resorts began offering trapeze lessons. A quick online search reveals plenty of options all over the country for those interested in dangling, swinging and flipping many feet off the ground.
In Orange County, though the market is far from flooded, there's certainly a dedicated group of aficionados.
Gamez has even had her 10-year-old daughter "flying" since she was 6, and her sons practice trampoline, tightrope and juggling.
Starting low, aiming high
Beginner's lessons at SwingIt Trapeze are all run the same way. During the two-hour class, students are taught proper form while on the ground and given safety guidelines before practicing on a low bar, which is a couple of feet off the ground. Then they make their way up the stairs to the 24-foot-high platform.
"If you have general coordination and you can hold your weight from a bar, then you can be pretty good," said Selvy, who started practicing flying trapeze at age 10 at a Club Med and was teaching by age 18. "If you have an open mind … you're gonna have fun regardless."
Once on the platform, accompanied by an instructor, the student is guided through the basics. He will start hanging by his arms from the trapeze bar. If that goes well, he'll learn to swing his legs and then maybe attempt a backflip dismount off the bar. If that goes well, he'll learn hanging upside down from his knees. And finally, if all else goes well, he might just get "caught" by an instructor swinging from the second trapeze bar.
Schulein said that at Aerial Fitness Orange County, regardless of the apparatus or trick, all students start practicing at 2 feet off the ground over a 6-inch, cushioned "crash pad." As they progress, the distance from the ground increases. To get to 15 feet off the ground, students have probably practiced the trick at least 100 times, according to Schulein.
"We don't rush people through," he said. "We move people at their own pace."
Safety is always a prime concern.
"It's very safe," said Selvy. "We have state-of-the-art equipment…. We have a perfect safety record. Nobody has ever broken anything."
That equipment includes safety lines and a wide net to catch anyone who might slip, he said.
Selvy said that when the school first opened in 2014, originally at the OC Fair & Event Center in Costa Mesa, it was considered an amusement ride by the Occupational Safety and Health Administration, which meant he had to make some safety adjustments, including adding hand rails to the staircase, which most trapeze rigs don't have.
"I had to design the first OSHA-approved trapeze," he said. "[This is] one of the least scary trapeze."
Even so, some students will still have moments of panic.
"Oh yeah … there's always one in each class," Selvy said. "But that's what the whole staff is trained to handle."
Selvy and his staff try to avoid "therapy" for the students, meaning not talking them into proceeding when they are clearly uncomfortable if not downright scared. Students can climb down the ladder if they're not ready and wait for their next turn if they'd like.
"You're either gonna go or you're not," he said. "It's for people who wanna do it and wanna have fun."
And many students do. Some even continue on to very advanced levels — including doing the double double, which is two back flips with two front flips, and the triple pike, which is three somersaults in a pike position (folded over with legs straight).
"It takes years and years and a lifetime to get to that level," Selvy said.
A means to getting fit
Schulein, who was a flying trapeze artist at Club Med at age 19 and has been in the fitness industry for 25 years, wanted a unique and fun form of exercise to compete with more mainstream gyms and fitness programs. He opened Aerial Fitness Orange County five years ago, offering circus-type athletics like aerial silks, aerial hoop and static trapeze.
"This program is functional training at its finest because your core is engaged at all times," he said.
And he can clearly articulate the physical benefit of all the moves.
Take aerial silks, which require students to carry their own weight while climbing up, moving around and holding positions.
"Unlike traditional training, the tissue is completely unstable, so you always maintain constant tension," Schulein noted.
The same goes for the aerial hoop, or lyra, and the hammock.
Static trapeze, performed on a single trapeze bar, offers students the chance to practice positions and perform exercises like pull-ups and v-ups "to abuse the abs," he said.
"It's great for the fitness side of it," said Schulein.
Gamez, for instance, has a large home-schooled group using her class for physical education credit.
But a big difference from the standard forms of exercise is the complete need for mental clarity and focus.
"You're not thinking about working out. You're thinking about what you're doing next," said Schulein. "You're not thinking, 'Oh I have 10 more reps.' "
But if trapeze practitioners can claim a release of endorphins during their workouts, they also point to another physiological result.
"It's scary and it's fun, a total adrenaline rush," Gamez said.
Chang echoed that sentiment.
"Trapeze satisfies my inner adrenaline junkie and gives me a great upper body workout at the same time.... Flying on a trapeze is unlike any other experience out there," she said.
"It's an absolute must for everyone's bucket list."
SwingIt Trapeze charges $75 for a two-hour flying trapeze lesson the first time; after that it's $57 on weekdays, $60 on weekday nights and $65 on weekends. Aerial Fitness Orange County pricing runs from a starter rate of $25 a class to a drop-in rate of $45 per class. Day and afternoon classes are one hour, and evening classes are 1 1/2 hours.
---