Unicorn Hot Chocolate and other imaginative sweet treats are at this Willy Wonka-inspired shop
Above the entrance to Joanna Czikalla's coffee and dessert shop is a sign that reads: Perhaps this is the moment for which you have been created – Esther 4:14.
Czikalla knows a lot about creating. She created Crème and Sugar and the décor and treats in the Anaheim Hills shop.
And at this moment in her life, Czikalla, 31, said she couldn't feel more purposeful.
While her path has led her to working in restaurants, studying cosmetology and performing in a band, her inventive mind and dream of becoming the next Willy Wonka eventually compelled her to turn to whipping up treats.
And in her world of pure imagination, she bakes cookies in the shape of unicorns and serves her social media-famous Unicorn Hot Chocolate, Unicorn Shakes and Unicorn Cakes.
Her cakes are decorated with rainbow-colored dollops. And all the goods are laden with bright sprinkles or edible pearls.
"I know that I'm probably a 10-year-old in my mind," Czikalla said with a laugh. "But I'm also an old soul. I wanted a place where people can feel like they're sitting in their living room."
Hence the setting at Crème and Sugar, which opened in late 2015: The shop is adorned with furniture that Czikalla found at antique auctions.
Her love of "Willy Wonka and the Chocolate Factory" can be seen in the wall prints of quotes from the film — artwork that she designed.
The many times she's seen the movie led her to wonder how she could create her own scrumdiddlyumptious bar.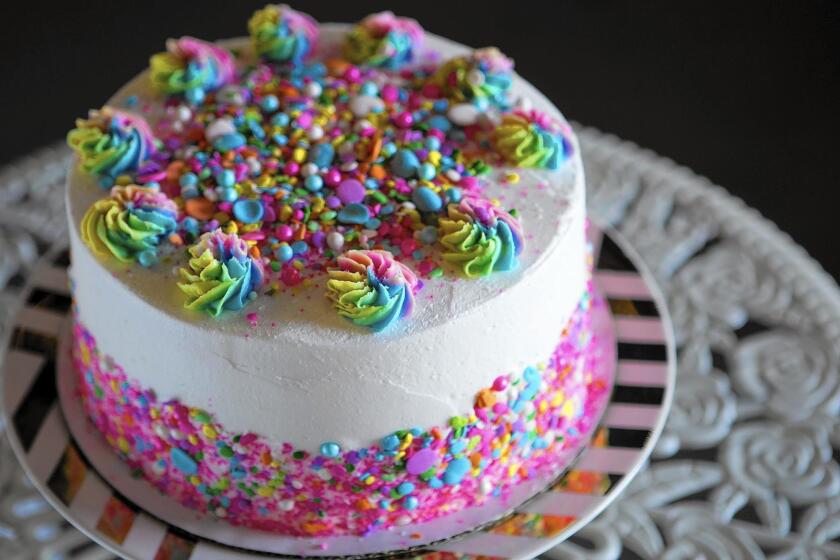 "That part with the teacup?" she said, referring to a scene where Gene Wilder, who played Wonka, sips from an edible flower cup and then bites into it. "If I could figure out a way to make that, I would."
The notion of Unicorn Hot Chocolate came to her on an unusually cool day last year.
Czikalla decided it was a perfect time to make hot chocolate — which she dyed pink and sprinkled with fruity marshmallows.
The beverage would take over the Instagram feeds of countless fans.
Thanks to the popularity of the photogenic hot chocolate, cakes and other treats, it is common to see customers form lines to get into Crème and Sugar.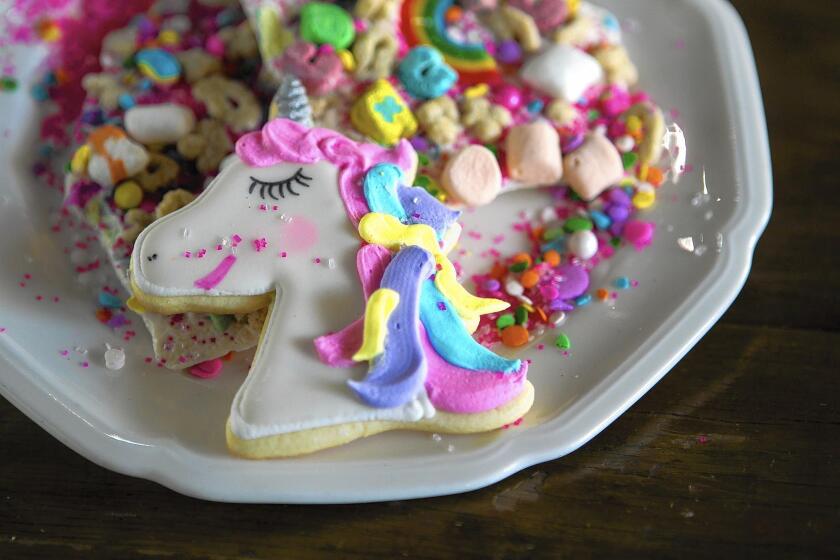 "It has been a learning process, but Joanna and her staff are taking it in stride," the shop's marketing director, Kelli Withaneye, said of handling the large crowds. "It's such a blessing to have people who come from places like Bakersfield and San Diego."
Czikalla tries to make the wait as painless as possible. She put up signage indicating the estimated wait time for service and keeps kids entertained by posting sheets of paper on a wall where they can write and draw.
"I kept thinking to myself, 'If you build it, they will come,'" Czikalla said about opening Crème and Sugar. "But when it actually came to life, it was surreal. It felt like this is what I've been led to do."
Crème and Sugar, at 6312 E. Santa Ana Canyon Road in Anaheim, is open from 9 a.m. to 9 p.m. Tuesdays through Sundays. It is closed on Mondays.
Twitter: @AlexandraChan10
---