The adventure game goes portable in the Escape Bus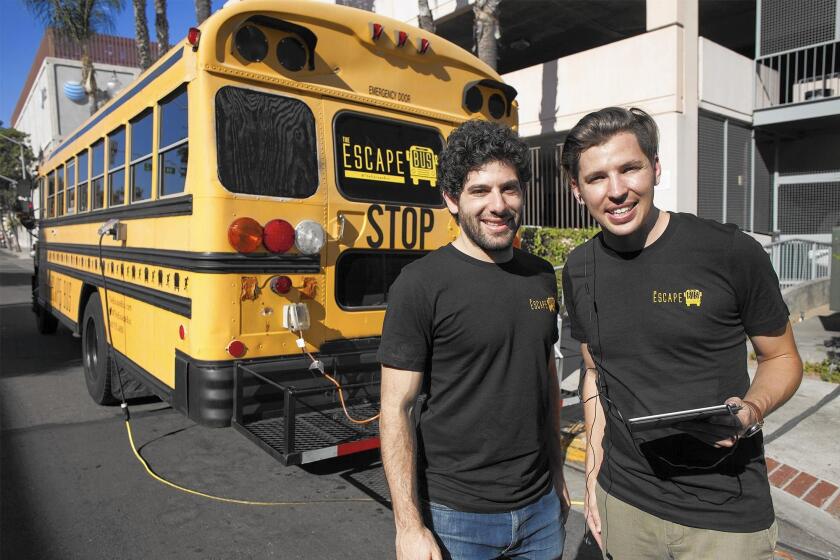 You have 45 minutes to figure out how to escape or you're going to prison.
The pressure is on as you check out combinations to locks and search for clues. The bright red timer in the corner ticks down, and with each wrong move, you may sound an alarm. But you're a computer hacker, or at least that's the character you're playing. You got this.
That sums up the game, but this is no ordinary escape room.
It is a converted school bus — still yellow, still looking in every way on the outside like the student transportation it once was, save for a not-too-large sign that reads Escape Bus.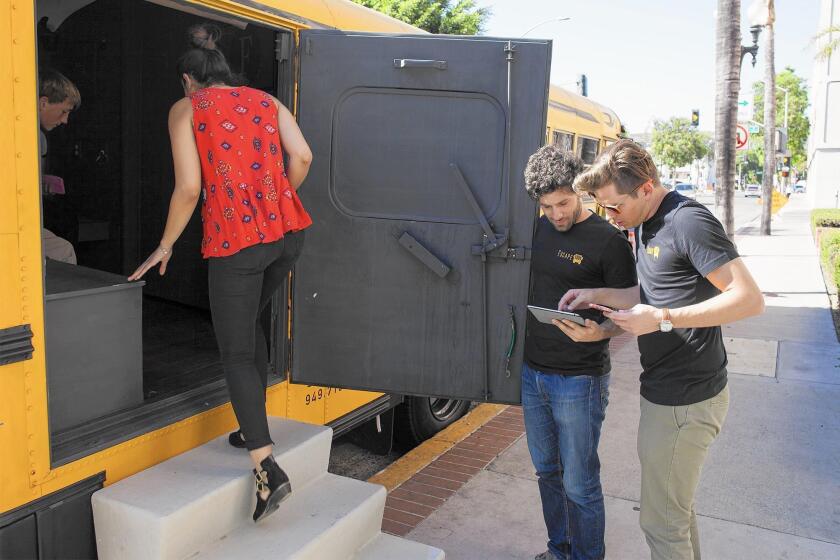 Longtime friends and gamers Jonathan Katz and Tyler Russell, along with engineer Scott Fregoso, created the Escape Bus — what they consider Orange County's first mobile escape room — earlier this year.
Over the past few years, escape rooms have popped up all around the world, giving participants the chance, within a set amount of time, to solve puzzles and mysteries that can lead to them figuring out how to get out of a locked space.
After Katz and Russell went through escape rooms a few years ago in Budapest, Hungary — which Katz considered "the unspoken capital" of the games — they decided to create one of their own.
But rents in Orange County proved too high for rooms that were too small.
The answer came in the form of the 30-foot Blue Bird, which Russell found on eBay.
He and his father drove the bus from North Carolina, finally arriving with it in California earlier this month.
Though on the outside the bus still looks like a typical Blue Bird, the inside was gutted and converted to look like a maximum-security transport with computer systems, lockers and doors. It cost the creators about $30,000 for the bus and conversion.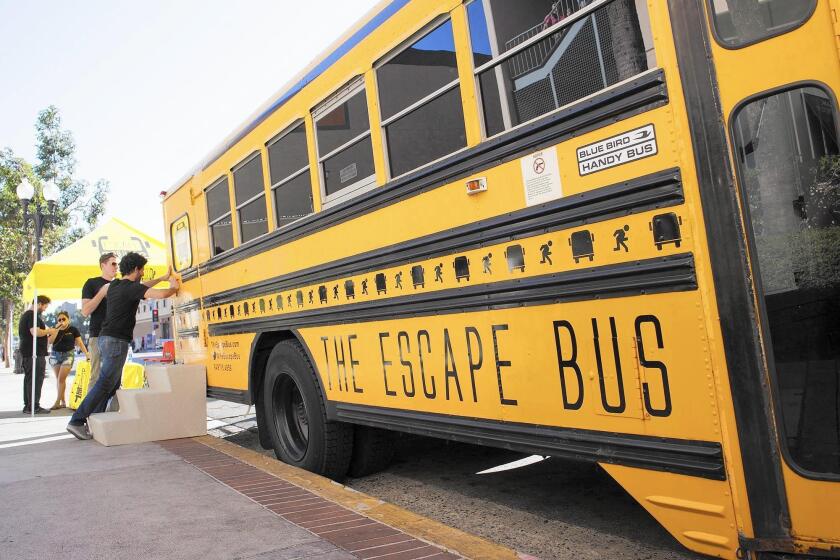 Because the bus is operable — although it's not in motion while players are in the game — it is ideal to be driven around to corporate events and parties in various cities, the partners say.
But Russell, who founded the nonprofit radio station KX 93.5 in Laguna Beach and broadcasts a live radio show, during which he gives participants a clue at one point in the game, said that while the bus provides a unique touch, it also poses challenges.
"First of all, the electricity," he noted. "This is all run off 12-volt power, which is the bus' battery, so we have to be able to power everything that you'd normally put in a normal space on a bus battery. It's pretty difficult to power some of the things we had in there with that. If something breaks or a wire gets loose in transport, that could change everything."
In developing the escape game details, the three came up with a concept they call Firewall: two to six "computer hackers" are being taken to jail in a maximum-security transport, and they have 45 minutes to break out or live the rest of their days in a tiny cell.
They must find secret ways to open doors, solve math equations, figure out combinations for lockers and ultimately not be seen by their jailers. One clue leads to another in this semi-linear game.
"We thought, 'We have a bus. What kind of story can we tell, and how can we make the mobile aspect of it play out?'" said Katz, 28, of Santa Monica. "We wanted the story to feel like it made sense to be on a bus."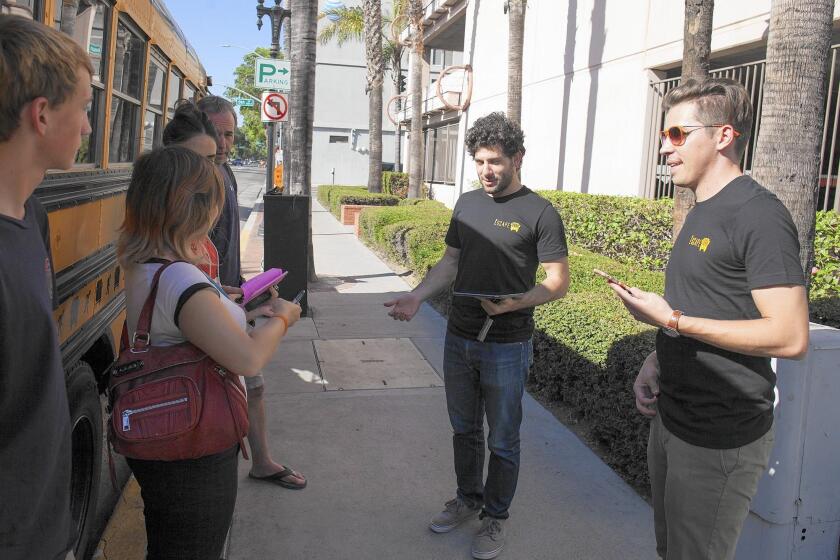 Russell, 27, who lives in Laguna Beach, said the trio plans on switching up the theme every year so the concept doesn't become predictable or familiar for people who had gone through it before.
While multiple escape rooms have popped up in Orange County over the last few years — including Square Room Escape in Irvine and Exodus Escape Room in Anaheim — the only other mobile escape room in the area is in Los Angeles, Russell said.
People can find out where the bus is at any given time at theescapebus.com. The founders said they plan on taking the bus around Orange County and Los Angeles to start.
The Escape Bus is recommended for two to six players above age 12. The cost is $29 or $33 per person, depending on the size of the group.
While the men wanted to make their game challenging, including a twist ending not seen in other escape rooms, their ultimate goal is for participants to find their way out.
"It's really rewarding to see people accomplish something that you manifested in your own mind," said Katz, who works for streaming service Hulu. "I've been a puzzle-type person my whole life, so it's really fun to hear people approach puzzles in ways that I wouldn't have. The most rewarding things for me are those 'ah-ha' moments when people figure stuff out."
Russell thinks of escape rooms in general as a way for people to move away from the digital world of today.
"I think in today's society — a world where you're always on Facebook, always on your phone and always staring at a screen — people are longing for something tangible where they can put away their phone for 45 minutes," he said.
"I think people haven't done anything experiential in a long time, and when they do this, they appreciate talking to people and working with real objects again."
--
Brittany Woolsey, brittany.woolsey@latimes.com
Twitter: @BrittanyWoolsey
---