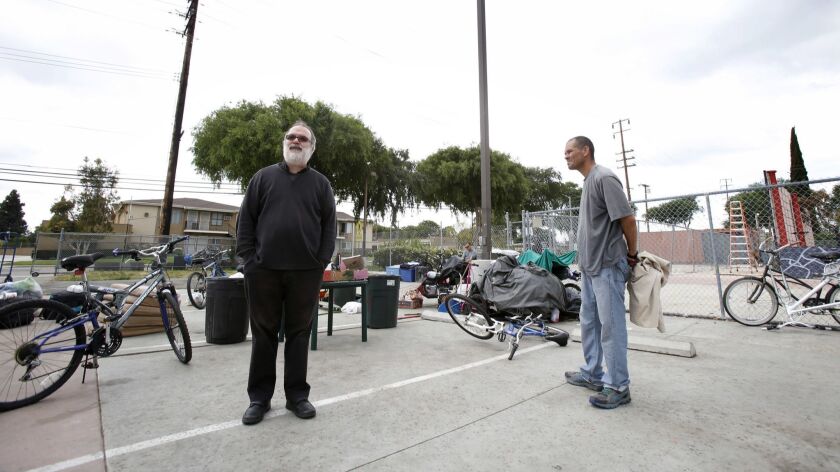 A new 150-bed homeless shelter will be built next to the Fullerton Airport after the City Council supported the project on Tuesday night.
The council voted 4-1 to deny a neighboring business Ashwill Family LP that attempted to appeal the Planning Commission's approval of the shelter last month. The company cited concerns over security and the negative effect the shelter could have on the business' property value.
"I find the idea of comparing property values to human life rather unacceptable to me," Councilman Ahmad Zahra said. "The idea that we should have this in a more industrial zone is to me segregation and is unacceptable."
Mayor Jennifer Fitzgerald echoed Zahra's support.
"... a healthy community is one that provides a place for everyone to be a part of that community," Fitzgerald said.
The shelter, expected to open within the next few months, will be run by the Orange-based Illumination Foundation, which operates a 102-bed homeless shelter in Anaheim and ran an emergency winter shelter in the city last year.
The 21,000-square-foot Fullerton homeless shelter will include 60 beds for homeless individuals recovering from medical issues.
Councilman Bruce Whitaker said he objected due to lack of transparency from the council during the process of approving the shelter and cited the "valid concerns" of other nearby community stakeholders with the shelter.
"I believe it's important that we respect those existing property owners and inhabitants in any given area where we are looking to make a substantial change of this sort," Whitaker said.
However, the public showed up in droves to voice support for the shelter at the meeting, including about 400 members of the local faith community.
The Rev. Dennis Kriz, a vocal advocate for Orange County's homeless, helped organize the gathering of members from various faith groups. Kriz, the pastor of Saint Philip Benizi Catholic Church in Fullerton, believes the shelter will be a significant step toward housing the nearly 400 homeless people in the city.
Fullerton, which also has a 200-bed armory for the cold winter months, is joining North Orange County cities Placentia and Buena Park in building a longer term homeless shelter. Anaheim and Santa Ana have built homeless shelters in response to a 2018 lawsuit that was originally filed by advocates on behalf of homeless people who were being evicted from a vast encampment at the Santa Ana Riverbed.
"Everybody in the neighborhood knows the alternative, which is hundreds of people sleeping on the streets," Kriz said. "Here, it was clear that the whole community was saying, 'We need something, we need something just and we need it now.' "
---