O.C. nonprofit trains hair stylists to help victims of domestic violence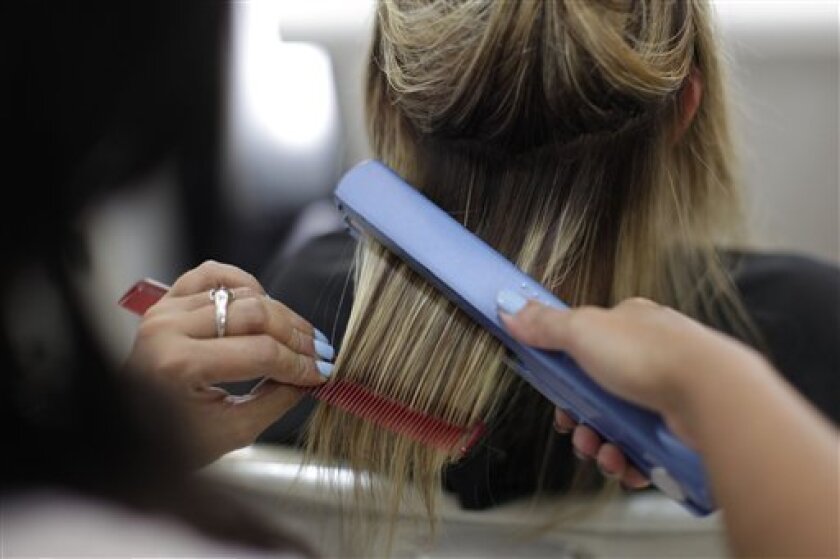 An Orange County nonprofit will train hair stylists to recognize the signs of domestic violence in their clients and provide them with the resources to report the abuse.
The Irvine-based Human Options is looking to partner with local salons and beauty schools to provide the classes. With victims being forced to quarantine with their abusers due to the pandemic, the help of cosmetologists is all the more crucial for victims.
"A lot of clients will not feel comfortable disclosing to police, but they will feel comfortable disclosing to those doing their hair, or facial or nails," said Marissa Presley, Prevention Educator for Human Options. "A lot of times, the person doing the styling, when they do the massaging and shampooing, they can feel some of the bumps in the head. They can see the bruises and some of the missing patches of hair."
The nonprofit has so far given a handful of classes at Hair Concepts salon in Huntington Beach, one of Human Options' partners. Human Options also partners with schools in Orange County, including Advanced Beauty College in Laguna Hills and Garden Grove. Presley said Human Options is working on partnering with Hoag Hospital to host virtual classes.
Presley has taught all of the classes. The 90-minute sessions classes walk stylists through how to spot signs of elder, sexual and other physical abuse, as well as human trafficking.
She said they had to temporarily discontinue the classes due to the pandemic but are now looking to network with more salons since they were able to recently reopen.
Hair stylists have been required to take a course on domestic abuse prevention awareness before attaining or renewing a license since California Assembly Bill 326 was signed into law in 2017.
Some of the methods Presley recommends placing teaches is to place posters with helpline information in bathrooms and other discreet areas in salons , so victims are provided helpful information even if the hair stylist can't engage the victim in a discussion due to the presence of the abuser.
"Part of the reason we are educating our clients is there is a short window of opportunity where the victim is alone with their stylist," Presley said. "A lot of times, the abuser doesn't even let the victim survivor alone in the salon. They are with them every step of the way."
Inez Ramirez, owner of Hair Concepts, knows firsthand what it's like to be a victim of domestic violence. Over the course of two relationships, Ramirez said she was sent to the hospital for being beaten and had one of her abusers arrested for beating her and locking her in a closet with her daughter in the next room.
Ramirez will continue working with Human Options because she hopes to save women who face the same abuse.
"I am not afraid of him," Ramirez said of the abuser who locked her in a closet. "I just live my life trying to help other women who suffer the same thing. If we can save one person, I will do anything."
The Human options helpline is (877) 854-3594 . Salons and stylists can get in touch with Human Options at (949) 737-5242 and by email at mpresley@humanoptions.org .
---
All the latest on Orange County from Orange County.
Get our free TimesOC newsletter, coming in August.
You may occasionally receive promotional content from the Daily Pilot.