Coalition fights the expansion of a controversial Orange County jail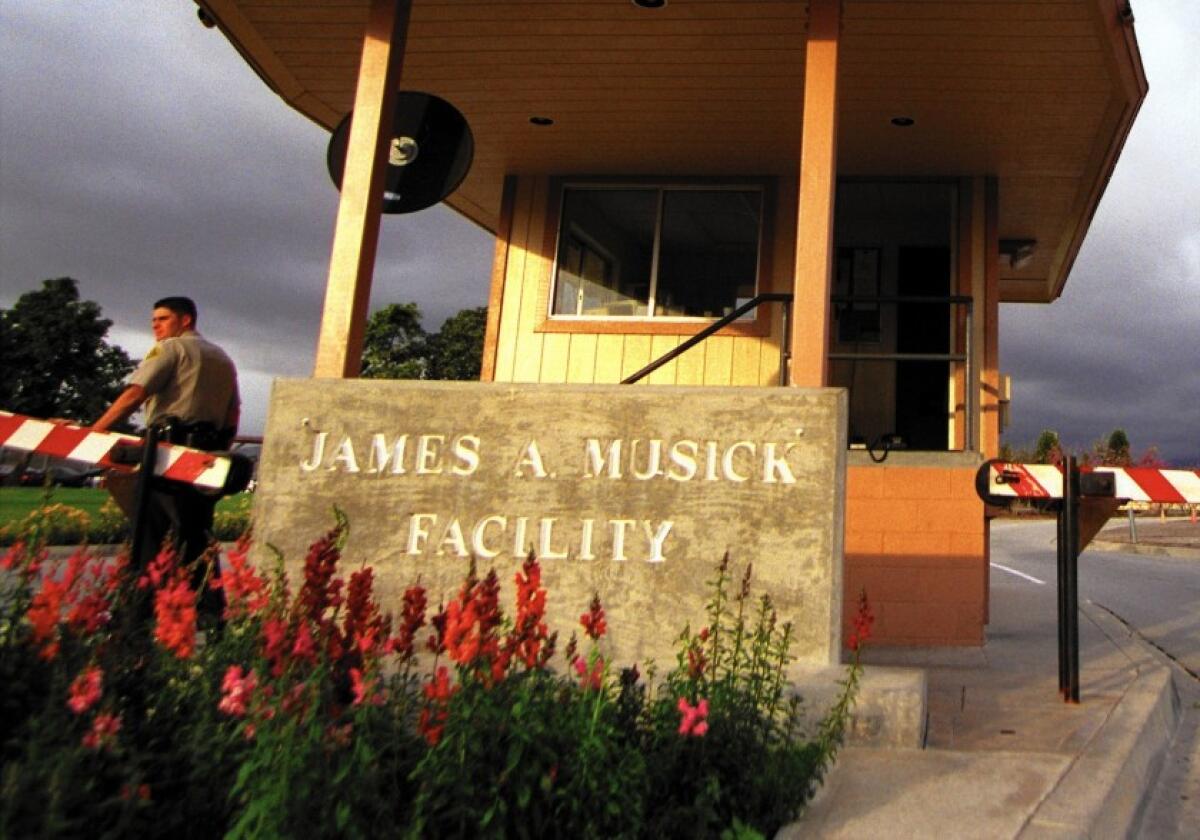 A coalition of social justice organizations in Orange County is working to halt the expansion of the James A. Musick jail near Irvine.
Members of the Stop the Musick Coalition believe the $289 million — not including operating costs — devoted to the addition of nearly 900 new beds to the facility are unnecessary because the county's jail population has decreased.
The coalition also believes that incarceration is not an effective treatment for social ills, and the money could be better spent on social programs that address the root causes of crime.
"I think the most important thing to know about the Musick coalition is that we believe that incarceration is not a solution to social problems, and the Stop the Musick Coalition is part of a growing movement of people and groups in Orange County that are really going to fight for that principle," said Jacob Reisberg, a member of the coalition and a jails conditions advocate with the American Civil Liberties Union of Southern California.
The nonprofit Transforming Justice Orange County started the coalition about a year ago with several other organizations when the county Board of Supervisors awarded a more than $261-million construction contract for the expansion.
Other involved groups include the ACLU of Southern California and the People's Budget Orange County, which advocates for Orange County's budget to devote less funding to law enforcement and more to social programs.
U.S. District Judge Cormac J. Carney is allowing a delay to a drug case as jury trials are set to resume May 10.
In addition to its advocacy, the coalition has started holding online workshops to educate the community.
"We feel like Orange County disproportionately invests in law enforcement and in carceral systems," said Sarah Kahn, a UC Irvine law student and member of Transforming Justice OC.
Public protection makes up $490.6 million of the county's $890-million discretionary budget, while community services make up $154.2 million.
Reisberg said it makes more sense to devote money toward solving the actual social issues that may lead to crime.
"A very substantial portion of the people who are incarcerated in Orange County jails are homeless," he said. "One option is to spend money on new jail beds. A better option, in my view, is to spend that money on housing in the community."
Karen Hernandez, chair of the People's Budget, said that the increase in jail beds isn't necessary.
"The jail population specifically in Orange County has just been at a historic low probably in the last 10 to 15 years," Hernandez said, referencing a recent study by Million Dollar Hoods, a research team based at UC Los Angeles.
After being separated from one another for a year, Johanna Diaz was finally able to visit her brother in jail last weekend.
Sheriff's spokeswoman Carrie Braun said the average daily jail population is down to 3,300. It was 5,200 before the pandemic.
A judge ordered Sheriff Don Barnes in December to cut the jail population in half due to COVID-19 outbreaks among inmates.
Hernandez is also a member of Abolition Now Orange County, which advocates for an end to mass incarceration. She was heavily influenced by the experiences of her uncle, who was housed in Theo Lacy jail.
"He had a lot of altercations with deputies, and I don't believe he ever reported them out of fear of retaliation," she said. "It became this all-encompassing fear that affected his mental health, and he was just a completely different person when he came out of jail."
The O.C. Sheriff's Department previously had a controversial contract with U.S. Immigration and Customs Enforcement to house ICE detainees at the Musick jail. In 2019, Barnes ended that agreement, and the Musick jail facility was emptied.
The department held at the time that the agreement was terminated to make space for the increasing need for mental health beds in the county's jails.
The jail has been empty in the meantime.
The expansion includes adding two new housing structures and 896 new beds, which will bring the total beds at the Musick facility to about 2,200. The expansion will bring the total beds in Orange County jails to almost 7,500, according to stats provided by Braun.
Braun said that jails have seen a nationwide increase in the number of inmates with mental illnesses. In 2015, Orange County had an average of 1,220 daily open mental health cases, she said. In 2019, that number had increased by 54% to 1,886 cases, meaning about two in five inmates required mental health treatment.
"Musick is not a mental health jail," Braun said in an email. "It is the responsibility of the Sheriff's Department to provide for the care and custody of incarcerated individuals who have broken criminal law. The beds at Musick are designed to be capable of accommodating inmates with minor mental health illness issues if needed. Those with more serious mental health issues are housed at other O.C. jail facilities.
"While inmates are in our care, the sheriff has committed to ensure they are kept safe, provided opportunities to reach mental health stability and/or sobriety if needed and have access to programs that will reduce the likelihood of recidivism upon release."
Braun said construction began on the Musick facility in August and is expected to be completed by the end of 2022. Inmates are estimated to be moved in by February 2023, she said.
William Robert Cable, 38, was sentenced on April 7 after pleading guilty.
The Musick expansion has been controversial for some time. The city of Irvine has fought it for decades, filing four unsuccessful lawsuits.
City leaders have been concerned with the jail's proximity to residential neighborhoods, the Great Park and Portola High School.
The problem for the city is that the jail sits on county property surrounded by Irvine and Lake Forest, so the city doesn't have authority over it.
The Irvine City Council discussed the Musick jail facility on Tuesday night after the coalition requested it. The sheriff's department also gave a presentation on the expansion at the meeting.
More than a dozen people spoke at public comments, including members of the coalition. They urged the council to do whatever they could to stop the expansion.
After City Atty. Jeffrey Melching told the council that the city doesn't have land-use authority over the jail, Vice Mayor Tammy Kim said it sounded like the city had exhausted all legal exercises.
"So we've just hit a roadblock as it relates to any legal remedies that the city can have," Kim said. "So it looks like there's probably not much else that we can do at this point."
Councilman Anthony Kuo echoed that view.
"We neither have authority over the fiscal portions, nor do we have land-use authority," he said. "So we're not really making a decision tonight and one that would carry any weight."
Both Kim and Councilman Larry Agran spoke out against the expansion project.
"While I appreciate the intersection of public health and public safety, at the end of the day, we're really looking at a public health issue that is trying to be solved through public-safety measures," Kim said. "The concern that I have is that I don't believe that we can jail our way out of solving, what is in essence, a public health crisis."
Agran said that the city should be engaging with county Supervisor Don Wagner, who represents Irvine, about the expansion. Mayor Farrah Khan agreed with him.
"This has been a 25-year journey," said Agran, who has served on the council periodically since the late 1970s. "Although I appreciate the presentation that was made today by representatives from the Sheriff's Department, the fact of the matter is, this is a massive incarceration institution.
"...Our entire country has been on a path of mass incarceration as a solution to unlawful immigration problems, as a solution to social problems of all kinds. In this case, with mental illness. I think there's substantial data that putting nonviolent people in situations of jails of this sort really causes people to go crazy."
All the latest on Orange County from Orange County.
Get our free TimesOC newsletter.
You may occasionally receive promotional content from the Daily Pilot.