The Gossiping Gourmet: Too much ho-hum at Ho Sum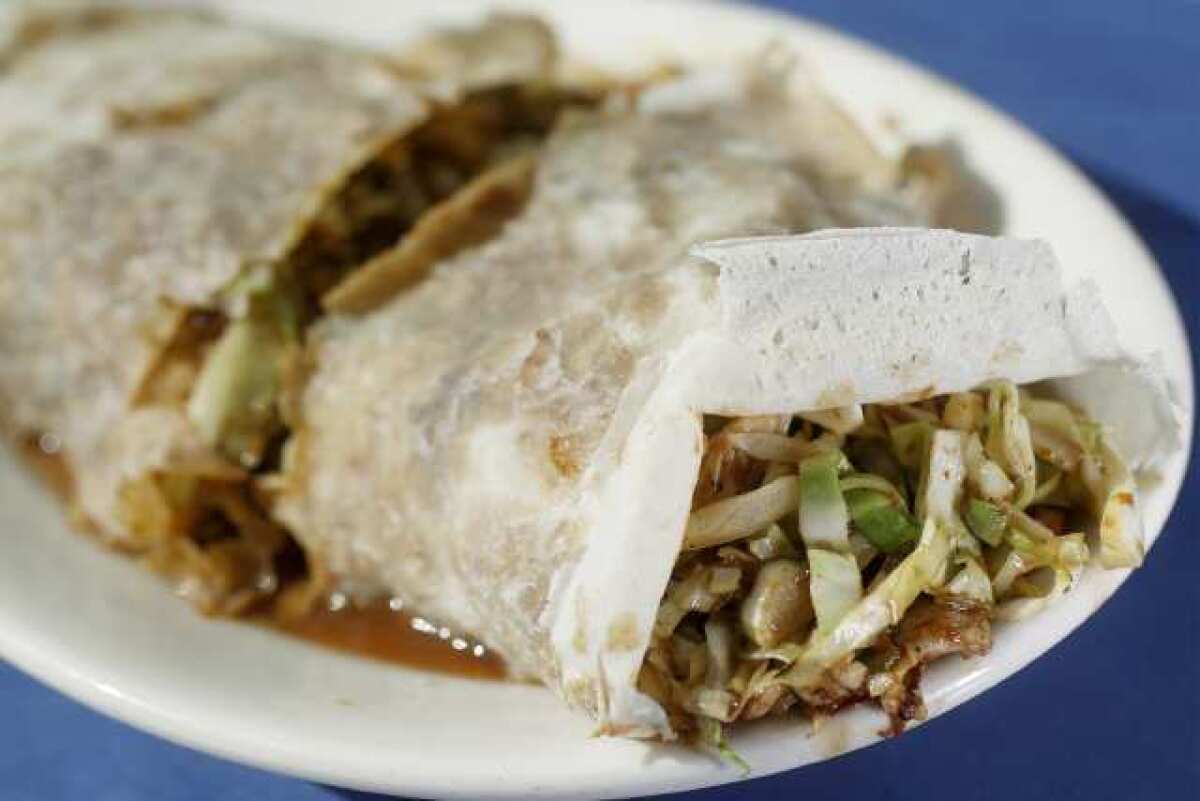 When Ho Sum Bistro first opened in 1987, there was virtually no other Asian fusion restaurant in the area and the notion of healthy Asian cuisine didn't exist. "Califoriental" was the way they described their concept, and we both went back many times for their Chinese chicken salad. As time went on and Asian fusion restaurants burgeoned in Orange County, we explored the multiplicity of other choices and forgot about Ho Sum.
Driving down the Balboa Peninsula one day, we decided to give it another try, curious to see what 20 years had wrought. The place looked pretty much the same, perhaps just a little worse for wear. It has a dramatic all-glass facade that curves back over a part of the dining room. You walk up a few steps to get to the first level, where there are tables and chairs and a large eat-in bar. Upstairs, in the loft, is another small dining area. The décor is simple and features surfboards and work by local artists.
Ho Sum in Cantonese means "a good heart, healthy as well as kind." We have been in a number of "healthy Chinese restaurants" in the last year or so, and the one thing they have in common is that the food is relatively bland. It has nothing to do with spiciness, just a lack of distinctive seasonings. This is generally true at Ho Sum as well.
A lot of customers have raved about the combo salad, but a number of people also have commented that they don't know what the fuss is all about. There are two salads on the menu. The Hosum salad features iceberg lettuce, roasted shredded chicken breast and red ginger dressing, while the sesame chicken salad has romaine, shredded chicken and sesame oil vinegar dressing. We asked our server which of the two we should order, and she strongly recommended the combo.
It's a giant-sized portion served in a large bowl. Even the half-size was large. The shredded lettuce had no crunch, and the chicken was bland on its own. All of the flavor came from the sweet, tart dressing. It was pleasant but nothing to write home about.
From the dim sum category, we chose cha sui bao (barbecued pork-stuffed steamed buns). Once again, the portion was very large. Two softball-sized buns had a generous filling of pork, but the meat really needed more sauce to moisten it. Unfortunately, the buns were undercooked, which made them dense and doughy rather than light and fluffy.
The restaurant's healthy version of Schezuan chicken was a large, roasted boneless and skinless breast sliced into thick pieces, reassembled and covered with a generous amount of a unique dark soy-based sauce that had some texture and garlicy flavor but none of the expected subtle underpinning of sweetness and very little heat.
The chicken itself was on the dry side.
Our favorite dish was the mu shu chicken. There was one humongous pancake stuffed to the gills with fresh crunchy cabbage, onions and a goodly amount of shredded chicken. The sweet hoisin type sauce added a flavorful finish.
Craving a noodle dish, we ordered the shrimp and vegetable lo mein. These were flat, quarter-inch noodles with a very light coating of oyster sauce (a sweet and salty sauce made from a reduction of oyster juices). Although the title of the dish said shrimp, the actual description said prawns, which are large shrimp; in fact, what was served were five very small boiled shrimp. This entrée was primarily a nice-sized portion of slightly overcooked noodles with a mixture of Asian vegetables.
Huge portions, a healthy slant and reasonable prices explain the continued popularity of this Califoriental bistro.
Ho Sum Bistro
Where: 3112 Newport Blvd., Newport Beach
When: 11 a.m. to 10 p.m. Monday through Thursday, 11 a.m. to 11 p.m. Friday through Saturday
Prices:
Starters and sides: $4.25 to $10.49
Entrées: $5.75 to $12.95
Desserts: $.75 to $4.50
Wine:
Glass: $5 to $6
Bottle: $17 to $23
Corkage fee: $10
Information: (949) 675-0896 or hosumbistro.com
---