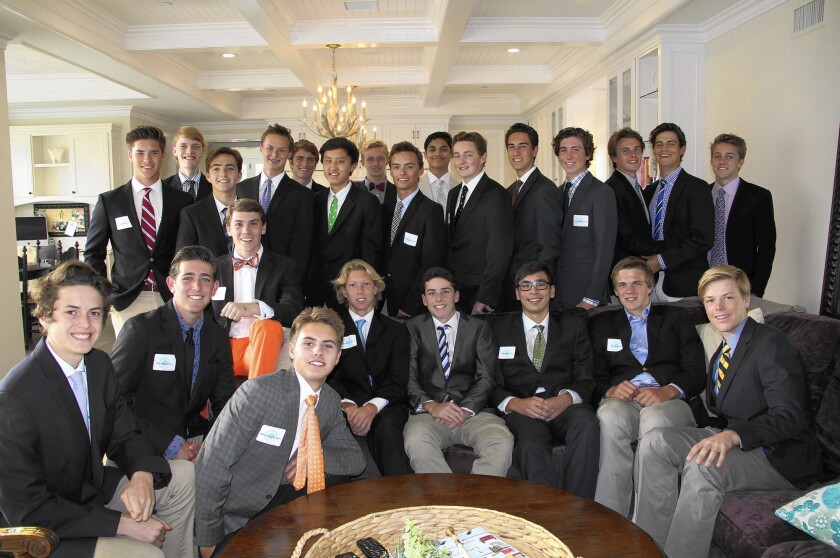 The fashionable residence of Julie and Jay Rutter in the Newport Heights was opened recently to the junior class (2016) of the National League of Young Men and the young ladies from the junior class (2016) of the National Charity League. It was an evening of etiquette and fine dining hosted by the National League of Young Men and their mothers.
A class of 24 young gents handsomely attired in blazers, slacks, shirts and ties arrived at the Rutter residence for an afternoon instruction on dinner-party etiquette. About an hour later, following the lesson, 26 young ladies from the National Charity League arrived for hors d'oeuvres and sparkling cider. The young men escorted the ladies to their seats at dinner, which was prepared and served by mothers of the National League of Young Men.
The evening of classic social instruction was chaired by Suzanne Woods, joining National League of Young Men President Buffi Hendrix and dedicated moms including Ally Whelen, Julie Brennan, Katie Robinson, Amy Manser and hostess Julie Rutter. Robin Sanders led the young men in table settings, greeting and mingling, conversation skills, dining etiquette and tips on how to appropriately end a dinner-party conversation.
A three-course Sunday evening dinner began with Caesar salad followed by an entree of chicken piccata with lemon caper sauce and a dessert of homemade brownies topped with whipped cream, raspberries and a sprig of mint. Tables were dressed in starched white linen and decorated with vases overflowing with beautiful white hydrangeas and splashes of greenery.
Participating in the etiquette dinner were National League of Young Men members including Matthew Alessi, Connor Bass, Chase Braun, Bobby Briggs, Connor Chung, Austin Cottrell, Briggs D'Eliscu, Kellen-Dane Givens, Cooper Hendrix, Dylan Kaplan, Max Lohr, Michael Manser, Jack McKasson, Trevor Neighbors, Ea Olotoa, Thomas Robertson, Reid Rolfes, Reed Rutter, Patrick Shannon, Josh Spicer, Andy Strader, Jake Whelan, Sean Willson and Dain Woods.
*
Fabulous wine for incredible music
The eighth annual Pacific Coast Wine Festival unfolded at the Island Hotel Newport Beach, attracting more than 300 guests and raising more than $200,000 for the Pacific Symphony's artistic and education programs.
The March event was co-chaired by wine festival founders Mike Kerr, Fred Salter and Valerie Van de Zilver. Land Rover-Aston Martin-Jaguar of Newport Beach joined fellow sponsors Regency Air, Commerce West Bank and BNY Mellon in underwriting the party for the Pacific Symphony.
The wine festival is created around multiple auction lots, enabling patrons to sniff, swirl and savor a massive collection of wines from around the world. Selections came from Italy, France, Spain, Australia, Argentina and South Africa. The incomparable wines from California ranged from the unique to the storied artisanal wineries from Santa Barbara to Napa. As the crowd strolled the ballroom sampling the wine, the mellow sounds of jazz music created the perfect atmosphere for the event.
Once the wine auctions closed, guests gathered in the dining room for a contemporary wine-paired dinner prepared by the Island Hotel's executive chefs, David Man and Marc Johnson. A live auction conducted by Jim Nye offered fabulous opportunities to bring in big dollars.
The Pacific Symphony is the largest orchestra formed in the United States in the past half-century. Its music director, Carl St.Clair, celebrates his 25th anniversary with the orchestra this season.
*
Finding homes for half a century
Big Canyon Country Club in Newport Beach will welcome patrons of the 54th annual Adoption Guild of Southern Orange County tea.
The April 27 event, being co-chaired by Shan Vincent and Pamela Selber, kicks off at 10:30 a.m. The patroness tea will feature a presentation of fashion produced by Neiman Marcus at Fashion Island.
A fashion trend boutique and silent auction are designed to raise funds in support of the Adoption Guild of Southern Orange County, which is a financial auxiliary of the Holy Family Service Adoption & Foster Care Agency. The agency's mission is to give "every child an opportunity to have a loving family."
The patroness tea precedes the Roy Emerson Adoption Guild Tennis Classic, which takes place in Newport Beach over the Memorial Day weekend.
Tickets may be purchased at https://www.adoptionguild.org. For more information, contact Liz Maxson at (949) 378-6776.
THE CROWD runs Fridays. B.W. Cook is editor of the Bay Window, the official publication of the Balboa Bay Club in Newport Beach.
---