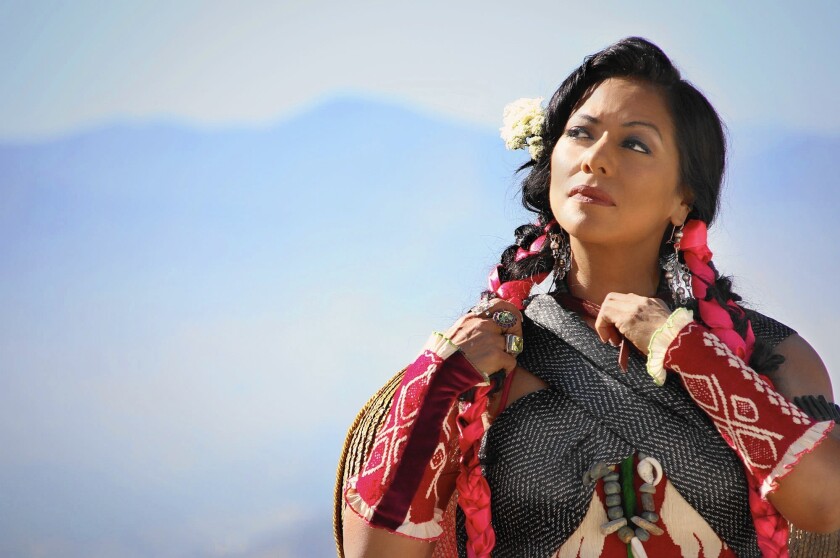 She has sung ballads about the pain of lost love, written compositions on social injustice and delved into the topic of death.
Lila Downs has also traveled the world for the past two decades, performing from South America and Mexico to Europe.
Fluency in Spanish isn't required to understand the Mexican-born singer. Her voice transcends language.
Downs, who has won three Latin Grammys and a Grammy Award and has been invited to sing at the White House and the Academy Awards, will bring her culturally influenced melodies to the Segerstrom Center for the Arts on Sunday.
"I'm excited to come out to Costa Mesa," said Downs, 47. "We like to have the audience learn about Latin people and learn about our stories and complexities."
A couple of years ago, when Downs and her husband, musical collaborator Paul Cohen, began composing songs for her ninth and latest studio album, "Balas y Chocolate" ["Bullets and Chocolate"], Cohen was facing a doctor's report saying he had a short time to live because of an enlarged heart.
He seems fine now, but the thought of death destroying her family caused Downs to reflect on losses during her childhood and in her homeland.
Downs, the daughter of a Mixtec Indian mother and a father who was a University of Minnesota professor, grew up in Minnesota and Oaxaca.
The parents met when Downs' mother was a singer in Mexico and the educator was visiting.
The family lived in the U.S., but after Downs' father died when she was 16, she and her mother decided to return to her native Tlaxiaco. Shortly after, Downs was back in the U.S.
Downs sang as a child, but not until she studied classical voice and cultural anthropology at the University of Minnesota did she begin to understand her culture. Sometimes distance brings greater awareness and appreciation.
After this experience, she began weaving music from the folk and ranchera music of Mexico and South America with American folk, jazz, blues and hip-hop.
And she began writing lyrics on social justice, particularly telling the stories of migrant workers in the U.S.
On her latest album, Downs expresses outrage and pain over events in Mexico.
"I'm a very melancholic person, so I have to push myself up," Downs said. "Maybe that's because in Mexico, we deal with death by composing verses. This is an album with a lot of contrasts. There are songs about my personal dealings with death and then a number of songs about the celebration of life."
She said one new song that is special to her is the romantic bolero "Cuando Me Tocas" ("When You Touch Me"), a delicate ballad about a partner in life.
She wrote it with Cohen.
The show's tour comes just days after the end of National Hispanic Heritage Month.
The period, from Sept. 15 to Oct. 15, is meant as a time for people to recognize the contributions of Latino Americans in the United States and celebrate the group's heritage and culture.
Downs' cultural performance is also close to Dia de los Muertos, or Day of the Dead, a Mexican holiday usually celebrated Nov.1 or 2 that focuses on prayer and remembrance of friends and family members who have died.
"I hope people who are not Latin learn about our poetry and how our art expresses a lot of our ideals, nature, humor and the beauty of being in love," Downs said, noting that she plans to wear an outfit embellished with Mexican textiles representing Native American elements. "I love it when people get to know us more."
Before Downs takes the stage to deliver sounds from her Mixtec Indian roots, the Segerstrom Center for the Arts will offer food trucks and free pre-show activities, including live music and a Dia de los Muertos altar display where guests can pose for pictures. Local folklorico dance group Relampago del Cielo will perform in the center's plaza.
Downs, who will be backed by multi-instrumental band La Misteriosa, said she is eager to share music that conveys a message of hope even through the bad stuff of life.
"That's what Day of the Dead is all about," Downs said. "It's about remembering loved ones, reflecting on them and how beautiful life is."
*
IF YOU GO
What: "Lila Downs: Day of the Dead Concert"
When: 6 p.m. Sunday
Where: Segerstrom Center for the Arts, Renee and Henry Segerstrom Concert Hall, 600 Town Center Drive, Costa Mesa
Cost: Tickets start at $49
Information: (714) 556-2787; scfta.org
---