America's Family Pet Expo returns to OC Fair & Event Center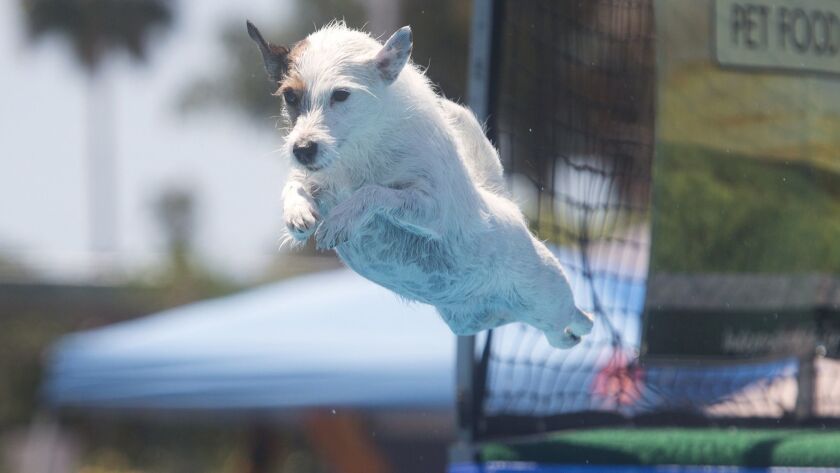 Certified hypnotherapist and dog lover Darcy MacDuff saw the value of canine therapy when working with veterans with PTSD.
The therapeutic nature of dogs is part of the inspiration behind her nonprofit Heal Our Troops America in Huntington Beach, which offers complementary alternative medicine and related services for veterans with PTSD — including service dogs trained to soothe veterans during anxiety attacks and wake them from nightmares.
"I always have my dog with me during my hypnotherapy sessions," MacDuff said. "Which is, I understand, worth its weight in gold."
The dogs are either rescues or belong to the veterans, and they train along with the veterans in a two-year program.
Heal Our Troops is one of the long list of vendors, exhibitors, organizations, shows and rescues that will be attending the 29th annual America's Family Pet Expo at Costa Mesa's OC Fair & Event Center from Friday to Sunday.
Ace Mask of Brea will be attending for his fifth year, with plans to educate the public about collie dogs.
He'll be there with his 9-year-old male collie, Kane, and 5-year-old female, Heather, with the San Gabriel Valley Collie Club and the Pet Prescription Team pet therapy volunteer group.
"There are many young people that have never seen a collie before … and have never heard of Lassie," Mask said.
Through the nonprofit Pet Prescription Team — which provides ongoing training and certification of therapy dogs — Mask and his dogs visit hospitals, senior assisted-care facilities and libraries.
Beyond that, Mask and his dogs work with the Los Angeles County Sheriff's Department's human trafficking bureau to help calm young victims. He and the dogs also visit prisoners — escorted by corrections officers — and spend time in cells help calm inmates.
"It's a pretty incredible thing to see," Mask said.
Nonprofit Rescue Express will be at the expo for the first time, showcasing one of the buses it uses to transport rescue animals from Oceanside to Burlington, Wash.
Mike McCarthy of Rancho Santa Fe, founded the group about four years ago when he was living in Oregon and noticed that rescue groups were receiving animals from Central Valley shelters because of a shortage of animals in the north. He wanted to provide a more comfortable, reliable form of transportation to these animals moving from south to north.
"I outfitted a bus and we started to do transport with it," McCarthy said. "Our service is always booked."
Another new participant of the expo is James Earhart and his Mojave based-Sea Lion Splash Show.
"We are a sea lion rescue facility," said Earhart whose touring show puts on 10 to 20 shows a year. "Two of the three that will be there are beach-stranded rescues. They are deemed unreleasable and we give them a forever home and travel to different event[s]."
Also making its debut is the Los Angeles-based Surprise Pawty, founded by Sandy Giang in 2016. It is a subscription-based company that delivers custom-tailored dog toys, treats, chews, accessories and other products every month.
"The true inspiration behind Surprise Pawty is really our dog, Buttercup," Giang said. "With our busy schedules, it was difficult to find time to drive out and buy her new toys and treats every so often, especially since she is a heavy chewer and has a grain intolerance."
Orange County Beekeepers Assn., a group that started in the early 1970s bringing together O.C. beekeepers and others interested in helping bees, will be at the expo educating participants about bees, behavior patterns and their importance to the environment and food industry.
Mike Karsting, vice president of exhibitions for the World Pet Assn., which puts on the expo, said adoptions are a key component to the event.
"It's a great, fun family time, but at the end of the day, we find 500 pets new homes," Karsting said. "That's pretty cool."
If You Go
What: America's Family Pet Expo
When: 10 a.m. to 6 p.m. April 27 and 29, 10 a.m. to 7 p.m. April 28
Where: OC Fair & Event Center, 88 Fair Drive, Costa Mesa
Cost: $10 to $15; children age five and younger admitted free
Information: (800) 999-7295 or petexpooc.org.
Jessica Peralta is a contributor to Times Community News.
---
All the latest on Orange County from Orange County.
Get our free TimesOC newsletter.
You may occasionally receive promotional content from the Daily Pilot.