A panto take on 'Beauty and the Beast'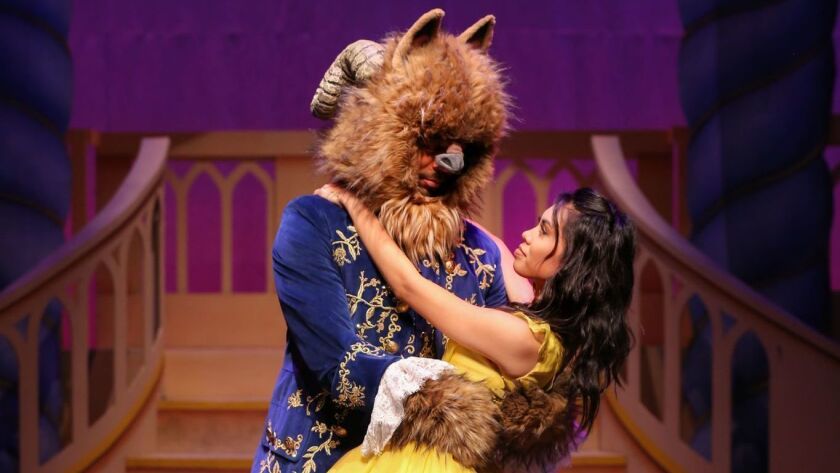 Though panto is routinely staged in Great Britain, particularly around the holidays, the whimsical mix of slapstick and song is less known to American audiences.
The British Lythgoe Family Panto is trying to change that by retelling classic fairy tales in American venues.
Past LFP shows have transformed "Snow White," "Peter Pan," "Sleeping Beauty" and "Aladdin" into pantos. This time around, "Beauty and the Beast" has been slanted toward the winter holidays and rechristened "Beauty and the Beast: A Christmas Rose."
Kris Lythgoe, his wife, Becky, and his parents, Nigel and Bonnie, began partnering with Pasadena Playhouse in 2010 before moving their productions to the Pasadena Civic Auditorium. In December 2015, they brought panto to Orange County with their first show at the Laguna Playhouse.
That's also where "Beauty" will be staged through the end of this month. They've added some details as a nod to the local audience: Beast turns into 'The Prince of Orange County' and Belle's father likes to drink at the The Royal Hawaiian's Tiki Bar.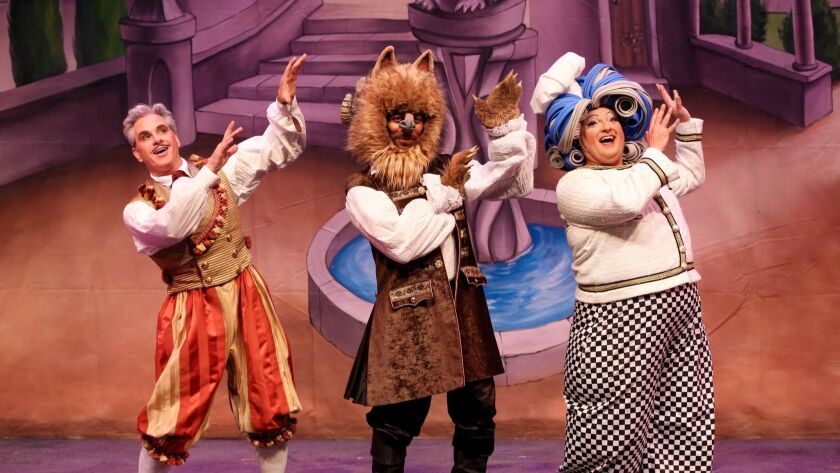 Dating back to Elizabethan times, British panto injects traditional fairy tales with slapstick humor, buffoonery, song and dance, exaggerated versions of familiar characters and plenty of audience interaction. Jokes tend toward the risque as a way of appealing to adult patrons.
The style arrived on U.S. shores in 1876. Nursery rhymes were added as source material. So were cross-dressing characters and references to American locales and people rather than British ones
Kris Lythgoe said the motivation for creating pantos for American audiences came from having kids of his own.
"I really wanted to introduce my son to theater," said Lythgoe, "and there really wasn't anything that captivated kids from ages 4 to 10 … A lot of theaters don't allow kids under the age of 12, and that's crazy. You lose kids' attention to theater — they're already starting on [an] iPad."
Lythgoe said in 2010 he took son George to see Christopher Lloyd as the Grinch at the Pantages Theatre. The 3 year old "was scared after 10 minutes."
So he began creating the kind of shows suitable for kids but meant to be enjoyed by all age groups, while also following the British tradition of doing panto during the winter holidays.
"That goes back to Shakespeare's time," Lythgoe said. "Panto is about getting communities together. Back then there was a lot of poverty, so each town would come together to create a magic moment for kids as kind of a gift from Santa. That's why all these shows happen at holiday time."
Lythgoe Family Panto now produces its shows nationwide. "A Christmas Rose" is concurrently running in Raleigh, NC, Houston and Nashville, Tenn., in addition to the engagements at the Laguna Playhouse and the Pasadena Civic Auditorium.
Some 8,000 children in grades K-6 are being brought in under Title 1 — a federal education program that benefits poor students — to see "Beauty and the Beast: A Christmas Rose" at various productions nationwide. Sponsorships cover the various costs, including the buses used to transport kids to and from the theaters.
Locally, that's roughly 800 school-age children — two dedicated performances — filling the 407-seat Laguna theater twice. The bulk of these young audience members, Lythgoe noted, are from low-income schools throughout Orange County.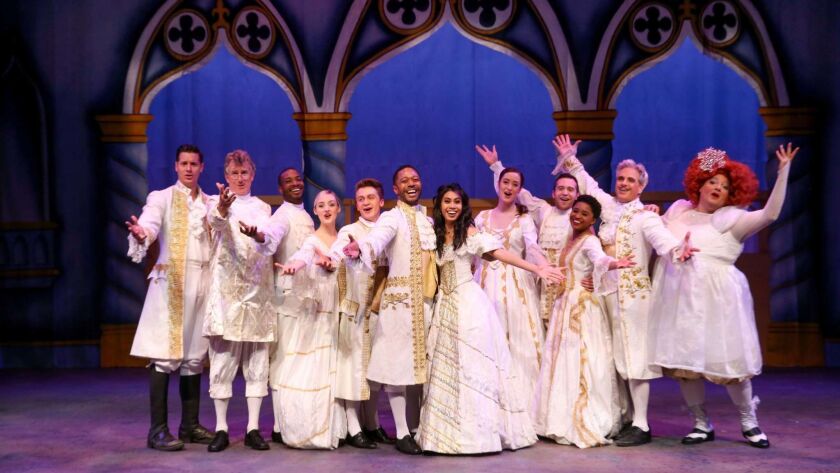 LFP uses two methods to take classic fairy tales and tie them in with the winter holidays. One, Lythgoe said, is to include classic Christmas tunes. (For example, "Let It Snow" in the current show.)
When Lythgoe created a panto from "The Wizard of Oz," the '40s song "Home for the Holidays" became "There's No Place Like Home for the Holidays."
The second Christmas tie-in is that generally the stories take place on Christmas Eve: In "Peter Pan," Wendy gets taken to Neverland on Christmas Eve. For "Beauty and the Beast," it's Christmas Eve when Belle meets the Beast.
Christmas and winter elements like trees and lights abound, and performers throw (artificial) snow at the audience.
Lythgoe noted one big difference between the Lythgoe Family Panto shows and traditional British panto: "I don't do any of the bawdy, sexual, double entendre innuendo stuff. Our shows are more focused on family."
The music is all-encompassing. Lythgoe said each show typically contains pop music from different eras: "today's music for the kids, '80s music for their parents and 1950s music for their grandparents."
And then there's the audience participation – mainly aimed at its children. Characters break the fourth wall and get kids up onto the stage, something Lythgoe called "another crazy, fun element of doing these shows."
"Kids say the darnedest things," he said, noting that at a recent performance in Raleigh, "We asked a little girl what she wanted to be when she grew up, and she said 'a doggy.' She wants to be a doggy when she grows up!"
"Adults appreciate the audience participation as much as the kids do," said the show's director, Sheldon Epps. "It brings out the child in them, whether they're making noise, booing the villain or singing along."
The panto style of theater, Epps said, is much more wide-ranging than any Broadway musical, whose audiences are more mature.
"The challenge in staging panto is to tell the story, but to do so in a way that's moving and entertaining and theatrical for all the audience's various age groups," he said.
Eric Marchese is a contributor to Times Community News.
IF YOU GO
What: 'Beauty and the Beast: A Christmas Rose'
Where: Laguna Playhouse, 606 Laguna Canyon Road
When: Through Dec. 30 at 7 p.m. Wednesdays, Thursdays and Fridays, noon and 4 p.m. Saturdays and Sundays, and 3 p.m. Dec. 21, 26, 27 and 28.
Cost: $41 to $76.
Information: (949) 497-2787, lagunaplayhouse.com
---