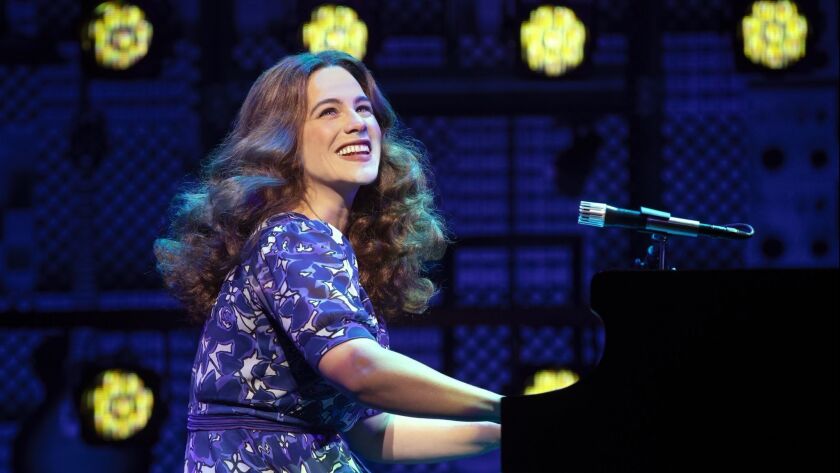 For someone who channels the legendary Carole King eight times a week onstage, actress Sarah Bockel comes across as remarkably laid back when discussing leading the roadshow production of "Beautiful," the musical based on King's life and career. Bockel has been traveling the country with the show for months, and will move with the company into Segerstrom Hall in Costa Mesa on Oct. 9.
Yet when the audition notices first came around, Bockel said she knew rather little of King overall.
"I knew she wrote the 'Gilmore Girls' theme song, and that was kind of the extent of my knowledge of her," Bockel said when she first considered auditioning for the role. "I had 'Tapestry' on vinyl, just not anything previous to that. I've learned more about her through the show and [have become] a bigger and bigger fan of hers."
The jukebox musical, which traces King's early career, features such familiar tunes from her oeuvre as "So Far Away," "Chains" and "Beautiful," which lent its name to the title of the show.
Bockel came up through the boards of the vaunted Chicago theater scene, singing and acting, so when her agent alerted her to the casting call for "Beautiful," she sent a video of herself to New York, where it immediately caught the attention of casting director Stephen Kopel.
"It was pretty instantaneous," Kopel said of watching Bockel's tape. "Finding an actor who can really sink their teeth into the star aspect of the role [and] also the everyday person aspect of the role is a tall order for any actor. I knew [Bockel] had both of those things, and it's a really rare package to find."
Bockel was called to New York three times to audition, eventually cast as understudy to Abby Mueller in the role of Carole. But Bockel got to step out to center stage for the traveling production, for which she will regale Orange County audiences with her take on King during a six-day stop at Segerstrom.
Bockel has met with King several times but said the singer has never actually seen her performance.
"She does talk to 'the Caroles' privately for a little bit," Bockel said, adding that King doesn't "give notes" on interpreting her, but rather "gives her blessing" to the actresses playing her.
"She kind of lets you play her more as a character rather than saying, 'No, this isn't how it happened,' or 'This isn't what I would do,' or anything like that," Bockel said. "She gives us a lot of freedom."
Because Bockel must perform in "Beautiful" eight times a week, she does her best to keep her voice in shape. However, she says she will sometimes lower a note or change a certain dynamic in one of the show's songs if she isn't feeling 100%.
"I do feel guilty when I have to do that but … I have to make sure it's good enough for the audience and the ticket-buyer," she said. "I always want to give them my best possible show, so I have to make it last until the end of the week."
Bockel doesn't spend much time exploring her ports of call while on the road, describing herself as a "homebody," even when taking up residence in ZIP codes far from her Chicago haunts.
"I'm sure I'll find some stuff to do in Orange County, as it's super-beautiful," she said of coming to Segerstrom, adding she typically likes to find places to walk with her dog in new cities.
Bockel said she finds that each show of the tour can have it's own feel.
"I've heard the phrase before, 'Eight shows a week is the death of art,' but I actually really disagree with that," she said. "I feel that I've been able to mine so many good things from [performing] this each and every night. The show is different, and the audience is different, and, depending on who's doing the show, the cast is sometimes different.
"It gets so rich doing this show every night, and there's always more to imagine and play with, and I really love that about doing a long run."
Bockel, who says her influences as a singer include Janis Joplin and Amy Winehouse, says she has thought a great deal about where next to take her professional life after the "Beautiful" run ends in 2019. She hopes to continue auditioning for new roles and evolve as an artist — including, hopefully, creating and originating a stage role of her own.
But before contemplating that next role, Bockel says that Orange County audiences would do well to attend "Beautiful," no matter how familiar they may be with Carole King's musical resume.
"You will absolutely know over half the songs in the show, and you will have your own personal connection to the show that you don't even know about yet," she said. "And her story, her personal story, is worth the ticket alone. Not to mention all the recognizable music."
IF YOU GO
What: "Beautiful" the musical
When: Oct. 9 through 14; 7:30 p.m. Tuesdays through Fridays; 2 and 7:30 p.m. Saturday and 1 and 6:30 p.m. Sunday
Where: Segerstrom Center for the Arts, 600 Town Center Drive, Costa Mesa
Cost: Tickets start at $39
Information: (714) 556-2787 or scfta.org.
This story was reported by Voice of OC, a nonprofit investigative newsroom, as part of a publishing agreement with TimesOC.
---