Music comes to life at new dueling piano bar in Costa Mesa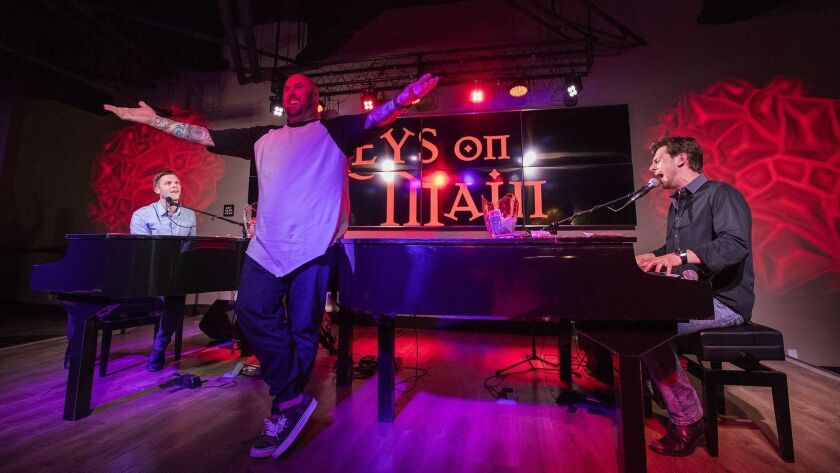 Keys on Main, a new dueling piano bar at the Triangle in Costa Mesa, is offering a mix of music, levity and an interactive audience experience.
The club, which debuted March 9, was filled to near capacity for its grand opening in the ground-level space at the Triangle commercial complex at Harbor and Newport boulevards.
"We do it better than anyone else has ever done it and we pride ourselves on just that," sad Bradley Scott, Keys on Main general manager. "It's dueling pianos elevated as like never before."
It works this way:
Two pianos are positioned center stage, facing each other, for the all-request show.
Let's say you want to hear some Billy Joel.
You write a request and hand it to one of the keyboardists along with, perhaps, a $10 bill.
The musicians start playing "Piano Man," but then another audience member delivers a note requesting the duet stops playing "Piano Man" with $15.
Say goodbye to "Piano Man."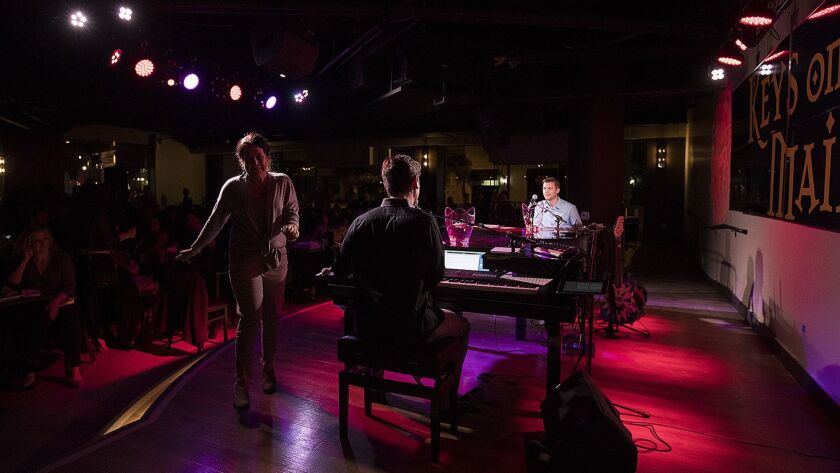 "People love choice," said Katerina Malacova, 38, of Costa Mesa, who attended the Keys on Main opening with some friends. "I think that is the main point here. Finally, we get to say what we want to hear. Interaction is pivotal."
Keys on Main owner, founder and lifelong musician George Hasenohrl, 38, was one of four keyboardists who manned a piano for the club's opening night.
Having four pianists allows them to take breaks without music ever stopping.
"We're having fun and it's still early," said Russell Long, an architect from Huntington Beach, who was celebrating his birthday at the grand opening along with friends. "It's exceeded our expectations. These two guys … by their mannerisms and facial expressions when they sing … they care about what they do."
Josh Skillman, 30, is friends with the keyboardists and flew down from Seattle, Wash., to attend the opening.
Skillman plunked a $100 bill down on the piano so the duet would stop playing Madonna's "Like a Virgin."
"I just don't like the song," he said.
Hasenohrl, who goes by the stage name George Kelly, is a native of Salt Lake City, Utah. At 18, he and some friends sneaked into the Bar at Times Square, a dueling piano bar in the New York, New York Hotel and Casino in Las Vegas.
"After seeing that show, I thought, wow, playing and singing — that is the cool thing," Hasenohrl said.
At 22, Hasenohrl took a gig at a new dueling Piano Bar in Salt Lake City, where he spent the next five years mastering the role as a both a player and entertainer.
"It was a small, dive bar place and I thought we could really do this with more of a nightclub feel," Hasenohrl said. "We could make it classier, a little bigger and give people some more elbow room."
Hasenohrl opened the first Keys on Main in Salt Lake City almost 10 years ago.
"It was a raging success," he said.
He purchased piano bars in Seattle and Tacoma, Wash., and patterned them after the Salt Lake City location.
About two years ago, Hasenohrl was looking to open a fourth Keys on Main when he discovered the available Triangle space recently occupied by a shuttered Gap store.
The 21-and-older Keys on Main features light fare and a full bar with craft beers, wine options and menu of cocktails with musically-inspired names, including "Bohemian Rhapsody" and "Lady Gaga," among others.
Keys on Main is at the Triangle, 1870 Harbor Blvd., Costa Mesa. For more information, call (714) 619-9850 or visit keysonmain.com.
Lou Ponsi is a contributor to Times Community News.
---
All the latest on Orange County from Orange County.
Get our free TimesOC newsletter.
You may occasionally receive promotional content from the Daily Pilot.