Review: On Theater: Uncommon romance sparks 'Heisenberg'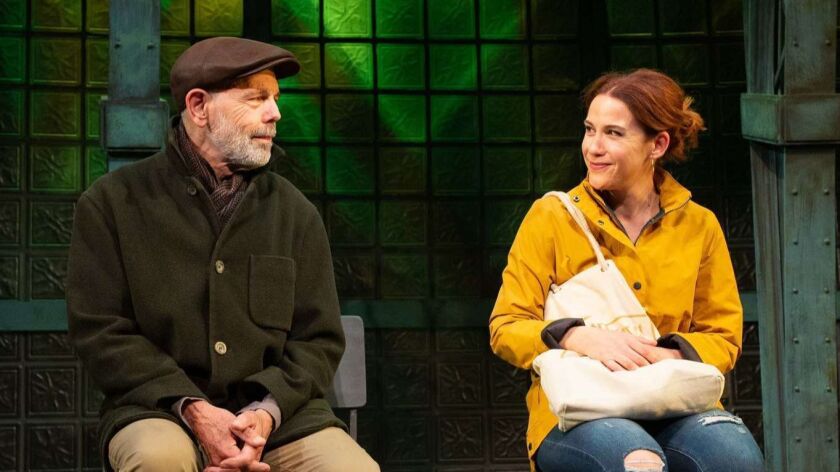 Can a lonely, insulated man in his mid-70s find romance with a vibrant, free-spirited woman three decades his junior? So it would seem in Simon Stephens' "Heisenberg," now on stage at the Laguna Playhouse.
Heisenberg is not a character in the play, nor is his name mentioned. Stephens drew his inspiration from Werner Heisenberg, who created the complicated "Uncertainty Principle" in 1927, applying it to the uncertainty of human existence.
Happenstance prevails from the play's first moment when Georgie (Faline England) plants a random kiss on Alex (Joe Spano) at a London train stop. An unlikely romance develops, even though it's based on falsehoods — it turns out that she's got quite an imagination.
Director Katharine Farmer shepherds the pair through an unlikely set of circumstances, using enforced periods of silence as a dramatic tool. You have to go back to "The Odd Couple" (or even further back to "The Taming of the Shrew") to find two more contrasting characters.
Spano's Alex is a 75-year-old butcher with sparse romantic experience who lives like a penurious hermit. England's fortyish Georgie passes herself off as a war widow before finally admitting she's divorced with an estranged grown son.
That they hit it off is surprising. That they maintain the relationship is astonishing. There's still a measure of caution between them, especially on his part, but the relationship progresses.
Spano appears to force his character's limited speech patterns at the outset, bewildered at the attention he's being paid. His hesitancy prevails but his attraction for this much-younger sprite is genuine.
England plunges full throttle into her chatty role, tossing off profanities as she proceeds to charm the hesitant stranger. Much of her dialogue is in the key of F, but this only renders her more captivating.
Set designer Mike Billings has created a huge railroad station backdrop which also serves the ensuing scenes admirably. Billings also designed the crackling lighting effects, abetted by Jessie Vacchiano's probing sound plot.
"Heisenberg" certainly conveys the uncertainty of its inspiration while bringing together a pair of extraordinary actors in this compelling dramatic comedy at the Laguna Playhouse.
IF YOU GO
What: "Heisenberg"
Where: Laguna Playhouse, 606 Laguna Canyon Road, Laguna Beach
When: Tuesdays through Fridays at 7:30 p.m., Saturdays at 2 and 7:30, Sundays at 1 and 5:30 until April 14
Cost: $55-$85
Call: (949) 497-2787; lagunaplayhouse.com
Tom Titus reviews local theater for TimesOC. Follow TimesOC on Twitter @timesocofficial for more news and features about Orange County.
---
All the latest on Orange County from Orange County.
Get our free TimesOC newsletter.
You may occasionally receive promotional content from the Daily Pilot.