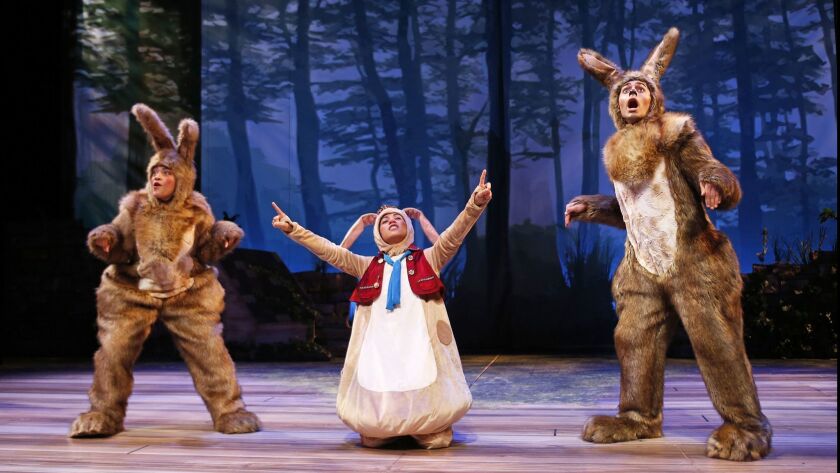 "The Velveteen Rabbit" is the ideal companion for youngsters who've clung to a special toy that they just can't bear to part with, and you can find this engaging bunny on the stage of South Coast Repertory.
A project of SCR's Theater for Young Audiences series, the show is a splendid adaptation of the novel by Britain's Margery Williams which has been reworked for the stage by Janet Allard.
Under the sensitive direction of Beth Lopes, "The Velveteen Rabbit" will charm the socks off the children in the audience, and older folks should enjoy it as well.
The title character is a stuffed bunny made from velveteen, a synthetic form of velvet, who's initially upset because he's not getting much attention from the little boy who has several toys in his nursery to keep him company.
This all changes when the boy chooses the rabbit for a playtime companion, and they enjoy myriad adventures together. But then a dire circumstance threatens to part the child and his floppy eared toy forever.
The cast, members of SCR's youth acting programs, is headed by Amielynn Abellera in the title role of the stuffed rabbit who longs to "be real." This young actress injects the show with heart and humanity.
Ricky Abilez impresses as the boy who cherishes his tarnished companion and guides the bunny through imaginary perils. His enthusiasm lifts the show considerably. Paul Culos brings an aura of seasoned wisdom as the Skin Horse, who doubles as narrator.
Four other cast members — Joseph Abrego, Nicole Erb, Nicole Cowans and Carina Morales — portray toys in the nursery (lion, soldier, ballerina, airplane), then double as the adults who appear briefly in the show.
Keith Mitchell's imaginative settings and Kathryn Wilson's creative costumes enhance the show's attraction. It's a delight for kids that their elders will also appreciate.
IF YOU GO
What: "The Velveteen Rabbit"
Where: South Coast Repertory, Julianne Argyros Theater, 655 Town Center Drive, Costa Mesa
When: Fridays at 7 p.m., Saturdays at 11 a.m., 2 and 4:30 p.m., Sundays at 2 and 4:30 p.m. through June 9
Cost: $34 - $40
Information: (714) 708-5555; scr.org
Support our coverage by becoming a digital subscriber.
Tom Titus reviews local theater for TimesOC.
For more news and features about Orange County, visit TimesOC.com or follow us on Twitter @timesocofficial.
---