Column: An Arab American spring is taking root in Orange County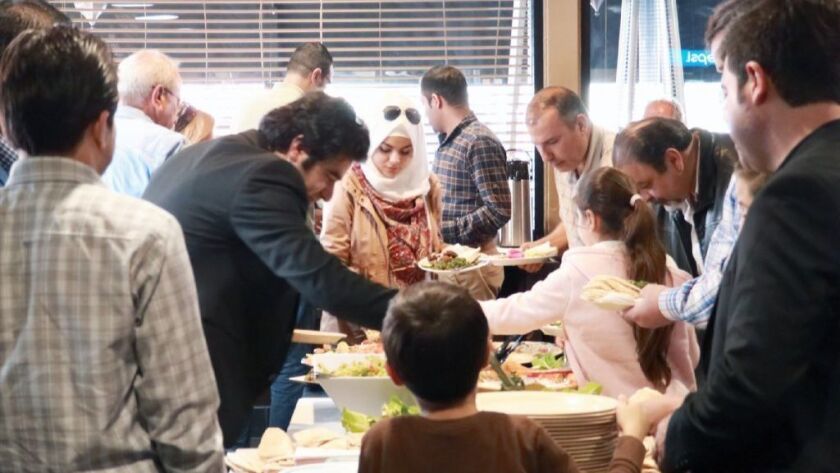 The Board of Supervisors on Tuesday declared April Arab American Heritage Month, a milestone that celebrates our contributions.
"Orange County has a diverse population of residents that derive from a multitude of different ethnic backgrounds, including the Arab American community," said Supervisor Doug Chaffee, who introduced the proclamation. "I'm proud to say that Little Arabia is located within my district in the city of Anaheim."
While Anaheim and Fullerton have designated a month for Arab Americans, this is a first for the county government.
"The Orange County Board of Supervisors' proclamation is a testament to the contributions we have made to this county and the fact that we are recognized at a time when our community is facing challenges of bigotry, bullying and negative political rhetoric," said Rashad Al-Dabbagh, executive director of the Arab American Civic Council. "Arab Americans have a long, positive history in this country, and we must tell our stories to dispel stereotypes and empower the next generation of Arab Americans."
From contributions in sports, business, politics and entertainment, Arab Americans have been part of the fabric of this nation since its inception.
"The first Muslims in America: impressions and reminiscences," a book by Adele Younis, an American historian of Syrian descent, traces the steps of some of the first Arabs who arrived on American shores.
One was Ben Solomom, who was brought as a slave to Maryland in 1731.
Another is Eva Hetty, from Lebanon who immigrated to the United States in 1929. True to the independent spirit of Arab women, she worked as an auto worker to support her family instead of taking a job in a home or a family-owned store.
In Orange County, there are thousands of Arab Americans who make a positive difference in the lives of others.
Take my friend Al-Dabbagh, who is passionate about empowering our and other minority communities. I know all sorts of Arab Americans contributing to this county, friends like Zynab Hammoud, a special education teacher at an Orange County school district; Elaf Farahat, an ICU dietitian at a Kaiser hospital; and Rahma Farahat, who is an assistant art director in Hollywood.
At a time when our country's administration is spewing ethnic, racial and religious hate, highlighting our diversity propels us forward and makes us stronger. These acts are more critical than ceremonial now.
Mobilizing our voting power is also paramount. Last year, the Orange County-based Arab American Civic Council focused on getting out the Arab American vote for the midterm election. The campaign reached more than 3,500 Arab America households in Orange County, Al-Dabbagh said.
Following the county's declaration, I have a few suggestions on how to celebrate Arab American Heritage Month.
One is to visit the Little Arabia District in Anaheim. There are many spots where you can taste the flavors of North African and Middle Eastern food, experience the culture and listen to music.
Another is to join me at the Civic Council's gala this Saturday at the Great Wolf Lodge. Come meet some of your Arab American neighbors. You'll be inspired by some of the work everyday Arab Americans are doing for our neighborhoods and society at-large.
"This year we will continue building community strength by engaging community members, developing leaders and working toward empowering our community, which speaks to the gala theme we chose this year," Al-Dabbagh said.
The theme is "Building and Transforming Collective Power."
For gala tickets visit aaciviccouncil.org.
See you there.
Mona Shadia is an Egyptian American writer who lives in Orange County. Follow her on Twitter at @MonaShadia.
For more news and features about Orange County, visit TimesOC.com or follow us on Twitter @timesocofficial.
---
All the latest on Orange County from Orange County.
Get our free TimesOC newsletter.
You may occasionally receive promotional content from the Daily Pilot.