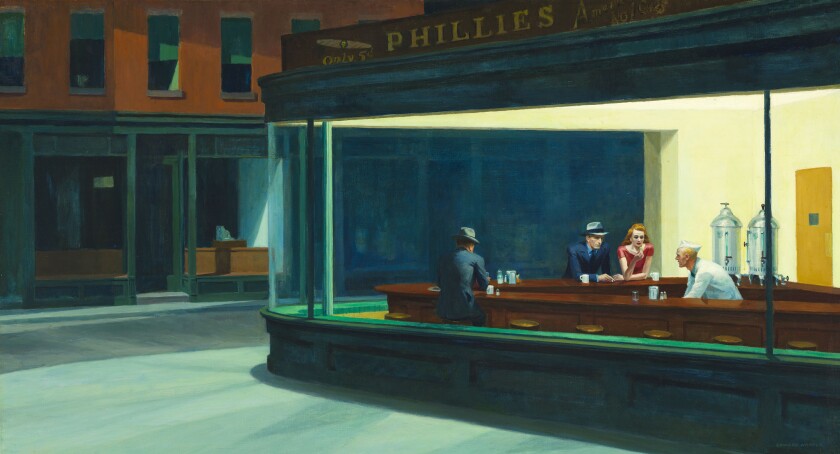 Move aside, classical artists of yesteryear. Next year's Pageant of the Masters is going to paint the town red, white and blue. Well, sort of.
During its annual meeting Wednesday night, the Festival of Arts in Laguna Beach announced "Made in America" will be the theme for next summer's production of "living pictures."
The show will spotlight artistic works documenting America's history — all the way back to its revolutionary days.
"Some artists witnessed history and reflected it directly in their art," said scriptwriter Dan Duling. "Others actually made history themselves."
The pageant will include live re-creations of work from artists Thomas Sully, John Trumbull, Edmonia Lewis, Norman Rockwell and Edward Hopper, among others.
"We believe in telling their stories," Duling said. "We're also going to be able to reflect and offer glimpses of how America came to be and the unique challenges faced by artists who called this nation home."
For director Diane Challis Davy, now in her 25th season, the theme marks a return to familiar territory. Davy said in a statement that her first production "devoted a large portion of [the pageant] to American artists."
"Now, thanks to advances in digital imagery and video projection, I thought we should revisit the theme and bring to it not only many new artworks, but also a whole new arsenal of dramatic and immersive theatrical effects," Davy said.
Davy said she feels it is important to know and remember the collective history of the country and to "leave our audiences with a renewed appreciation for the resilience of the American spirit."
"We're going to flesh out and paint more detailed portraits of the individual artists," she said. "I want to make these artists, regardless of their time periods, real and identifiable for the audience."
The 2020 Pageant of the Masters will run from July 8 to Sept. 3. Advance tickets go on sale Dec. 1.
For more information, visit foapom.com/pageant-of-the-masters.
---