Haven't cast your primary election ballot yet? Vote centers start opening Saturday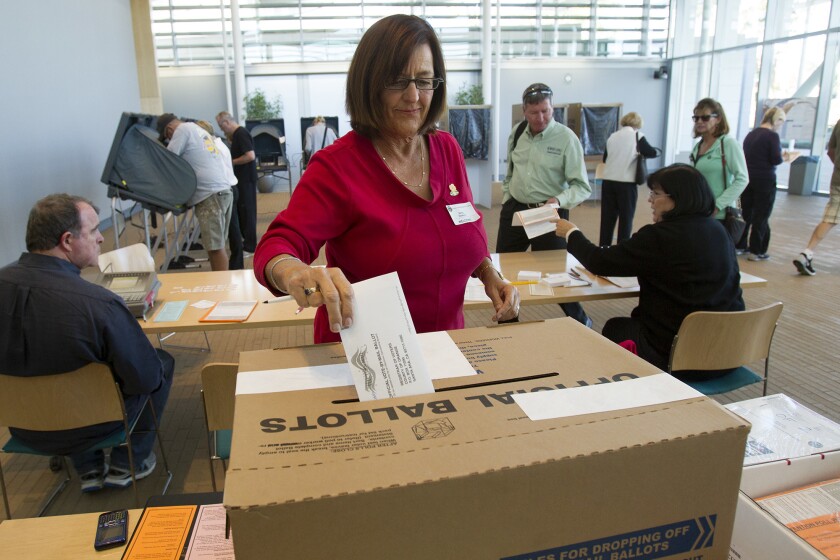 Though California's primary election is officially almost two weeks away, many people already have cast their votes by mail or at one of the 110 ballot drop boxes in Orange County.
And starting Saturday, many of the county's 188 new vote centers will open to accept ballots and provide other election services, with more scheduled to open Feb. 29.
Those are all part of changes implemented this year to go along with the biggest one — that the primary has been moved to March 3 to join other states participating in "Super Tuesday." Previously, California's primary was held in June.
All registered voters in Orange County were sent an official vote-by-mail ballot and voter information guide at their homes beginning Feb. 3.
The vote centers — which replace traditional polling places, where voters had to visit specific precincts — will be open to all county voters. Along with accepting ballots, the vote centers will accommodate things such as voter registration, ballot replacement and address updates.
California's primary, in which voters choose candidates to run in the general election in November, features a "top-two" system for state and congressional offices. That means anyone can vote for any candidate in those races, regardless of party, and the top two vote-getters will move on to the general election, regardless of party.
For county offices, which officially are nonpartisan, anyone can vote for any candidate. A candidate who wins more than 50% of the vote is elected. If no candidate receives more than 50%, the top two vote-getters will have a run-off in the general election. The exception to that is the Orange County Board of Education, in which the top vote-getter will be elected.
In the presidential race, primary voters can choose only from among candidates of their party.
Here are local vote center locations and their operating dates:
Costa Mesa
Saturday through March 3: City Hall, 77 Fair Drive
Feb. 29 through March 3: Balearic Community Center, 1975 Balearic Drive; Senior Center, 695 W. 19th St.; Donald Dungan Library, 1855 Park Ave.; Sofia University, 3333 Harbor Blvd.; Coast Community College District office, 1370 Adams Ave.; John Wayne Airport administration office, 3160 Airway Ave.
Fountain Valley
Saturday through March 3: Recreation Center, 16400 Brookhurst St.
Feb. 29 through March 3: Freedom Hall at Mile Square Regional Park, 16801 Euclid St.; Orange County Water District office, 18700 Ward St.
Huntington Beach
Saturday through March 3: Rodgers Center, 1706 Orange Ave.; Central Library, 7111 Talbert Ave.
Feb. 29 through March 3: Edison Community Center, 21377 Magnolia St.; Civic Center, 2000 Main St.; Main Street Library, 525 Main St.; Ocean View School District office, 17200 Pinehurst Lane; Golden West College, 15744 Goldenwest St.; Resurrection Lutheran Church, 9812 Hamilton Ave.; Huntington Beach City School District office, 8750 Dorsett Drive; Brookfield Manor clubhouse, 9850 Garfield Ave.; Plaza de la Raya, 19092 Beach Blvd., Suite N; Westchester Bay Homeowners' Assn., 16011 Bonaire Circle
Laguna Beach
Feb. 29 through March 3: Community & Susi Q Center, 380 Third St.; American Legion Post 222, 384 Legion St.
Newport Beach
Saturday through March 3: Civic Center, 100 Civic Center Drive
Feb. 29 through March 3: Marina Park Community Center, 1600 W. Balboa Blvd.; Newport Coast Community Center, 6401 San Joaquin Hills Road; Oasis Senior Center, 801 Narcissus Ave.; Newport Harbor Lutheran Church, 798 Dover Drive; Newport Harbor Lawn Bowling Club, 1550 Crown Drive
For vote center hours and other locations, visit ocvote.com/votecenter.
For locations of 24-hour ballot drop boxes, visit ocvote.com/dropbox.
---
All the latest on Orange County from Orange County.
Get our free TimesOC newsletter.
You may occasionally receive promotional content from the Daily Pilot.