Defense introduces a 'sizzler' in bid to get judge dropped from surgeon rape case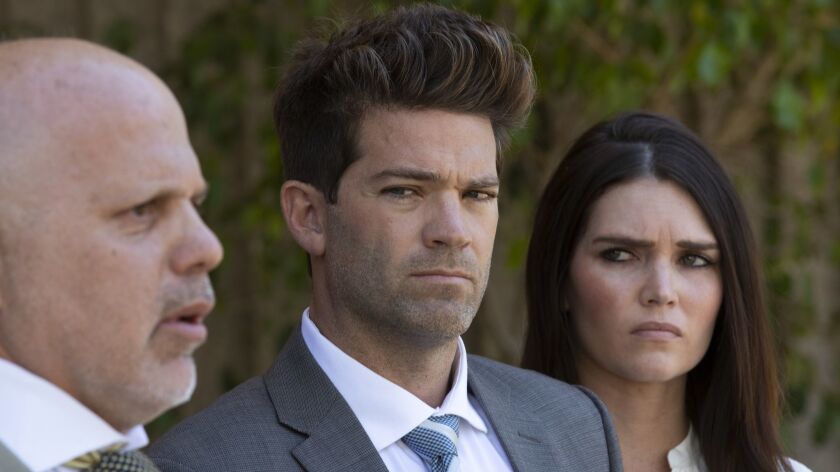 Attorneys for the Newport Beach surgeon and his girlfriend accused of serially drugging and raping several women in the doctor's seaside home continue to argue that the judge assigned to the case should step aside because of a possible bias toward an alleged victim's attorney — and that the attorney's protestations are tough to believe, owing to a reality-TV-show pitch that positioned him as one of the stars.
In a twist fitting with the sensational case against Dr. Grant Robicheaux and Cerissa Riley, their lawyers, Philip Kent Cohen, Scott Borthwick and Shawn Holley, backed their bias claim this week in a Monday court filing with a two-minute "sizzle reel" video and accompanying slideshow produced in 2018 pitching a reality show with the working title of "Orange County Justice." The lineup of stars included former District Atty. Tony Rackauckas, his chief of staff Susan Kang Schroeder and Matt Murphy, a then-deputy district attorney who "might be Orange County's most eligible bachelor."
"He's a shark in the courtroom and an adventure-seeker outside of it," the pitch declared.
The Robicheaux case is one of the examples in the video of where "beneath the beauty lies a dark truth" in "the country's most glamorous Zip code." Murphy was a prosecutor when the pitch was made but later went on to be a victims' rights attorney to two of Robicheaux and Riley's accusers.
The show was not picked up.
The allegation of judicial bias, which Robicheaux and Riley's attorneys first filed in June, stems from a closed-door meeting between Murphy and Orange County Superior Court Judge Gregory Jones the day before a February hearing to determine if all charges should be dropped against the couple. Current D.A. Todd Spitzer sought the dismissal for insufficient evidence after a fresh review of the case, which he said was ginned up to — ultimately unsuccessfully — help his predecessor Rackauckas be reelected in 2018.
Ricardo Rodrigo Salas, 36, was arrested near the Aliso Creek rest area off the 5 Freeway in San Diego County just after midnight following a short pursuit, said California Highway Patrol Officer Mark Latulippe.
Murphy said his meeting with Jones was to discuss Murphy withdrawing as a victims' rights lawyer for one of the accusers. He has denied wrongdoing, and Jones has argued to stay on the case. Currently, it is temporarily in the hands of a Los Angeles County Superior Court judge.
Jones declined to drop the charges about a week before the defense team filed its motion to have him disqualified.
In his official response to the lawyers' motion, Murphy denied that he was a close ally of Rackauckas. But "Mr. Murphy's protestation's ring hollow," the defense team said in their filing pressing for Jones' dismissal.
"The ethical questions pertaining to a proposed reality TV show by the D.A.'s office regarding active criminal cases is not germane to this particular motion. What is germane however, are the revelations and contradictions brought to light by the contents of the reel and, indeed, by its very existence," the defense wrote. "Mr. Murphy and Mr. Rackauckas were co-stars in a television production sales pitch, wherein the professional and personal life of each of them was the subject. Mr. Murphy didn't just have a fleeting interest in Rackauckas' reelection but rather his potential television stardom relied upon it."
They also reiterated that the conditions surrounding Murphy and Jones' private conference "appear suspicious and create the appearance of impropriety."
On the subject of being attractive, charismatic reality TV figures, Robicheaux and Murphy have a couple things in common.
Robicheaux appeared on a reality TV show called "Online Dating Rituals of the American Male" in 2014, and in 2013 was named Orange County's most eligible bachelor by the local lifestyle magazine Orange Coast.
---
All the latest on Orange County from Orange County.
Get our free TimesOC newsletter.
You may occasionally receive promotional content from the Daily Pilot.