Newport Beach gives OK to general aviation proposals for JWA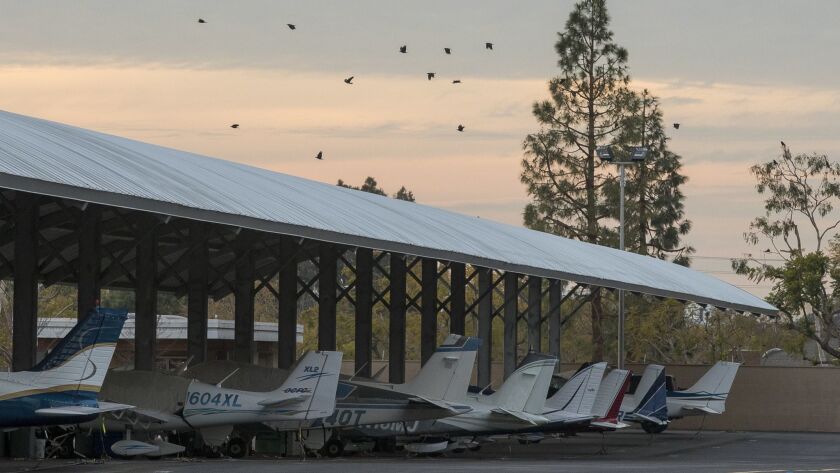 The Newport Beach City Council and Aviation Committee have signed off on generally favorable evaluations of the proposals for support services at the soon-to-be overhauled general aviation program at John Wayne Airport.
The City Council unanimously agreed to accept the Aviation Committee's recommendations Tuesday for fixed base operator, or FBO, proposals. Though the approval is only advisory — the airport is in Santa Ana and is overseen by Orange County — the county allowed neighboring Newport to offer feedback.
The planned upgrades to general aviation infrastructure at JWA offer new amenities to users of larger, typically noisier business jets while preserving access for pilots of the smallest, generally single-engine planes.
A subcommittee of the Newport aviation committee talked to all seven FBO applicants and evaluated their proposals according to a set of city goals that prioritize maintaining the balance of small hobbyist planes and larger corporate jets, moving the charter outfit JetSuiteX to the main terminal, and restricting hours of operation for any general aviation terminal.
Though the aviation committee accepted its subcommittee's evaluations, it came on a split, 8-6 vote after a 2½-hour discussion Monday, said Councilman Jeff Herdman, who also sits on the main aviation committee.
He said the committee wanted to reiterate the importance of keeping the current balance of plane storage, which leans toward smaller planes. He credited Councilwoman Diane Dixon for negotiating the small-plane mix last year, while she was mayor, with Board of Supervisors Chair Michelle Steel.
"We want to hold the Board of Supervisors to that agreement," Herdman said.
An initial committee recommendation showed no appetite for a general aviation terminal — a small facility with fee-based customs screening for private international flights — at all, but the city is willing to accept one that is restricted to operating hours of 8 a.m to 10 p.m.
Dixon said that general aviation isn't regulated by the longstanding legal agreement Newport has with JWA to restrict commercial activity, meaning private planes can land and take off 24 hours a day. These discussions don't change that, but attempts to limit what they can, she said.
---
All the latest on Orange County from Orange County.
Get our free TimesOC newsletter.
You may occasionally receive promotional content from the Daily Pilot.