Newport Beach adopts resolution to support city's fire department and firefighters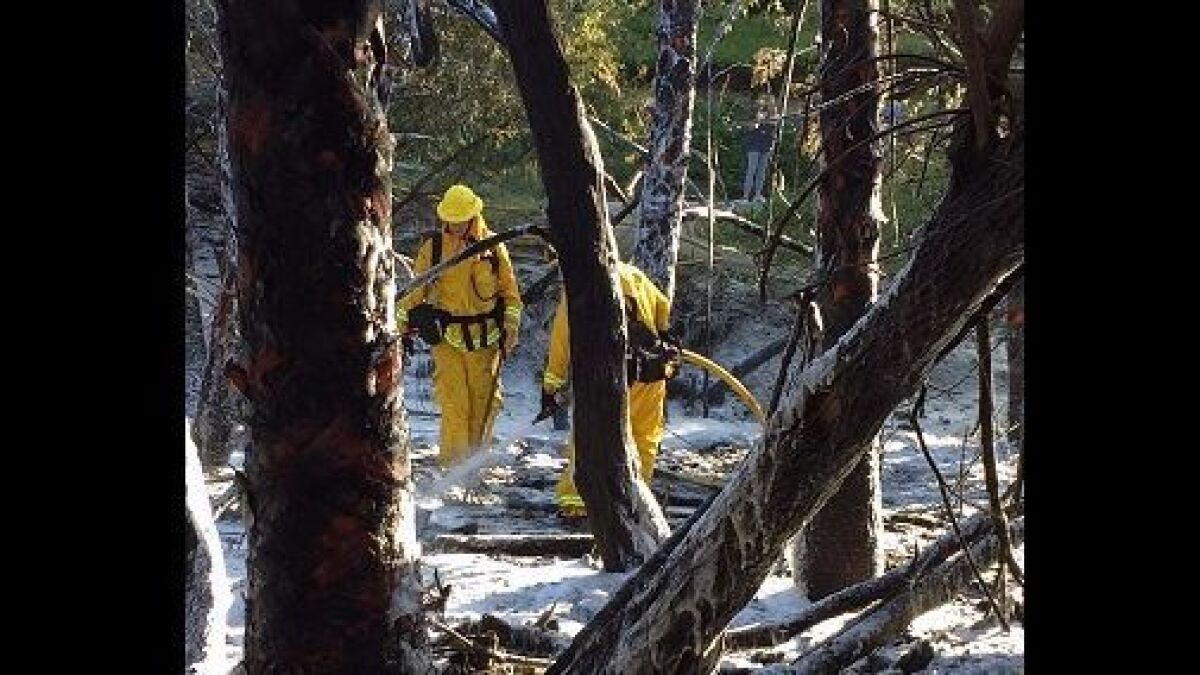 Nearly 30 firefighters have been deployed from the Newport Beach Fire Department to help fight some of the 26 remaining major wildfires burning up and down the state.
State fire officials said Wednesday that since the beginning of the year more than 8,000 wildfires have collectively burned over 3.6 million acres in California. Since Aug. 15, there have been 26 fatalities and over 6,000 structures destroyed.
"These last couple of months, our fire season has grown beyond anything like we've ever seen in the state of California," Newport Beach Fire Chief Jeff Boyles said.
The department has four firefighters in Los Angeles County fighting the Bobcat Fire, which the California Department of Forestry and Fire Protection reported Wednesday is at about 38% containment. Two firefighters are also deployed in Fresno and one in Mendocino. The department employs 118 fire personnel.
City officials said the first call for mutual aid was on May 31, and over the course of a 43-day period between the end of July to early September, 26 fire personnel and one civilian from the department had responded to 13 wildfires.
Local fire crews saved three Costa Mesa residents trapped in an apartment fire Saturday morning, then later doused a small brush fire that had broken out in Talbert Park.
The City Council unanimously adopted a resolution elaborating on its support for the department. Firefighters and their families were in attendance in person at Tuesday's council meeting.
"This is something that the council obviously takes very seriously," Mayor Will O'Neill said. "We look constantly at the budget every year and within that budget, it's important what line items mean. They mean the people not only there, but the families that are with them."
"This is something that a lot of people, often times when they see the rigs rolling through town ... you wear uniforms," O'Neill said. "The whole point of a uniform is to look uniform, but each of you are individuals. Each of you have families at home."
Mayor Pro Tem Brad Avery spoke to the struggles of the pandemic, describing the pivot from pandemic woes to wildfire as shifting from an "invisible threat" to a "visible one" all over the state.
"There is, to me, a purity in the mission of this fire department and all responders to this very visible threat," Avery said. "There was no indecision. There's no politics. It's duty, it's bravery, it's brotherhood, it's sisterhood and then you've got the support of family, friends and certainly your community."
"In a way, it's a beautiful thing. We've got a society right now that's really struggling in so many ways," Avery said. "Having something so pure going on, it's absolutely selfless."
Council members conveyed their thanks to the department, with Councilman Jeff Herdman describing his feelings as "awe."
"It's such a hard emotional as well as physical endurance that you're going through," Councilwoman Diane Dixon said, "and it's just so important for all of us — and for all of you to realize how all of us value and respect and honor what you're doing to keep our community healthy and safe during the pandemic and to protect other communities."
"It's just noble work, and it's an honor we could call our Newport Beach Fire Department our own," she said.
---
All the latest on Orange County from Orange County.
Get our free TimesOC newsletter.
You may occasionally receive promotional content from the Daily Pilot.