No toll lanes for 405 in Costa Mesa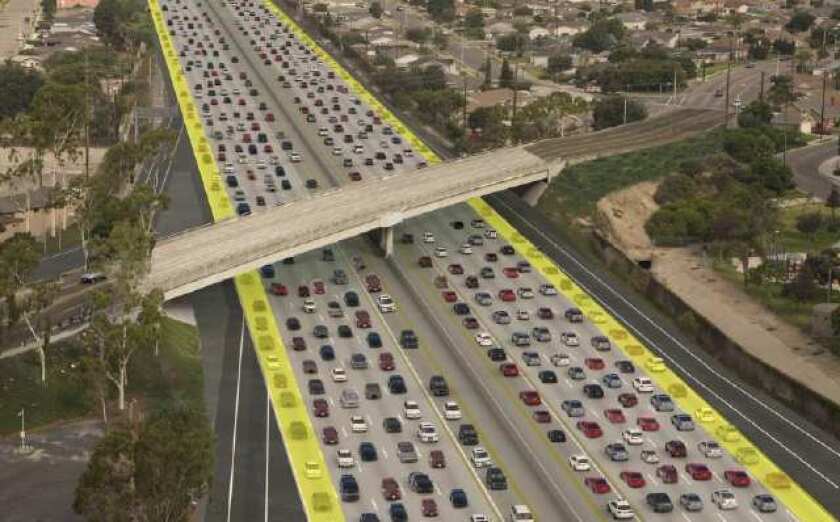 Toll lanes and construction are not coming to Costa Mesa.
The Orange County Transportation Authority on Monday approved widening the San Diego (405) Freeway by adding one lane in each direction between Fountain Valley and Rossmoor.
OCTA's Board of Directors approved Alternative 1 in a 12-4 vote, with directors Larry Crandall, Janet Nguyen, John Moorlach and William Dalton opposing the measure, according to OCTA spokesman Joel Zlotnik.
The option would expand the freeway by one general purpose lane between Euclid Street and the San Gabriel River (605) Freeway — a stretch of about 13 miles.
Earlier this year, the city of Costa Mesa considered suing OCTA to prevent it from adding toll lanes along the freeway in city limits proposed in Alternative 3.
Alternative 1 would cost about $1.3 billion, funded by Measure M2, a half-cent sales tax approved by voters in 2006.
The two other options, alternatives 2 and 3, would have relied on local, state and federal funding and toll revenue respectively.
The city of Costa Mesa formally opposed Alternative 3, objecting to its requirement that the bridge over the 405 at Fairview Road be torn down.
Crandall said he voted against Alternative 1 because it was a ploy to revisit Alternative 3 in the future. If the freeway construction continued, and Alternative 3 eventually approved, it would subject residents to years of construction, he said.
"My residents are not going to be happy having a decade of freeway construction," Crandall said. "That's just unconscionable when you think of how much these folks are going to be put out."
Costa Mesa's mayor, Eric Bever, called the decision a victory, even if OCTA moved to consider Alternative 3 in the future.
"Today a long-fought battle for the future of the I-405 came to a glorious conclusion," Bever said. "The OCTA's preferred alternative, the Alternative 3 toll lanes went up in smoke …
"This does not mean OCTA will not get all Freddy Krueger on the taxpayers some day and try to bring the 405 toll road back to life," he continued. "We will need to stay vigilant in keeping the freeways free of taxpayer-abusive toll-revenue schemes."
Twitter: @lawilliams30
---