Irvine's Mayor Choi running for state Assembly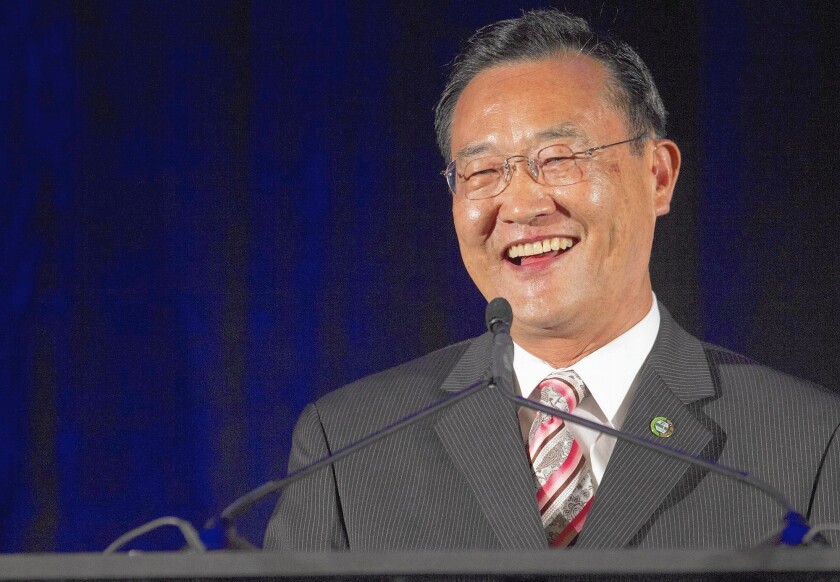 Irvine Mayor Steven Choi has entered the 2016 race for a spot in the state Assembly.
Choi, a Republican, is seeking the 68th Assembly District seat, which represents Irvine, Anaheim, Lake Forest, Orange, Tustin and Villa Park.
Assemblyman Donald Wagner (R-Irvine), who currently holds the seat, will be termed out next year.
Choi said that if elected, he plans to battle tax increases and work to repeal laws that he believes impede businesses.
"I will work to repeal the layers of job-killing, anti-business regulations and bad laws that have made it so difficult for our economy to thrive the way that it should," he wrote in his campaign announcement this month.
Choi was first elected to Irvine's City Council in 2004 and won reelection in 2008. He was elected mayor by public vote in 2012 and 2014.
Before running for the City Council, Choi served for six years as a trustee with the Irvine Unified School District Board of Education.
In his announcement, Choi noted several council achievements during his time as mayor, including completion of an audit of Orange County Great Park spending and a speed-up of development of a large portion of the park.
Choi holds a master's degree in library science from Louisiana State University and a doctorate in library and information science from the University of Pittsburgh.
After immigrating to the United States from South Korea as a language instructor with the Peace Corps in 1968, Choi began teaching at several colleges and universities, including USC, UC Irvine and Cal State Los Angeles. Most recently, he taught at Coastline Community College.
Choi and his wife moved to Irvine in 1993, where they raised their two children.
Choi is the third Republican to enter the 68th Assembly District race. Former Anaheim Councilman Harry Sidhu and former Villa Park Councilwoman Deborah Pauly also are seeking the seat.
---