Around Town: Longtime operating room nurse is Hoag Hospital's Nurse of the Year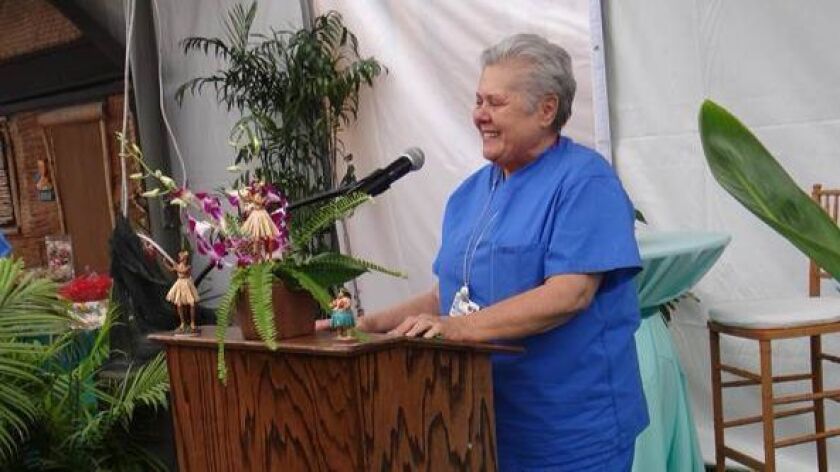 Hoag Hospital in Newport Beach announced Thursday that Judy Kidd, a perioperative services nurse, is the hospital's 2018 Nurse of the Year.
Kidd was honored for her professional and clinical excellence as a patient advocate and a teacher to her fellow nurses, according a hospital news release.
"Judy has educated hundreds of nurses who have gone on to become successful team members in a very demanding field," Carole Metcalf, executive director of perioperative services at Hoag, said in a statement. "Her tireless love for education and compassion for patients have been the driving forces that led Judy to success in her career."
Kidd has 50 years' experience in operating rooms and has worked the past decade at Hoag.
UC Irvine to host 'Hamlet' mock trial
UC Irvine will host a a mock trial based on Shakespeare's "Hamlet" from 6 to 7:30 p.m. Wednesday at the Irvine Barclay Theatre, 4242 Campus Drive.
The question: Is Hamlet guilty of first-degree murder for killing Polonius in his mother's bedroom?
The free event will feature L. Song Richardson, dean of UCI's School of Law, as Hamlet's lawyer and Erwin Chemerinsky, founding dean of UCI Law and current dean of the UC Berkeley School of Law, as the prosecutor.
Parking will be available in the Student Center parking structure for $10.
College faculty grants awarded to help improve classroom instruction
The Coast Community College District Foundation announced five recipients of the annual Faculty Funding Opportunity Grant, a $2,000 grant given in two installments to encourage faculty members to work on improvements to classroom instruction.
The recipients are Leland Means and Erik Bender of Orange Coast College, Gita Alemansour and Martie Ramm-Engle of Golden West College and Steve Fauce of Coastline Community College.
Costa Mesa elementary school student claims state PTA award
Zarrar Zubair, a student at Adams Elementary School in Costa Mesa, received the California State PTA Award of Excellence for his submission in an arts contest.
Zarrar will advance to a national competition. The contest, the Harbor Council Parent Teacher Assn.'s Reflections Arts Program, is held annually to promote arts education.
Spring Dog Fling coming to Huntington Beach
Guests can bring their dogs or find one to adopt at the Spring Dog Fling set for noon to 3 p.m. April 14 at 5th & PCH in Huntington Beach.
The free event also will feature an expo of pet products and services.
5th & PCH is at 155 Fifth St.
Golden West gala will raise money for college and textbook program
The Golden West College Foundation will present its 20th annual gala at the Hilton Waterfront Beach Resort in Huntington Beach on April 14.
This year's event, from 5:30 to 11:30 p.m., is themed "Champagne, Seashells and Oceans of Opportunity." It will include dinner, dancing and a silent auction.
Proceeds will benefit Golden West students and faculty and a textbook loan program, organizers say.
Tickets are $175.
For more information and registration, visit gwchbfoundation.com/events.
Pulitzer Prize-winning author to speak at UC Irvine
Colson Whitehead, Pulitzer Prize-winning author of "The Underground Railroad," will speak and sign books from 5 to 7 p.m. April 17 at UC Irvine's Crystal Cove Auditorium, 4113 Pereira Drive.
The free event is part of the Chancellor's Distinguished Speakers Series.
For more information, visit bit.ly/2GE9EXd.
---
All the latest on Orange County from Orange County.
Get our free TimesOC newsletter.
You may occasionally receive promotional content from the Daily Pilot.