Around Town: Like Totally Festival ends up canceled soon after the Bangles drop out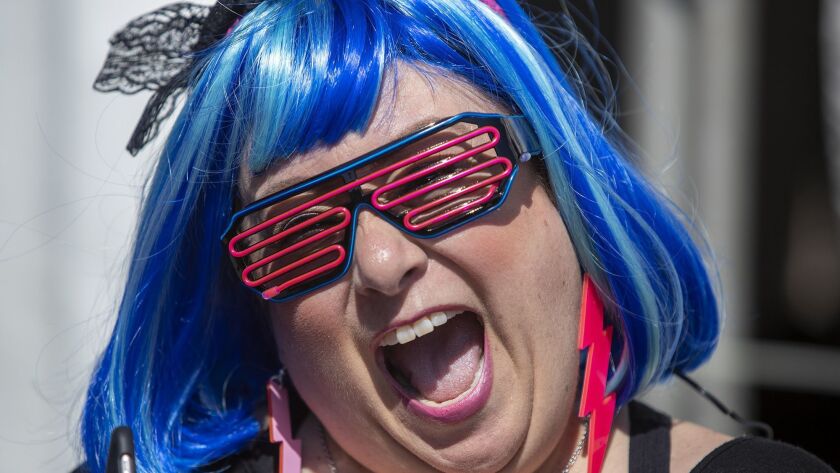 The Like Totally Festival scheduled for Saturday in Huntington Beach has been canceled, the festival announced Friday morning.
"We are very saddened to announce the cancellation of the Like Totally Music Festival," according to a statement on the event's website and Facebook page. "We unfortunately have issues we cannot resolve to continue, and for the safety and well-being of the bands and fans we have to make this decision. We apologize for the inconvenience. We are working on rescheduling the festival for a later date and tickets will be honored at that time."
The Facebook page said ticket holders would be contacted directly.
The annual festival at Huntington State Beach was to be a full day of concerts featuring '80s musical stars. The cancellation came after the Bangles, the scheduled headliner, said Wednesday on social media that they would not perform due to "unforeseen circumstances." The festival later confirmed that the Bangles were out but did not give a reason.
Save Our Youth to hold 11th annual fiesta in Costa Mesa
The 11th annual Save Our Youth Fiesta will be held from 6 to 9 p.m. Friday at the Chuck Jones Center for Creativity, 3321 Hyland Ave., Costa Mesa.
There will be food, a silent auction and entertainment from SOY students and alumni. The organization serves students in the Newport-Mesa Unified School District.
Tickets are $100. For more information, visit bit.ly/2H5t0BS.
Sunset Serenades and World Music Series returns to Laguna Beach
Sunset Serenades and the World Music Series will return to Laguna Beach starting Friday with a performance from Django Shredders and the Gypsy Guitar Duo.
Free musical performances will be held at 6:30 p.m. every Friday through June 14 at the Heisler Park Amphitheatre at Cliff Drive and Jasmine Street.
For more information, visit bit.ly/2PY6bEd.
Sherman Library & Gardens to feature talk on wildflowers
Kitty Connolly, executive director of the Theodore Payne Foundation, will discuss wildflowers during a lecture from 11:30 a.m. to 1 p.m. Friday at Sherman Library & Gardens, 2647 E. Coast Hwy., Corona del Mar.
The cost is $25 for Sherman Library members and $35 for nonmembers.
For more information, visit slgardens.org.
Boeing in H.B. to host bottle rocket launches
The Boeing Co. invites the community to design, create and launch plastic bottle rockets as part of its annual rocket-launch event from 9 a.m. to 2 p.m. Saturday at 5301 Bolsa Ave. in Huntington Beach.
Participants are encouraged to bring an empty 2-liter bottle to use for their rocket. Engineers from Boeing will be on hand to offer design tips.
To register for the event, visit bit.ly/2JdReh6.
Laguna Beach Open volleyball tournament returns
The Laguna Beach Open volleyball tournament will return at 9:30 a.m. Saturday with the 44th annual women's tournament on Main Beach.
The winner will claim $5,000.
The 65th annual men's tournament will be held June 1-2. The winner will claim $10,000.
The tournament was once part of the Assn. of Volleyball Professionals tour.
For more information, visit bit.ly/2H848cU.
Spring Bark Bash Saturday in Costa Mesa
The Spring Bark Bash — Costa Mesa's celebration of man's best friend — returns Saturday.
The event, which includes vendors, raffle prizes, information, giveaways and pet-adoption opportunities, will run from 11 a.m. to 2 p.m. at the Costa Mesa Bark Park, 890 Arlington Drive.
Also scheduled is a canine costume contest, with prizes awarded in categories such as cutest, best spring-themed, best pet and owner duo and best in show.
Spring Bark Bash is free and open to the public.
March for Babies to benefit March of Dimes
March for Babies, a 5K fundraising event, will be held at 7:30 a.m. Saturday at the OC Fair & Event Center, 88 Fair Drive, Costa Mesa.
Benefits from the event will go toward March of Dimes, a nonprofit that supports research, advocacy and programs promoting the health of mothers and babies.
Registration is free. For more information, visit bit.ly/2Vf7lwm.
Sunset Beach Art Festival returns this weekend
The Sunset Beach Art Festival will feature more than 150 vendors during its run from 9 a.m. to 6 p.m. Saturday and Sunday at the Sunset Beach Greenbelt at Broadway and Pacific Coast Highway.
Vendors will be selling jewelry, clothing, ceramics, paintings, leather, woodwork, metalwork, sculptures, photography and more.
The event also will feature a children's area, an art gallery, music, a food court and raffles.
For more information, visit bit.ly/2VOYExb.
Garden tour to include 6 Newport Beach residences
A garden tour featuring six private gardens in Newport Beach will be held from 10 a.m. to 3 p.m. Saturday.
Each residence will feature an artist painting in the garden throughout the day.
The ticket price also includes a light lunch with live music at Sherman Library & Gardens, 2647 E. Coast Hwy., Corona del Mar. After the tour, Sherman Library will host a party from 3 to 5 p.m., featuring raffle and silent-auction prizes.
Tickets are $50 for Sherman Library members and $60 for nonmembers.
For more information, visit slgardens.org.
Fun run to be held in Huntington Beach
A "Walk, Run, Read" fun run will be held at 8 a.m. Saturday at Huntington Beach Central Park, 18381 Goldenwest St.
There will be a 5K walk and run with free shirts for participants.
For more information, visit walkrunread.com.
Off-road event coming to OC Fair & Event Center
The Sand Sports Super Swap will feature merchants of new and used quads, dune buggies, motorcycles, tires, engine parts, helmets and other off-road gear from 7 a.m. to 2 p.m. Saturday at the OC Fair & Event Center, 88 Fair Drive, Costa Mesa.
General admission is $10.
For more information, visit bit.ly/2JbuHkN.
Orange Coast College to hold tryouts for dance and cheer teams
Orange Coast College will hold tryouts for its cheer and dance teams from 8:30 a.m. to 2 p.m. Saturday at the school, 2701 Fairview Road, Costa Mesa.
Registration for cheer tryouts will begin at 8:30 a.m. with auditions scheduled for 9 a.m. The team is seeking cheerleaders with experience in stunting and tumbling.
Registration for dance tryouts begins at 11:30 a.m. and auditions begin at noon.
For more information, contact coach Mike Reynolds at shastaboys@aol.com or (714) 642-5382.
OCC symphony and choral ensemble to perform works by European composers
The Orange Coast College symphony and choral ensemble will perform music from three European composers at 7:30 p.m. Saturday in the school's Roger B. Moore Theatre, 2701 Fairview Road, Costa Mesa.
The program will include Gioachino Rossini's "Overture" to his final Italian opera "Semiramide," Edvard Hagerup Grieg's "Piano Concerto" and Franz Joseph Haydn's "Mass in Time of War."
Tickets can be purchased for $15 at occtickets.com.
OC Parks to hold events in Fountain Valley
OC Parks will offer two events in Fountain Valley this month, starting with a beginning archery class from 9 to 10:30 a.m. Saturday at Mile Square Regional Park, 16801 Euclid St.
May 25 will be Monarch Butterfly Day from 10 a.m. to 2 p.m., also at Mile Square Regional Park.
Document-shredding event set in Newport Beach
A document-shredding event will be held from 8 a.m. to noon Saturday at the Big Canyon Reservoir parking lot, 3300 Pacific View Drive, Corona del Mar.
Each household will be limited to 10 boxes of documents.
For more information, visit bit.ly/2JbtNVr.
Exhibit showcases ancient Chinese art technique
"Goodbye Movies, Hello Liuli — The Liuli Art of Loretta H. Yang and Chang Yi" will be exhibited at Jewel Court at South Coast Plaza until Monday.
The works of contemporary liuli art founders Yang and Yi have been shown in the Palace Museum in Beijing, the Victoria and Albert Museum in London and the National Museum of Women in the Arts in Washington, D.C.
The art showcases a 2,000-year-old Chinese technique.
South Coast Plaza is at 3333 Bristol St., Costa Mesa. For more information, visit bit.ly/2Vce4Ht.
Laguna hosts talk on how to fight garden pests with bugs
All are welcome to a talk at the South Laguna Community Garden Park on Saturday to learn how to fight bad bugs with good bugs.
Robin Jones, an organic edible garden designer and beekeeper, will teach guests about the benefits and tips of using bugs to organically help a garden stay healthy.
The workshop is free and begins at 10 a.m. at the Community Garden Park at Eagle Rock Way and South Coast Highway.
Laguna Beach mayor to speak at Laguna Canyon Conservancy dinner
A week after Laguna Beach Mayor Bob Whalen gave his State of the City address, he will give a speech at a Laguna Canyon Conservancy dinner Monday.
The organization is inviting the public to join the mayor for dinner and conversation at Seven 7 Seven restaurant, 777 Laguna Canyon Road. The bar will open at 6 p.m. and dinner will be served at 6:35 p.m., with a program to follow. The dinner costs $15 for conservancy members and $20 for non-members.
For tickets, visit lagunacanyonconservancy.org, email Linda Mayer at LMayer21@cox.net or call her at (714) 812-6813.
Sherman Library to host event for potential volunteers
The public can learn how to become a volunteer at Sherman Library & Gardens during a free coffee reception from 10:30 a.m. to noon Monday at 2647 E. Coast Hwy., Corona del Mar.
For more information, visit slgardens.org or call (949) 673-2261.
'Blues is a Woman' will highlight female musicians
"Blues is a Woman" will use music and theater to depict trailblazing female blues musicians from 6 to 8 p.m. Wednesday at Seven-degrees, 891 Laguna Canyon Road, Laguna Beach.
Musicians such as Nina Simone, Aretha Franklin and Janis Joplin will be highlighted in the performance.
Tickets are $25 in advance and $30 at the door.
For more information, visit LagunaBeachLive.org.
Costa Mesa dinner event to honor students
The 40th annual Les Miller Outstanding Students Dinner will run from 5:30 to 7:30 p.m. May 16 at Volcom, 1740 Monrovia Ave., Costa Mesa.
Local students will be recognized for academic achievement.
Admission for student family members is $20; other guests are $30.
For more information, visit bit.ly/2vPKmha.
OCTA meeting set in H.B. to discuss Beach Boulevard improvements
The Orange County Transportation Authority is seeking public input on how to improve the Beach Boulevard corridor between La Habra and Huntington Beach.
A community meeting is scheduled for noon to 3 p.m. May 18 next to REI at Bella Terra, 7777 Edinger Ave., Huntington Beach.
People also can submit suggestions through a survey available at beach-survey.com. The survey weighs possible changes such as bus-only lanes, expanded bus service hours, widening the street and adding pedestrian bridges.
For more information, visit octa.net/BeachStudy.
Ocean View School District employees recognized for contribution to language learners
Two Ocean View School District employees were recognized recently by the Orange County Department of Education for making significant contributions to language learners.
Sara Ostravopour, a teacher at Marine View Middle School, and Guadalupe Castillo, an English-learner assistant at College View Elementary School, were honored during the seventh annual Language Learner Celebration.
3 Newport-Mesa students named Angels Scholars
The Newport-Mesa Unified School District recently announced three students as Angels Scholars and awarded four-year college scholarships from the Angels Baseball Foundation.
The scholars are Rafael Arias Torres and Anahi Villagrana of Newport Harbor High School and Sofia Chavez of Early College High School.
Only 19 of more than 100 students who applied won the scholarships.
Students will be honored at an Angels Baseball Foundation ceremony in June.
Huntington Beach student awarded prize by Orange County Water District
The Orange County Water District recently awarded $3,000 in prizes to students for innovative water-related projects at the annual Orange County Science & Engineering Fair.
Kelsey Coppa from Talbert Middle School in Huntington Beach was awarded $100.
Nominations sought for teacher prizes
ClassTag, a free communication app that connects teachers with parents, plans to give away 1,000 prizes during National Teacher Appreciation Month and is seeking nominations of teachers who people feel have had a positive effect on students' lives.
Nominations will be accepted through May 19 for U.S. teachers in early education through high school. Winners will be announced June 10.
Prizes will include books, classroom supplies, backpacks and speakers.
For more information and to nominate a teacher, visit blog.classtag.com/teacher-appreciation-giveaway.
Support our coverage by becoming a digital subscriber.
---
UPDATES:
This article was originally published at 6:50 p.m. May 9 and was later updated with additional information.
---
All the latest on Orange County from Orange County.
Get our free TimesOC newsletter.
You may occasionally receive promotional content from the Daily Pilot.