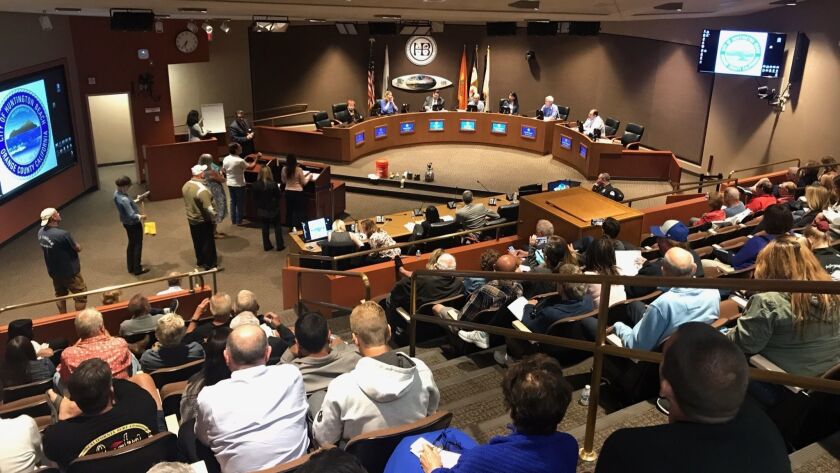 Southeast Huntington Beach residents lambasted state employees and project managers during a meeting Wednesday evening, contending that the ongoing 18-month cleanup at the former Ascon Landfill site has caused several residents to suffer respiratory problems because of the project's dust and odors.
City Council members Kim Carr and Barbara Delgleize organized the meeting at City Hall, where people who live near the project site at Hamilton Avenue and Magnolia Street voiced concerns about how the cleanup is being handled.
The 38-acre property — which served as a waste disposal facility from about 1938 to 1984 — is undergoing a final cleanup that is expected to continue through 2020.
Tamara Zeier, who works for environmental consultant Project Navigator and is overseeing the Ascon cleanup, told residents Wednesday that "we've heard you loud and clear and understand. We've heard many concerns in regard to odor and health."
She gave an overview of the project and listed how workers continuously mitigate odors and dust using methods such as applying water to the site. She said the property is regularly monitored and tested for volatile organic compounds.
Zeier urged residents to report any concerns to the project's 24-hour public hotline at (714) 388-1825.
Dr. Mary McDaniel, who is certified in occupational and environmental medicine, also tried to ease residents' concerns. McDaniel's role in the project is to help ensure worker and public safety.
She said odors from the project can result in headaches or stomachaches and that women are more likely to pick up on the smell. She said test results have shown that the levels of chemicals at the site are not high enough to require respiratory protection.
Callers to the hotline have reported odors similar to that of rotten eggs.
"We have immediate primitive reaction to odors and it can make you gag and make you feel lousy," McDaniel said. "We don't deny that fact."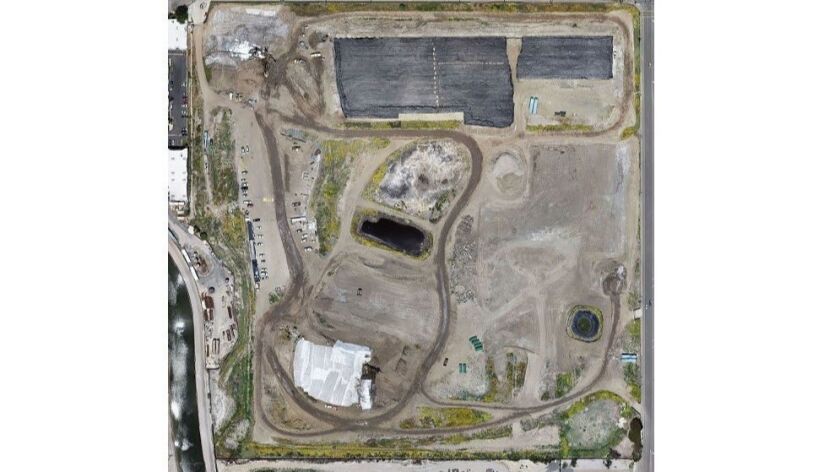 Still, residents made it clear they weren't content with the answers they were receiving from officials, and they used the nearly three-hour meeting to vent their frustration.
One man repeatedly interrupted presentations, yelling out chemistry-related questions. Other residents brought their own research and cited studies by the World Health Organization.
Resident Nancy Buchoz, who has been regularly calling the project's hotline requesting assistance, told officials that odors had engulfed her home and said it's "extremely concerning."
"We're sick with sinus and respiratory issues," Buchoz said. "Eyes and throat hurts. Our stomach feels yucky."
Mayor Erik Peterson asked McDaniel if the project's environmental impact report listed headaches as a physical side effect, and McDaniel said she didn't know. Such effects typically would be included in an EIR, she added.
The EIR states that dust and emissions are significant environmental effects of the cleanup that couldn't be avoided. It says pollutants in the soil could have health impacts, but it does not list symptoms such as those described by residents.
"I don't know why it wasn't in the original presentation," Peterson said. "Everyone's just starting to get headaches. It's horrible. ... It's concerning to the council."
Peterson also cited Boeing Co.'s demolition of an eight-story building, which he said didn't leave "an ounce of dust" because the company used big wind guards and water to keep dust from spilling into other areas.
Resident Mario Cartier called on officials to cover the entire Ascon property to avoid the spillover of dust and odors. He said the area needs to be "cleaned up correctly or encapsulated."
Only a portion of the site is being covered because the rest isn't flat enough, Zeier said. If the entire site were to be covered, it would require more excavation, which would release more of the odors residents are upset about, she added.
The EIR recommends a shorter remediation period with less excavation to limit such exposure.
Another meeting about the cleanup is scheduled for 6 p.m. June 6 at Edison High School, 21400 Magnolia St.
---