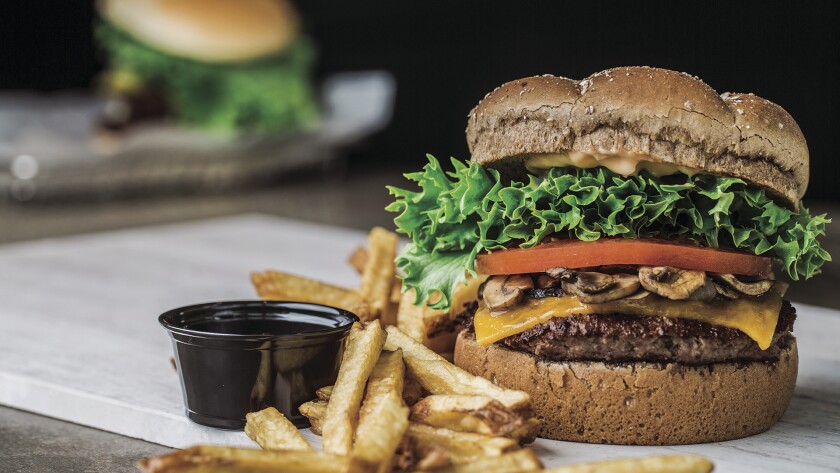 Burger Boss this month plans to open its sixth location at the former home of Newport Burger at 6800 W. Coast Hwy. in Newport Beach.
The Corona-based hamburger chain's new location will use recycled materials and eco-friendly supplies and offer a menu of gluten-free and vegan options.
Customers build their own burger, choosing protein, bun, cheese and toppings along with fries and bowls.
Burger Boss has other locations in Cypress, Lake Forest, Mission Viejo, Tustin and Riverside.
Sherman Library & Gardens launches 'Vision for the Future' campaign
Sherman Library & Gardens in Corona del Mar has updated its mission statement, refreshed its logo and embarked on a "Vision for the Future" initiative designed to connect the organization with a new generation.
The mission statement now reads: "Sherman Library & Gardens provides the public an oasis of inspiration, education and appreciation of regional history, horticulture and the arts."
The process started more than two years ago when Sherman Library partnered with the Laguna College of Art + Design. Students worked on a branding concept including logos and typefaces, signs and merchandise intended to revitalize the nonprofit cultural center.
The new logo and mission statement will appear on the website and in advertising. In the gift shop, new logo merchandise will be available April 21, the day of the Private Gardens Tour, Sherman Library's largest fundraiser of the year.
JoyeTech buys offices for headquarters in Costa Mesa
JoyeTech, a Pacific Rim manufacturer of vaping products, has acquired a 19,271-square-foot office location at 3587-3589 Harbor Blvd. in Costa Mesa.
The property, purchased for more than $5 million, will serve as JoyeTech's U.S. headquarters and will consolidate the company's four existing Orange County locations into a single address.
Pimco hires new executive vice president
Pimco, a Newport Beach-based investment management firm, hired Keami Lewis as executive vice president and global head of talent and organizational talent.
She will be based in Pimco's New York office.
Lewis has more than 20 years of talent management experience and most recently was human-resources director for the New York Times newsroom. She previously held roles at Facebook, Microsoft and Harrah's Entertainment, among other companies.
DC Shoes names new vice president of footwear
Lifestyle and skate brand DC Shoes Inc. announced Cory Long as vice president of footwear.
He will be based at the company's Huntington Beach headquarters, reporting to general manager and head of brand Mike Jensen.
Long, who served as global merchandising director for the brand earlier in his career, will oversee global product creation strategy, including footwear marketplace positioning, storytelling and overall design aesthetic.
Montage hotels partner with celebrity health coach
Montage Hotels & Resorts announced a new partnership with holistic nutritionist, celebrity health coach and author Kelly LeVeque, founder of Be Well by Kelly.
All Montage properties, including in Laguna Beach, will feature a Be Well by Kelly menu for breakfast, lunch and dinner.
LeVeque's clients include actresses Jessica Alba, Jennifer Garner, Molly Sims and Sophia Bush, among others.
For more information, visit montagehotels.com.
Cynthia Rowley opens store in Newport Beach
Cynthia Rowley, an upscale women's clothing store, has opened a 1,526-square-foot location at Lido Marina Village in Newport Beach.
The new shop features the brand's seasonal ready-to-wear and surf and swim collections along with fitness wear, accessories and specialty works of art from Exhibition A, co-owned by Rowley and her husband, Bill Powers.
The Lido Marina Village location is at 3446 Via Oporto.
Newport investment firm starts fund using bitcoin
Newport Beach-based Oxford Investment Partners LLC announced the inception of a $50-million proprietary fund that is the first of its kind to use bitcoin as a currency for venture capital.
Oxford's business includes commercial real estate and private equity but focuses more on venture capital through tech and biotech deals involving hardware, software and federal and public contracts.
Studio88 launches co-working space for interior designers
Studio88 has launched a co-working space for Orange County independent interior designers in offices in Newport Beach, near John Wayne Airport.
Studio 88 founder Chris Johnson said he wanted to offer members private offices, collaborative open spaces, design tables, reference libraries and warehouse facilities within a space offering professional support staff.
The business is accepting short- and long-term tenants. For more information, visit studio88.com.
Twitter: @KathleenLuppi
---