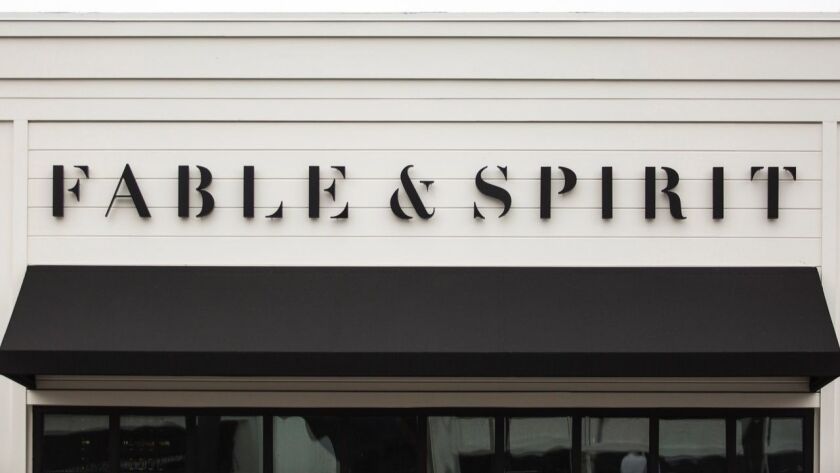 Fable & Spirit, a new Irish-themed restaurant and bar, recently opened in Newport Beach.
The 112-seat restaurant at 3441 Via Lido is owned by Darren and Jean Coyle, who also run Dublin 4 Gastropub and Wineworks for Everyone, both in Mission Viejo. The executive chef is David Shofner, and Drew Coyle is the bar program director.
Fable & Spirit, which serves lunch and dinner, "celebrates the spirit and heritage of the Irish people, and the setting will share the many fairy tales of mythological Ireland, complete with heroes, queens and goddesses," according to a news release,
For more information, visit fableandspirit.com.
UC Irvine chief innovation officer receives SBA award
The Orange County/Inland Empire district office of the U.S. Small Business Administration has given Richard Sudek its 2019 District Director Award.
Sudek, an entrepreneur and investor, is UC Irvine's chief innovation officer and executive director of the university's Beall Applied Innovation.
The award recognizes "an individual who is a persistent and consistent promoter and supporter of small businesses and entrepreneurs and collaborates closely" with the Small Business Administration, according to a news release.
Health food restaurant to open in Newport
Flower Child, a nationwide health food restaurant chain, is coming to Newport Beach, with a new location at 1302 Bison Ave. opening Tuesday.
The restaurant serves salads, wraps and bowls, with various vegan, paleo and gluten-free options.
Proceeds from Tuesday's opening will benefit Autism Community in Action. For more information, visit bit.ly/2Kdo0iL.
Spinnaker Investment Group opens new offices
Spinnaker Investment Group recently set up a new headquarters in Newport Beach.
The firm, which was founded in 2016 and manages more than $300 million in investments, is at 4100 MacArthur Blvd., Suite 120.
Moulin to expand to SoCo
A fourth Moulin location is coming to Costa Mesa in July.
The French restaurant, which specializes in pastries, is opening at South Coast Collection on Bastille Day, July 14. The site will serve as the commercial pastry kitchen for Moulin's locations and catering business.
The 40-seat restaurant will be open daily from 7 a.m. to 5 p.m. For more information, visit moulin.com.
Newport developer building apartment complex in Washington state
Vintage Housing, a Newport Beach-based developer, is building an apartment complex in Mill Creek, Wash.
The Farm at Mill Creek will contain 354 units on 17 acres and aims to serve lower- to middle-income families. It also will include about 100,000 square feet of commercial space.
As part of the development, Vintage Housing will restore 58 acres of wetlands.
---