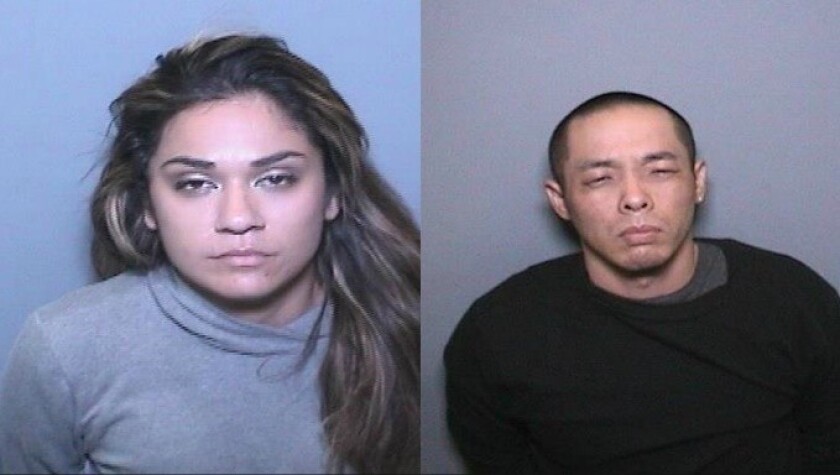 A man and a woman pleaded not guilty Tuesday to felony and misdemeanor charges in connection with four burglaries at campus apartments at UC Irvine, according to Orange County Superior Court records.
Stuart Lorence Oki, 32, of Baldwin Park and Cinthia Joane Vasquez, 28, of Hawaiian Gardens face four felony counts each of first-degree burglary and one felony count of vandalism, along with misdemeanor counts of possession of burglary tools, fraudulently obtaining personal information by mail theft and possession of a stun gun with a prior conviction, according to court records.
Oki faces an additional misdemeanor charge of driving with a suspended license, while Vasquez faces misdemeanor charges of possession of a controlled substance and paraphernalia, court records show.
If convicted, Oki and Vasquez could be sentenced to more than 13 years and more than 10 years, respectively, in state prison.
The pair was arrested early Saturday after UCI police officers pulled over the car they were in on campus.
During the stop, officers received a report that a burglary had just occurred at a campus apartment, police said.
Authorities allege Oki and Vasquez broke a patio window to enter the apartment and made off with clothing, credit cards and jewelry. Officers said they found those items in the vehicle, along with a large amount of mail that had been taken from mailboxes in the student housing area.
Oki and Vasquez also are suspected in three additional burglaries that occurred in the campus student housing area in the past month, police said.
Oki is being held in Orange County Jail without bail. Vasquez was booked into county jail with bail set at $370,000, according to jail records.
Twitter: @HannahFryTCN
---