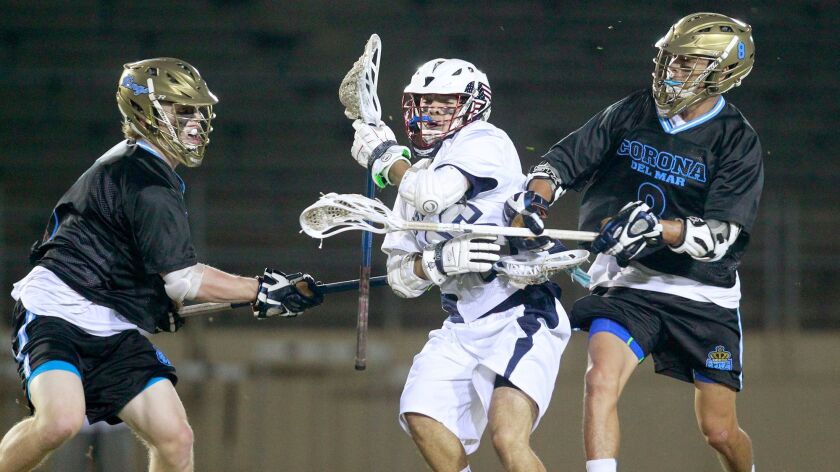 Community members who submitted feedback for an upgraded sports field proposal at Corona del Mar High School say they prefer an option to install two artificial turf fields there but want to keep the seating capacity the same, Newport-Mesa district officials said Tuesday.
The residents' preferred plan would maintain seating for 664 people, an amount supported by the school board earlier this year.
CdM residents also said they were concerned about noise emanating from a new public address system and light spilling out from a new stadium.
The feedback was received from a draft environmental impact report on the project and study sessions conducted throughout the year.
PlaceWorks Inc., which submitted the report, will continue reviewing the plans this summer and address resident concerns, said Ara Zareczny, Newport-Mesa's director of facilities development, planning and design.
Bryan Middleton, CdM's girls' soccer coach, said he liked adding two fields, which would allow for multiple sports to use the fields at the same time. He noted how even the swimming and water polo teams utilize the fields for cross training.
An upgrade facility for the school "will bring pride to Corona del Mar," Middleton said.
Julie Means, parent of two CdM teens, also urged the board to move forward with the two-field option in the same manner it enriches its academic coursework.
"Now is the time to do the same for athletics," Means said.
A final environmental report is scheduled to be completed by the fall.
The district has also presented an option to install one field with artificial turf and a surrounding track. That plan would expand the seating to accommodate 1,000 people.
CdM's current field hosts soccer, lacrosse, football and track and field.
Twitter: @vegapriscella
---