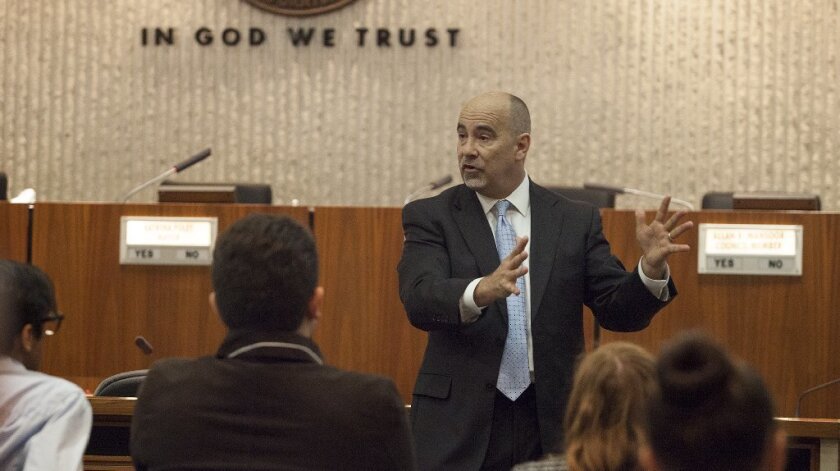 Tensions boiled over at Costa Mesa City Hall on Tuesday night as City Council members verbally sparred before approving a revised contract for City Manager Tom Hatch that includes a pay raise and requires him to pitch in more toward his retirement.
After a back-and-forth exchange that at one point grew so heated that Mayor Sandy Genis loudly banged her gavel in an attempt to restore order, the council voted 3-2 — with members Katrina Foley and John Stephens opposed — to sign off on the contract amendment.
Under the new agreement, Hatch's annual pay will rise from $217,656 to $237,960. His total annual compensation, including salary and benefits, will be $362,533, according to the city.
He also will get a boost in how much vacation time he earns in a year — from 120 hours to 212.
Hatch will be required to put 12% of his salary toward his retirement, up from his current contribution of about 10.5%.
The changes are retroactive to April 16. Hatch has served as Costa Mesa's top administrative employee since 2011.
One of the primary disputes that played out on the dais Tuesday was whether the council had completed Hatch's employment evaluation and thus whether it was appropriate to discuss giving him a raise at this time.
Foley and Stephens said they thought the council needed more time to finish the review. Foley also thought a decision on Hatch's contract should wait until the council gets more information about the city's budget, as recent projections show Costa Mesa could face deficits in coming years.
Stephens said the council owes it to Hatch and the community to conduct a thorough performance evaluation.
"I just don't feel like we've done a really good job managing Mr. Hatch," Stephens said. "I mean, setting all the personalities, setting all the emotion out of it, I really don't think it's going to matter if we regroup."
Councilman Jim Righeimer, however, accused Foley of prolonging the process and preventing Hatch from receiving a pay raise like the one granted in April to other executive-level city employees and division managers.
"I've been trying to be respectful, but what you have done to Mr. Hatch, dragging out this process since April, is unconscionable," Righeimer told her.
Foley vehemently disputed that and said she would have liked to see a contract for Hatch that included bonuses for certain tasks or achievements, "but we aren't even allowed to have a discussion because of the way this has been handled."
She also said the council hadn't done an evaluation for Hatch in years. Records show his contract hadn't been amended since 2013.
"You guys are up here assuming that you know my perspective and that you know, somehow, my 'nefarious plan.' Well, you are wrong," she said. "You don't know anything and all you do is try to attack people. You are extremely rude and mean. … My position on this has just been based on trying to do a good job."
Mayor Pro Tem Allan Mansoor said he believes Hatch "takes a lot of unnecessary and unprofessional abuse" and pointed out that a majority of council members, including Foley and Stephens, approved pay raises in new contracts with several city employee bargaining groups last year.
"All this talk about delaying this for fiscal reasons is a bunch of baloney," Mansoor said. "Other employee groups got raises — very good raises, as a matter of fact — so Tom Hatch is very deserving."
Even with the approved pay hike, Hatch's salary falls 10% below the average compensation for comparable positions in Fountain Valley, Huntington Beach, Irvine, Newport Beach and Santa Ana, according to Costa Mesa staff.
The tension on the dais didn't end with the council vote. As the panel prepared to adjourn, Stephens said to his colleagues, "When we do this again, let's just do better."
"I don't need you giving me your bull … you're the most passive-aggressive person I've ever met," Righeimer retorted as he gathered his coat.
Tuesday's meeting came almost exactly a year after council members met for a workshop to discuss how they could work together in a more collegial, respectful and effective way.
Twitter @LukeMMoney
---